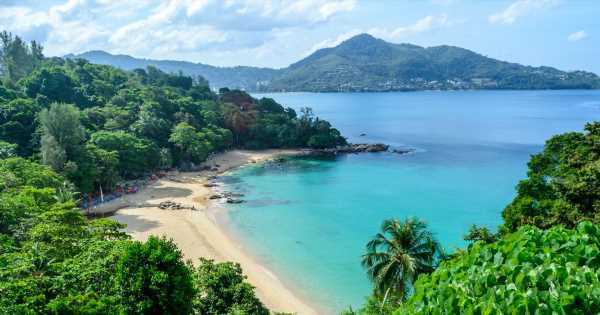 A young woman has shared her horror after a passport issue left her unable to board her flight to Thailand.
TikTok creator Arabella Leat, @arabellaelizabethleat, went viral at the weekend after posting about the incident.
Arabella was due to fly off to the sunny holiday destination with her mum, but was forced to return home alone that same day.
The entire debacle was all caused by a tiny mistake – Arabella's passport had a small rip in it.
Beginning her video, which racked up over 85,000 likes, Arabella said: "Come with me to the airport to get rejected and told I'm not allowed on my flight to Thailand.
"As you can see, I'm all excited here packing the suitcase for clothes that I won't even be wearing. Then I picked up my mum.
"Little does my mum know I will be the world's most disappointing daughter later on in the day."
Arabella continued: "There's a plane. I obviously won't be on that later."
The young woman threw her vape pen away as she noted they are banned in Thailand.
She said: "That was f***ing pointless because I'm not going."
Arabella and her mother were excitedly sipping drinks before their flight, but then the young woman was told the terrible news.
She explained: "Then, boom, you're not allowed on your flight, your passports damaged. This was a sad moment, we realise that I actually wasn't flying and I told [mum] to go without me. Look how sad she is she hates flying on her own."
Arabella offered some advice to her followers and said: "Guys, make sure you look after your passport."
The holidaymaker "tried not to cry" before going to get some passport photos taken and immediately ordered new documents.
Arabella added: "Hopefully it arrives in the next few days."
Brits should be especially careful with their passports over the next few months.
The Passport Office is going on strike for five weeks through April and May and so delays and longer turn around times may be expected.
In the comments, people noted that it was unlikely for her to get a new passport so quickly.
One person noted: "The faith you've got in the passport system is strong."
"Few days ahahaha more like few months," another laughed.
While a third added: "New passports are taking up to 10 weeks so don't get your hopes up about it arriving back that soon."
But, others had plenty of solutions.
A woman said: "I ordered my passport online on the Monday and it was with me by the Friday. I have faith."
"If you go to the British Embassy you can pay and get it done same day," another advised.
Other people had major sympathy for Arabella.
One person commented: "You are so much better than me bc I would have been profusely crying as soon as I grasped the reality."
While an airport worker added: "Passport didn't look that bad as long as you can see your face and details and no pages missing I've seen worse working in security in the past."
Thankfully for Arabella, her passport is already on its way to her!
Speaking to the Daily Star she said: "I've just got a text saying my passport's on its way.
"But the plot twist is whether my airline will let me on free of charge, and let me on the next flight."
READ NEXT:
Woman gets revenge on flight as fellow passenger puts gross bare feet on her armrest

Frantic holidaymakers rush to reserve sunbeds at 6am – but staff remove their towels

Brits facing summer travel chaos with 'delays to 1m passport applications' on horizon

Spain warning for Brits as 'chaos' expected across airports for Easter and summer
Source: Read Full Article