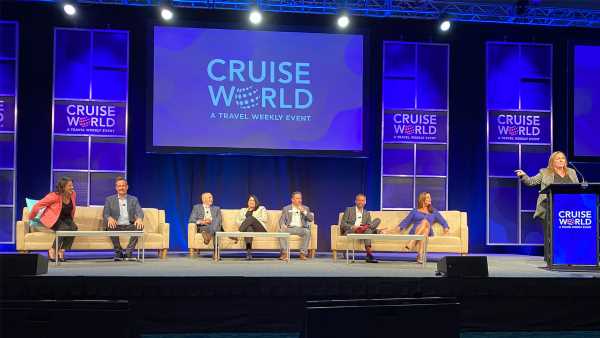 FORT LAUDERDALE — Sales executives at the world's largest cruise lines predicted that fees would become commonplace at travel agencies, and that Gen Z travelers will soon be enthusiastic clients of advisors.
More than a half dozen questions were posed to the seven sales executives at the Mastermind Leadership panel at CruiseWorld by Danny Genung, CEO of Harr Travel, and Mary Pat Sullivan, executive vice president of marketing and relationships for Northstar Travel Group, which owns Travel Weekly and CruiseWorld. Some topics were broad and future-looking; others asked panelists to look back and get personal about their career growth.
When asked to predict the future of the travel agency business, Celebrity Cruises' senior vice president of sales, Katina Athanasiou, said she expected advisors would charging fees much like financial advisors do.
"For me, the future is having a certified advisor that is charging an appropriate fee for their services, their expertise… like we pay for financial advisors [and] insurance advisors in a professional industry that provides their guidance and expertise," she said to applause.
Carmen Roig, vice president of sales at Princess Cruises, added that travel advisors' skills proved valuable to the public during the pandemic. At the time, advisors were navigating Covid protocols on various ships and travel restrictions across the globe.
"You deserve to be paid for the expertise that you have," she said. "Now, more than ever, we see our guests want to be your clients. Only you can really show them the world."
Will Gen Z use travel agents?
Koreen McNutt, MSC Cruises' senior vice president of sales, made a different prediction: She suggested that Gen Z — people currently 11 to 26 years old — will turn to travel advisors instead of booking online once they're old enough to book travel.
That's a change in her opinion from about two decades ago, she said. At the time, she thought her young daughters would never use a travel agent when they got older. 
"I was wrong," she said of her daughters, who are now in their 20s. "Gen Z, I think, is going to use [advisors] more than ever, and I'm finding the way they use it is better, and they're more interested, and they really, really want that help. And they want their trip to be handled well, and I do think they would pay for it."
Challenges in cruise and travel sales
Asked what the biggest challenge is for the panelists today, Royal Caribbean International's Anthony Meloro, director of business development support, trade and host travel partner relations, said: Visibility.
"The landscape has changed in the industry," he said. "More independent advisors and amazing independent advisors [are] out there, that so it can be hard for us to find you." He urged attendees to reach out to him in person in the halls of the convention center or reach out to a local sales representative in their area.
Lessons learned from leadership roles
Asked what drew him to travel leadership, Norwegian Cruise Line vice president of sales for North America John Chernesky said he had spent 24 years bouncing around in various aspects of the cruise industry, working in departments such as hotel services and ship design until landing in sales. "I knew nothing about what you all do," he said to the advisors in the audience. "And so that learning curve was steep, and I loved it."
After joining sales, he said he grew into a leader within his team, liked to work collaboratively and enjoyed having fun on stage and in social media. "I guess the class clown in me came out," he said.
When asked about lessons he's learned about leadership, Rob Coleman, vice president of North American sales for Holland America Line, said he's learned not to assume there was only one way to do something.
"If I were to intercede and insist on a particular way of doing something, I was going to squelch the magic," he said of his employees, ultimately thwarting them from reaching their potential. "I really had to learn where to back off so that I could develop and watch others soar. Now that's magical."
Source: Read Full Article