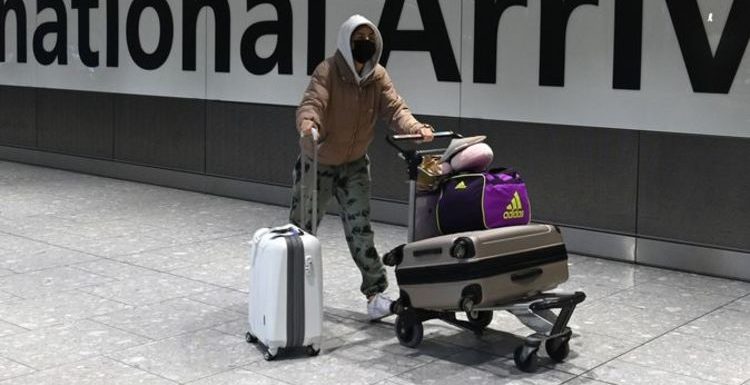 Quarantine hotels: Nadhim Zahawi discusses possibility
Quarantine hotels will soon become Government policy, as ministers shift their attention to the UK's borders. Several new Covid variants have threatened local lockdown successes with their higher infection and death rates. The latest policy will ensure new arrivals have no choice but to follow isolation rules and prevent further incoming variant cases from at-risk nations.
Who pays for quarantine hotels?
Travellers arriving in the UK will soon have no choice but to follow quarantine rules.
Ministers have announced a "red list" of 30 countries it will attach travel rules to amid fears of incoming Covid variant cases.
The incoming policy will force passengers to board a bus to a hotel for mandatory 10-day isolation after they land.
We will use your email address only for sending you newsletters. Please see our Privacy Notice for details of your data protection rights.
The process should ensure further variant cases don't spill out into the UK and will come as a major ask for thousands of travellers.
But, while Government policy will ferry people from the airport to a purpose-built hotel quarantine, it will not foot the bill.
Instead, the costs fall to travellers, who have to shell out four-figure sums to isolate.
According to ITV news, they need to cover the costs of a hotel stay for 10 days, up to £1,500.
Paul Brand, ITV's UK editor, revealed the costs would cover several aspects of their stay, but people would have no choice but to stay put in their lodgings.
He said: "Passengers will be given three meals each day, with security ensuring they do not leave the hotel.
"This will cost around £1,500 – to be paid by the passenger."
The Government has not yet announced repercussions if people fail to comply, but it could involve hefty fines.
DON'T MISS
'Benidorm is safer than England' Expat says UK rules 'kick in teeth' – ANALYSIS
Travel ban: Thérèse Coffey warns of 'further measures' to hit travel – INSIGHT
UK arrivals SHOULD be forced to quarantine in hotels – POLL
People may already attract a five-figure fallout under current rules if they don't self-isolate.
Both UK and foreign nationals landing in the country must self-isolate for 10 days unless their flight came from Ireland or they have an exemption.
They must do so whether or not they have provided a negative test result for Covid-19.
Those who break the rules may need to fork out a fine of up to £10,000.
Speaking in Parliament yesterday, Home Secretary Priti Patel revealed people wishing to travel from within the UK also face new barriers.
She told the House of Commons those intending to leave the country would have to provide a valid reason.
Ms Patel said: "We will introduce a new requirement so that people wishing to travel must first make a declaration as to why they need to travel.
"This reason for travel will be checked by carriers prior to departure and this approach effectively mirrors the checks on arrivals that are already in place with the passenger locator form."
Source: Read Full Article