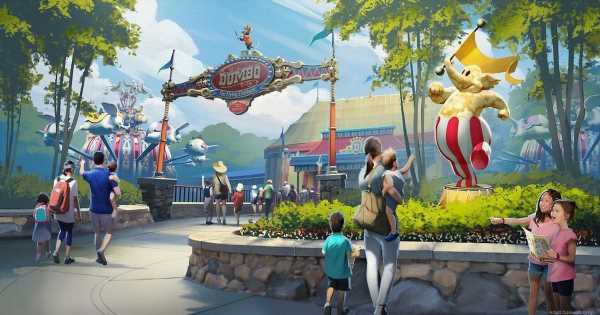 Whether you're a family with children, a couple of Disney fans or just a solo magic maker, Walt Disney World in Florida is an incredible holiday choice. The rides, parades and characters make a trip so much fun.
One of the best parts of the iconic theme parks is that it doesn't put all of its focus on big, thrill-chasing rollercoasters. While rides are fun, they're not for everyone. If you have tiny children it can be especially annoying when theme parks don't offer enough for them to do.
READ MORE: 'Disneyland California is so realistic it will blow the minds of adult fans'
Luckily, Disney always has small ones covered, and now there's going to be even more for families as its Magic Kingdom theme park is getting a brand new interactive experience for families to sniff out.
'Smellephants on Parade' harks back to classic film Dumbo, with elephants throughout Storybook Circus which will smell like various scents that you can hunt out with your nose!
The interactive experience will add an extra layer of fun and giggles to your walk around the park. The fun zone also features the Casey Jr. Soak N Splash Station where little ones can cool down in the hot Florida weather. There's also Dumbo the Flying Elephant ride which lets you spin in multiple directions.
Kids can play in the interactive queue to get inside the Big Top before getting stuck into the sights and sounds. Plus, there's the small rollercoaster the Barnstormer.
Pete's Silly Slideshow is a meet-and-greet area where kids can meet Goofy, Donald, Minnie and Daisy all as fascinating circus workers! The smellephant parade will add an extra layer of magic to the park space.
On the Disney Parks Instagram page, it said: "There's an all-new interactive experience coming to Magic Kingdom! 'Smellephants on Parade' will be a family-friendly 'search and sniff' adventure in Storybook Circus'. Presented by Scentsy, the Official Home Fragrance of Walt Disney World. Stay tuned for all the 'relephant' details!"
Although Disney has remained fairly tight-lipped about the fuller details, it did share a sneak peek with some concept art for the attraction, which appears to be inspired by the "Pink Elephants on Parade" scene in Dumbo.
A golden elephant statue outside of the Storybook Circus area can be seen, with the park's iconic Dumbo attraction and its flying elephants in the background.
The feature isn't the only new thing to be added to Walt Disney World. Later this year the 100 years of Wonder Celebration will begin for Walt Disney's 100th Anniversary.
That means there will be new, special decor at the park, character outfits, special food, drink and merchandise as well as a new fireworks show. Such fun!
Plus, the incredible Tron Lightcycle Run opened in Tomorrowland this year. It's perfect for big ride lovers. You'll be strapped into your very own bike to speed through the computerised world of the Grid.
Source: Read Full Article