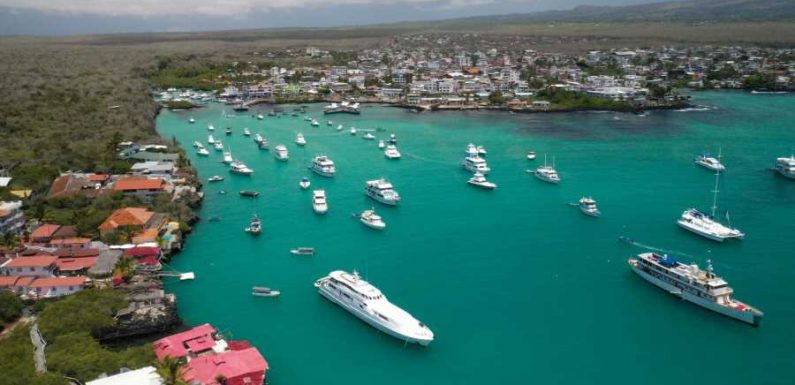 Ecuador is now welcoming vaccinated travelers, El Universo, one of the country's largest newspapers, recently reported.
According to the outlet, tourists with the COVID-19 vaccine can enter the country and travel to one of its most popular island destinations: the Galapagos Islands. Unvaccinated travelers are also allowed to visit Ecuador and its famous island archipelago with proof of a negative antigen test taken within 72 hours of departure, or proof of recent recovery from COVID-19.
Visitors are required to comply with social distancing regulations and wear face masks throughout their stay.
Video: Worldwide adventurer, mother of five keeps exploring while fighting cancer (NBC News)
What we know about the Atlanta shootings investigation

NBC News


Top U.S., China officials meet in Alaska

NBC News


On the ground along the Texas border amid surge

NBC News


Team behind Oscar-nominated 'Feeling Through' discusses making of the short film

NBC News


FBI releases new video of attacks on police officers at Capitol riot

NBC News


Extended: LAUSD's new safety measures to reopen schools

NBC News


Rep. Meng to Republican lawmaker: 'We will not let you take our voice away from us'

NBC News


Biden: U.S. will reach vaccination goal of 100 million doses after 58 days in office

NBC News


Atlanta police 'offer support' to Asian American, Pacific Islander communities after Georgia spa shootings

NBC News


European Medicines Agency on AstraZeneca: 'This is a safe and effective vaccine'

NBC News


Deb Haaland is sworn in as interior secretary making her first Native American Cabinet head

NBC News


FBI releases new videos of Capitol rioters assaulting officers

NBC News


Lawmakers speak out against 'alarming surge of anti-Asian bigotry and violence' at House hearing

NBC News


Deepak Chopra on how to incorporate meditation into your life

NBC News


IRS extends tax filing and payment deadline by one month to May 17

NBC News


Severe storms pummel Alabama after 16 million people placed under tornado warning

NBC News


What we know about the Atlanta shootings investigation
Police are still not ready to release the names of four people killed in the shootings. Communities across the country are mourning the eight people killed, six of them Asian women, amid a disturbing surge in anti-Asian attacks across the U.S.


NBC News



Top U.S., China officials meet in Alaska
Secretary of State Blinken will meet with top Chinese officials just days after the U.S. sanctioned China for cracking down on Hong Kong.


NBC News



On the ground along the Texas border amid surge
In Texas' Rio Grande Valley, Customs and Border Protection says it detained more than 11,000 unaccompanied minors in February, double last year's figure. NBC News' Gabe Gutierrez hears from teens who had just crossed the border, and officials in Hidalgo County.


NBC News

Major events that may previously have been a draw remain prohibited, but there are still some unique ways to experience this region and its legendary wildlife, especially if budget isn't an issue. Ecoventura, for example, is offering buyouts of its 20-passenger boats for $169,000 a week. The vessels are considered to be one of the most environmentally friendly ways to explore the Galapagos Islands.
In October, Ecuador began requiring all foreign visitors to come bearing proof of a negative COVID-19 test taken within 96 hours. In January, the testing window was shortened to 72 hours for all travelers from the U.S. over two years old. The country's major airports reopened in June.
According to the Johns Hopkins Coronavirus Resource Center, Ecuador has had over 307,400 COVID-19 cases since the beginning of the pandemic, and over 16,300 deaths.
Meena Thiruvengadam is a Travel + Leisure contributor who has visited 50 countries on six continents and 47 U.S. states. She loves historic plaques, wandering new streets and walking on beaches. Find her on Twitter and Instagram.
Source: Read Full Article