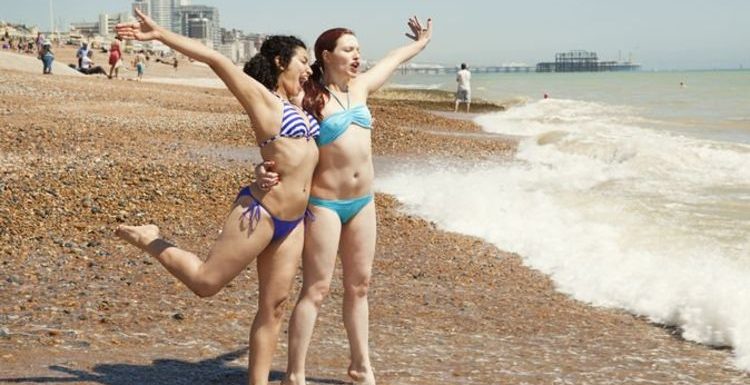 GMB: Susanna says she was 'told off' for calling holiday staycation
We use your sign-up to provide content in ways you've consented to and to improve our understanding of you. This may include adverts from us and 3rd parties based on our understanding. You can unsubscribe at any time. More info
A staycation may be on many Britons' summer wishes, but "ridiculous" prices are stopping many from exploring the UK. On social media, Britons are comparing the UK to overseas prices and the UK is left wanting.
One person wrote: "It's cheaper to fly to Europe than 'stay local' and visit Dover."
And they shared a picture of a train price from Dover to Hertfordshire to prove their point.
Someone replied: "Recently took a train to Cornwall and it cost more than a return flight to New York (which Skyscanner puts at £270 per person right now)."
UK holiday prices have been hiked up with the staycation boom this summer.
READ MORE: Mother forced to leave daughter to go on £3k holiday after mix-up
Reports of a Lake District staycation being four times more expensive than going to Italy made headline last month.
Someone wrote: "My hotel cancelled my booking now price hike on their website greed will push everyone abroad next year." (sic)
Another Britons said: "Discussion today with someone about to go abroad for a holiday and that cost far lower than equivalent here."
They continued: "Why is U.K. #tourism so expensive considering wages are so low?
"Wanted a week here in September but couldn't believe prices but finally found cheap spot #staycation #ripoff."
One Twitter user said: "Staycation – no way.
"Too expensive, awful food, customer service, weather, crowds."
They concluded: "I went to Barcelona to see my daughter and a week on Catalan coast. Glorious."
Britons are bewildered by staycation prices.
But it's not the only thing they are complaining about.
The "experience" of a staycation is not the same as going abroad.
One user said: "The UK is so anti enjoyment. All the hot destinations in December are all on the red or amber list.
"I literally want to be in a bikini on my birthday whether I'm in Africa, Asia or the Caribbean.
"And I don't want to do any nonsense staycation because the price doesn't even match the experience."
Finding a bargain is increasingly difficult in the UK.
With many Britons heading to the same areas, places such as Cornwall or the Lake District have seen their prices surge.
Source: Read Full Article