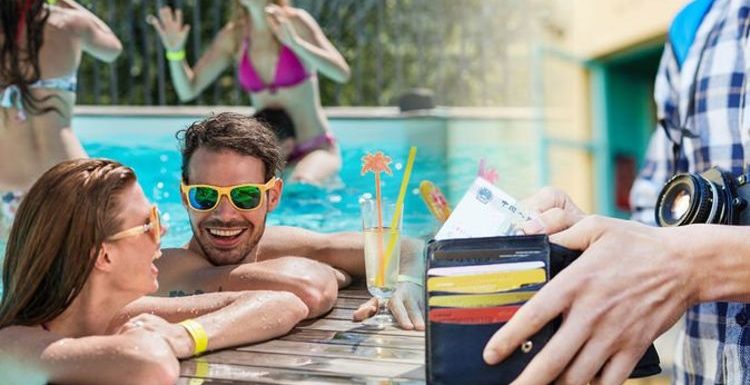 Covid test: Simon Calder says holidaymakers 'ripped off'
We use your sign-up to provide content in ways you've consented to and to improve our understanding of you. This may include adverts from us and 3rd parties based on our understanding. You can unsubscribe at any time. More info
More Britons are "blowing their spending budget" than ever before, despite planning costs before travelling. According to the latest Post Office Travel Money Spending Report, around 62 percent of UK holidaymakers overspend despite setting a budget.
Saving money seems to be a top priority for Britons in the wake of the pandemic.
According to the report, around 43 percent of UK adults plan to travel abroad in the coming months.
Of them, 59 percent say they intend to plan their budget in advance.
It's a major surge compared with the last report when only six percent of the nation had planned a spending budget in advance of their travels.
Despite this, however, The Post Office found that well-intentioned Britons still fell into the trap of forking out far more than anticipated.
The Holiday Spending Report research reveals that significant numbers try to cut spending by choosing all-inclusive holidays.
Over a third of those planning a trip this year intend to choose the all-inclusive route however research shows this might not necessarily curb costs.
Almost half (46 percent) told Post Office Travel Money they view all-inclusive
holidays as good value because they need not worry about taking holiday spending money.
DON'T MISS
Travel: 'Good deals' to help cut cost of PCR tests [INTERVIEW]
Spain facing devastation over Boris travel announcement [INSIGHT]
Spain holidays: Britons warned as ECDC categorises nation as dark red [DATA]
Despite this, extra spending by the majority of all-inclusive holidaymakers actually ended up being nearly £700.
On their last all-inclusive holiday 61 percent of holidaymakers said they paid for a range of extras on top of their paid-for package in their resort.
In particular, the numbers paying extra for food and drinks has mushroomed since Post Office Travel Money began tracking additional spending in all-inclusive resorts in 2014.
Food and alcohol are key players in the reason many Britons end up overspending.
Spending levels in European resorts have risen for almost all food and drink items since the last report was published in 2019.
Holidaymakers spent an average of almost £390 on nine food and drinks items – a significant increase of 27 percent.
Spending away from their resort by Britons on all-inclusive packages has also increased. Three-quarters of holidaymakers who had previously taken an all-inclusive package chose to leave their resort and spend money in local bars, restaurants and shops.
The amount they spent on eight food and drinks items rose 16 percent to an average of around £295 compared with 2019.
Nick Boden, head of Post Office Travel Money, said: "The evidence provided by Britons who have holidayed abroad in recent years makes it clear that an overwhelming majority cast their budget aside once they get to their destination.
"Even though many holidaymakers plan to budget more for this year's trip, they should set a realistic budget based on their past experience and try to stick to it by avoiding poor exchange rates and transaction charges incurred at ATMs, or when paying with credit or debit cards."
While many Britons seem to consider self-catering a trap for additional spending, according to Post Office Travel Money, this is misguided.
Research found that self-catering holidaymakers typically only spend £140 on a supermarket shop for the duration of their stay.
To prove the point, Post Office Travel Money compared the average cost for two people of a one-week four-star self-catering holiday including £140 of provisions with the cost of a one-week four-star all-inclusive trip including the average "away from resort" spend of £295 in six destinations.
These included hotels in the Algarve, Costa del Sol, Majorca, Corfu, Cyprus and Croatia.
In all cases, the data showed that the cost of self-catering was much lower.
In the Algarve, for example, the self-catering option cost £785 for two compared with £1,557 for all-inclusive which is around half the price.
Source: Read Full Article