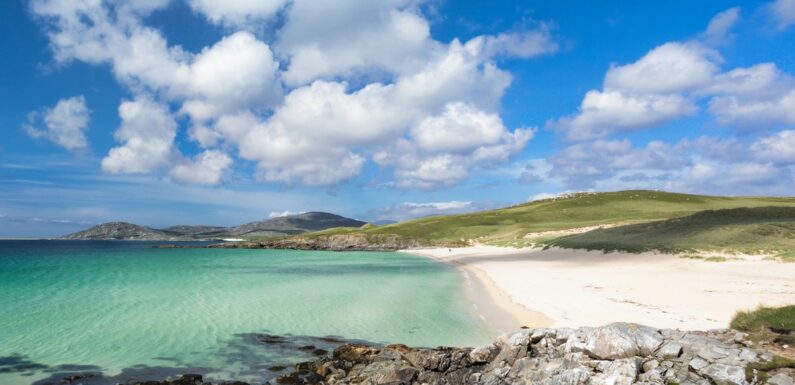 Pristine white sand beaches, turquoise waters and a remote location away from the daily grind – you'd be forgiven for thinking we're talking about a spectacular spot in the Maldives.
The islands have a reputation for being unspoiled thanks to those picture-perfect beaches you've no doubt seen all over your social media feeds.
However, Maldives holidays don't come cheap, with some packages easily setting you back thousands of pounds. The good news for Brits is that there's somewhere a little closer to home that has its own wanderlust-inducing credentials.
READ MORE: Cheap pints under £2 and Maldives-like beaches – summer hotspots not to miss
Tipped to be the 'UK's answer to the Maldives', the Isle of Harris in Scotland is definitely one that's worth sticking on the bucket list.
It's not surprising, considering its sandy shores are major contenders for the world's most beautiful beaches.
Inside 'UK Benidorm' where Brits enjoy nudist beaches, cheap pints and wild clubs
For example, Luskentyre beach never fails to impress visitors. Its remote location means that it is unspoiled, not to mention it never gets crowded.
As it's so peaceful it can be a haven for birdwatchers thanks to the wide array of birds residing there, while the surrounding rocky landscape and greenery make for some seriously pretty walks.
Its turquoise waters are inviting for a swim – although be warned they will be significantly colder than the Maldives!
In fact one visitor quipped in a Tripadvisor review: "Perfect beach, you can almost believe you're in the Caribbean until you go for a swim and realise it's still winter in Scotland".
A second happy beachgoer wrote: "An extraordinarily beautiful beach of brilliant white, shell sand, stretching across a huge, sheltered bay. Despite its being early April, we decided to have a very brief swim in the gloriously clear water. Unforgettable."
Another gorgeous sandy shore worth having on the radar is Huisinis, also boasting fine white sands and crystal-clear waters that make the stuff of Instagram-worthy scenery. Visitors have also praised the scenic – if long – drive it takes to make it to the beach.
One person wrote: "Another spectacular beach on the beautiful Isle of Harris. Quiet, isolated, beautiful, peaceful and tranquil. Like most of the beaches on Harris. A photographer's dream."
"Lovely beach but a long drive to get there along lots of twisty, narrow single track with passing places," added another.
Want to visit? The easiest ways to get to the island are either by ferry or by air. Loganair runs a series of domestic flights to the Isle of Harris, or you can take the ferry from the Isle of Skye or mainland Scotland.
You can find out more on explore-harris.com.
READ NEXT:
Cheapest European holidays for Brits with £2.50 beer and cheap nights out

'Rude plane passengers made fun of my wife on a flight – but I got the last laugh'

'I travelled to three countries for less than £50 – here's how you can too'

'I quit cabin crew job to sell racy snaps – my daughter approves and I earn fortune'
Source: Read Full Article