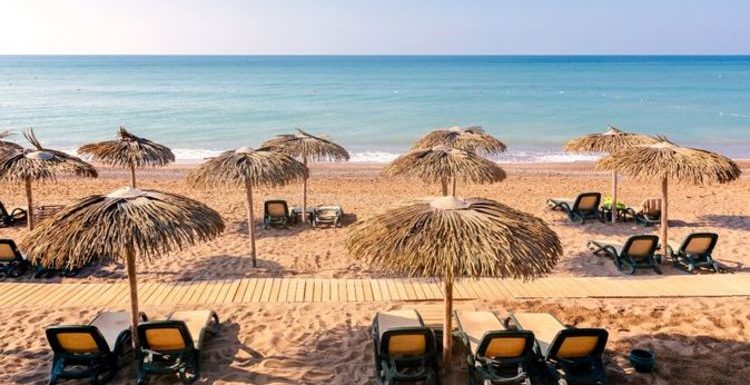 Travel: Paul Charles warns travel testing is 'recipe for chaos'
We use your sign-up to provide content in ways you've consented to and to improve our understanding of you. This may include adverts from us and 3rd parties based on our understanding. You can unsubscribe at any time. More info
Many favourite hotspots for British travellers have been on the Government red list for most of summer, but some are predicted to be removed today. There are currently 62 countries on the travel red list, including Turkey, Thailand, Sri Lanka, South Africa and Mexico.
Turkey will be removed from the red list in today's update, according to latest reports.
The country has long complained of its inclusion on the list, as it says its vaccination programme is going well.
The red list is expected to be halved in the latest changes, according to reports in The Times.
All tourists visiting countries on the red list must currently quarantine in an expensive Government hotel.
Government ministers are also expected to confirm that compulsory PCR tests will be scrapped for fully vaccinated people.
People will be able to take a lateral flow test instead when the new rules are introduced.
The UK has been an outlier in Europe as other countries including France and Germany allow double-vaccinated passengers entry without tests.
The travel industry has called for the amber and green lists to be merged to make it easier for people to visit popular destinations.
Travel experts have welcomed the proposed changes to the current traffic light system and have previously called for more countries to be added to the amber list.
Estelle Giraudeau, Managing Director of UK & Northern Europe at Club Med, told Express.co.uk: "Like many others in the travel industry, we await the government travel announcements with bated breath.
"Yet time and time again, countries which were rumoured to change to green or amber list status have often been left behind, with little reasoning as to why.
"It has completely shattered consumer confidence with so many unable to take what is regarded as a 'gamble'.
"We understand there is speculation for the Maldives and Turkey to be finally removed from the red list and reinstated as a holiday option for Brits. This would be a welcome sigh of relief, with both incredibly popular destinations offering the perfect option for some late summer sun."
Speaking to Express.co.uk, Paul Melinis, Managing Director of river cruise and touring specialist APT said: "Looking at case rates over the last week, it looks likely that some of the most popular Mediterranean holiday destinations for Brits, such as Portugal, Greece, Spain and Italy, will remain on the amber list.
"Unless Shapps makes a move to end the current traffic light system, in these destinations as well as European cities, which we hope he will."
The traffic light system has meant many tourists have had to pay for expensive PCR tests despite being double jabbed.
Alan French, CEO at Thomas Cook, told Express.co.uk: "The simplification of the 'traffic light' system would be welcome news for our industry and will enhance consumer confidence when it comes to booking overseas travel.
"We've already started to see that confidence growing as travel restrictions stabilise and the vaccine programme roll-out continues.
"For example, bookings made this month for the October half-term week are up more than 200% compared to last month.
"In terms of destinations, Greece continues to be our most sought-after destination, followed by the Canary Islands and the Balearics, Majorca in particular."
Source: Read Full Article