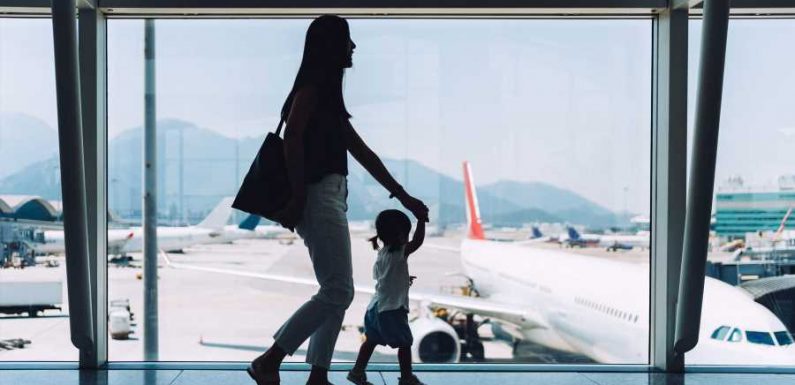 Flying with kids is hard. I don't know how to sugarcoat that fact; it's just hard. From the endless rules to the confined spaces, it's not their best environment. And since they can't be placated by a cocktail or the promise of frequent flier miles, you have to find a way to incentivize them to bear the discomfort so they can learn to enjoy the jetset.
You know what helps? The right stuff and the best snacks. Keep them fed and keep them entertained and you're on your way to enjoying the sun, snow, or whatever is in store for you upon descent.
In-flight service can be spotty at best during COVID-19, depending on your airline, so packing snacks is as essential as downloading "Frozen II." Here are my tried-and-true picks.
The Gear
iPad and Case
Kids are born with a tablet in their hands these days — it's the best way to keep them calm on a long day of flying. I've written about why iPads are the best for road trips before, and I believe the same to be true for air travel. They work intuitively, can be easily locked down with parental controls, and from the mini to the classic, they're perfectly sized for kids of all ages. And yet like all modern tech, they need a case, so you might as well get them a good one to keep it (and them) safe. My kids and I were thankful to have this one from Adocham, which has handles to hold, a stand in the back for a tray table, lots of rubber to keep it safe from drops, and best of all, a lanyard looping over the top, which allows it to be hung from whatever is in front of you at eye level, especially the car to and from the airport.
Load Error
To buy: Adocham Kids Case for iPad, amazon.com, from $14
Toys and Games
For when the screen time has started to make their eyes water and minds wander, you need a tangible distraction. We discovered these Mess-Free kits from Crayola and never looked back. They have markers that only work when on the paper, so an errant stroke on their pants or the plane seat won't leave any mark. From Frozen and Cars scenes to unlined paper, they are perfect for a break from the tablet, and they come in a backpack-friendly case. We pick up a new one for every trip.
We also love these Melissa & Doug Puffy Sticker Playsets for the same reason: they're compact and fit in the backpack, are mess-free in that they don't stay stuck if put on the person in front of your kids or the tray table, and are cheap enough to grab a new one for each trip. They run the interest spectrum from pets to princesses, vehicles to dinosaurs, and even Santa's workshop.
To buy: Crayola Color Coloring Page Set, target.com, $7; Melissa & Doug Puffy Sticker Activity Book, melissaanddoug.com, $8
Video: How Sorting Laundry Instead Of Folding Saves Time (Newsweek)
Watch: Anti-Mask Protesters Disrupt Utah School Meeting Chanting 'No More Masks'

Newsweek


GOP Rep. Holtorf Calls Dem Colleague 'Buckwheat' During Heated Exchange

Newsweek


What To Know About Peloton Tread Recall

Newsweek


White House Jen Psaki Responds To Facebook Upholding Trump Ban

Newsweek


Biden When Asked About Liz Cheney: 'I Don't Understand The Republicans'

Newsweek


Watch: Newsom GOP Challenger John Cox Brings 1,000-Pound Live Bear In Recall Election Bid

Newsweek


Video Shows Colombia Protests Continue In Fiery Streets

Newsweek


Colombia Protests In Photos: Violence And Unrest

Newsweek


US Coast Guard Rescues Survivors From Capsized Boat In Suspected Smuggling Attempt In San Diego

Newsweek


160 Mystery Boxes Discovered To Have Suffocating Puppies And Kittens Inside

Newsweek


Watch: Irish President's Adorable Dog Steals The Show (And Our Hearts) During Live Interview In Viral Video

Newsweek


Biden Sets New Goal Of At Least 70% Of Adults Vaccinated By July 4th

Newsweek


Video Shows Chicago Man Being Arrested After Plowing Into Crowd With Truck

Newsweek


Bill And Melinda Gates Relationship In Photos

Newsweek


Stranger Attacks Two Asian Women With Hammer On Streets Of Manhattan

Newsweek


Mexico City Metro Collapse: What To Know So About Line 12 Train Crash

Newsweek


Watch: Anti-Mask Protesters Disrupt Utah School Meeting Chanting 'No More Masks'
During a Utah school district meeting, anti-mask protesters were caught on video booing Granite School District director Star Orullian, approaching the board members' desks and chanting "no more masks," ultimately disrupting the meeting and leading to it being adjourned.


Newsweek



GOP Rep. Holtorf Calls Dem Colleague 'Buckwheat' During Heated Exchange
During a legislative session in the Colorado House of Representatives on Wednesday, things got heated when GOP state Rep. Richard Holtorf referred to his colleague, Democratic state Rep. Tom Sullivan, as "buckwheat." Holtorf then asked Sullivan repeatedly "why are you yelling at me?" before they were forced to break for a short recess.


Newsweek



What To Know About Peloton Tread Recall
Peloton is recalling its Tread+ and Tread treadmill exercise machines after multiple reports of injuries and the death of a child. Customers who purchased the product were told to immediately stop use and contact the company for a full refund or another remedy. U.S. Consumer Product Safety Commission has received 70 reports of people, pets, objects and other things behind pulled under the treadmills, including 29 children who have suffered injuries such as third-degree abrasions, broken bones and lacerations.


Newsweek

Travel Pillow
I can't seem to get relief from neck pillows, but my kids love them. So before you drop entirely too much on them in the concourse, grab these cute (and machine washable!) Critter Pillows that are half emotional support, half neck support.
To buy: World's Best Store Critter Piller Kid's Travel Pillow, amazon.com, from $10
Backpack
Kids need carry-ons too. Especially for younger kids, however, if you overpack a carry-on you'll end up having to carry it yourself — so it needs to hold the essentials and be comfortable. For plane travel, a backpack is just the best. They can easily fit their stuff, and if you're smart about how you pack, it can even alleviate what needs to go in your own bag. My kids get a bento box, a water bottle, snacks, coloring and reading books, a tablet, headphones, and a backup pair of clothes in theirs. So for that, we like the Pottery Barn series, with a size for every age. It hits the sweet spot of providing enough room without being too bulky.
To buy: Pottery Barn Mackenzie Navy Solar System Glow-in-the-dark Backpack, potterybarnkids.com, $60
The Snacks & Accessories
Water Bottle
My pick for a kids' water bottle is the beloved Thermos Funtainer. Tons of colors and lots of designs means there is one for every type of kid. Easy to fit under any water fountain to fill up post-TSA, they are also as leakproof as I can find with the top closed, so they can sit beside them on the seat easily.
To buy: Thermos Funtainer, amazon.com, $15
Stasher Bags
When it comes to fresh food, a banana is going to solve so many hunger-tantrum issues. Baby carrots are a little loud for my liking, but I think kids enjoy the crunch breaking up the mundanity of the flight. Grapes are nearly perfect, as are pickles if your kids are adventurous like mine. But whatever you do, save the environment in the process by getting some Stasher silicone bags, which can easily be cleaned and reused for the flight back home.
To buy: Stasher Silicone Reusable Storage Bag, amazon.com, $12
Travel-friendly Food
There are a few tried-and-true snacks for just these situations. Nothing can compete with the classic Goldfish pack, and now you can truly find any theme of them to match your trip (Mickey shapes on your way to Disney seem too perfect not to try.) My kids think the six-pack of cheese or peanut butter cracker sandwiches is a near-perfect snack, and I agree, so I often steal one or two of them. And of course, Baby Bell cheese wheels have never been a bad choice — just make sure they don't eat the wax. 
Trader Joe's is your best friend when loading up on healthy snacks, and there are a few individually packed items that are a perfect single serving to stash in a kid's backpack. The Breakfast Trek Mix is a favorite of my kids (and my wife). With its granola and nut and yogurt chips, you get sweet and salty without tons of extra sugar. They sell the individual Citterio cheese and salami packs that are great for a protein fix. And leave it to the Inner Peas to be irresistible yet less messy than their cheesy puff counterparts. They also have every manner of granola bar, so take your pick from Apple Cereal to Z-Bar.
Love a great deal? Sign up for our T+L Recommends newsletter and we'll send you our favorite travel products each week. 
Source: Read Full Article