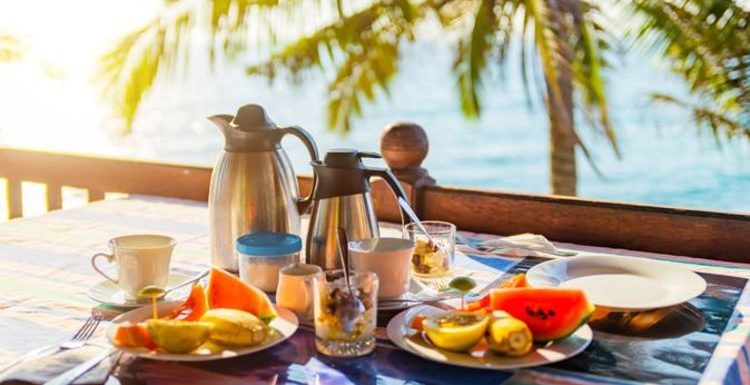 The Radfords cook breakfast for 22 kids including 48 sausages
We use your sign-up to provide content in ways you've consented to and to improve our understanding of you. This may include adverts from us and 3rd parties based on our understanding. You can unsubscribe at any time. More info
Finding the best food during a holiday doesn't have to be complicated. Some hotels are offering their guests some of the best food around, and it all starts with breakfast.
The best hotel breakfasts in the world have been named by Mornings.co.uk.
The UK came up on the top 10 list three times, proving when it comes to breakfasts, Britons know what they're doing.
Thailand and Malaysia came up twice, with Italy, the Bahamas and Hungary also all making the top 10.
The best hotel breakfast in the world was found to be at the Park Plaza Westminster Bridge.
The hotel was built on the site of one of "the ugliest buildings in the UK", but the new hotel, which opened in March 2010 is a far cry from what was there before.
On Tripadvisor, Terrilouiseharpe said: "Best hotel we have stayed in London!"
Mornings.co.uk found "The Plaza's 'superb breakfast with so many choices' extends to a 'wide variety even for my fussy 10-year-old'."
DNeesam wrote: "Perfect location, perfect staff and perfect experience. Would happily stay again and have already recommended to people at work."
In second place was Hotel Artemide in Rome, Italy, with staff "bringing you the delicacies of the chefs and patisserie, such as tiramisu, hot bruschetta, Sicilian cannoli, and a bevvy of other ever-changing temptations."
On Tripadvisor, Mari M said: "The breakfast was delicious. I ate non-stop during breakfast and so did my family."
She also wrote: "My favourite hotel ever. More than exceeded our expectations."
Asia entered the list at number three, with the Traders Hotel in Kuala Lumpur.
Chatrium Hotel Riverside in Bangkok was fourth, and Shangri-La Bangkok fifth.
At number six, another UK hotel made its appearance.
Mazwright reviewed the Premier Inn London County Hall Hotel on Tripadvisor and said: "Excellent service, pleasant staff, very clean rooms and of course the all you can eat breakfast!"
The third UK hotel to make the list was The Tower Hotel, at number eight.
Top 10 hotel breakfasts
1. Park Plaza Westminster Bridge, UK
2. Hotel Artemide, Italy
3. Traders Hotel, Malaysia
4. Chatrium Hotel Riverside, Thailand
5. Shangri-La Bangkok, Thailand
6. Premier Inn London County Hall Hotel, UK
7. Hotel Palazzo Zichy, Hungary
8. The Tower Hotel, UK
9. Sandals Royal Bahamian, Bahamas
10. Shangri-La Kuala Lumpur, Malaysia
Morning.co.uk
Source: Read Full Article