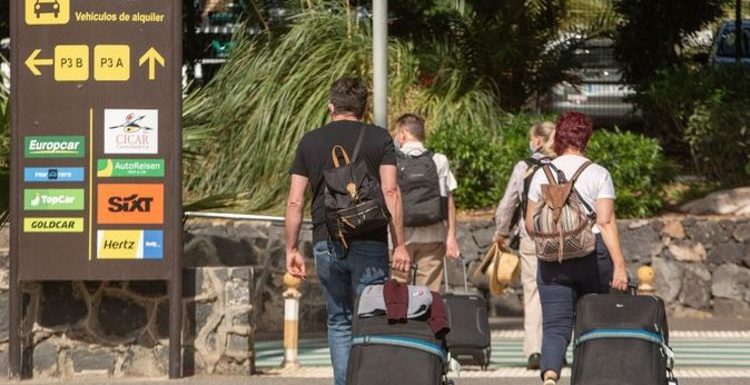 Simon Calder criticises continued French travel ban
We use your sign-up to provide content in ways you've consented to and to improve our understanding of you. This may include adverts from us and 3rd parties based on our understanding. You can unsubscribe at any time. More info
The popular tourist destination of Tenerife has raised its Covid alert level to four as a surge in cases put the island at "very high risk". The alert came into operation at midnight.
British tourists holidaying in Tenerife will face new restrictions as the island looks to protect residents.
The maximum number of people allowed to meet up indoors and outside is now limited to six.
Covid passports will have to be shown to enter every hospitality establishment on the island.
The Canary Islands Government has raised the alert level as hospitals in the region experience pressure from increased cases.
Most venues will have capacity cut to 75 percent outdoors and 33 percent inside to avoid large crowds.
Only six people can sit together at a hospitality venue unless they are from the same household.
Pubs and restaurants will have to close at midnight which is likely to put a stop to any parties on the island.
Public transport capacity will also be limited with capacity cut to 75 percent to combat the spread of Covid.
On Sunday, 2.891 new cases of Covid were reported on the Canary Islands and nine more deaths.
Six of the nine deaths occured in Tenerife, one of the most popular winter holiday destinations for British tourists.
The Canary Islands of La Palma and Lanzarote have had the alert level rise to three. Gran Canaria and Fuerteventura are also at level three.
La Gomera and El Hierro remain at level two as Covid cases are lower on those islands.
The Omicron variant has been blamed for the soaring number of cases on the Canary Islands.
The President of the Canary Islands Government, Ángel Víctor Torres, said he was "very concerned" about the tremendous pressure on health services.
He said: "There is hardly any family that does not have a member who has tested positive.
"It is not an exceptional issue in the Canary Islands, it is happening all over the world."
Winter is often seen as the high season on the Canary Islands as the islands offer tourists warm temperatures throughout January and February.
All British tourists over the age of 12 will need to be fully vaccinated to travel to Spain and may need to show a negative test.
Some accommodation on the Canary Islands will require tourists to show a negative test and travellers should check with their provider before going.
British tourists will need to take a lateral flow test on or before day two after arriving back in the UK.
Additional reporting by Rita Sobot.
Source: Read Full Article