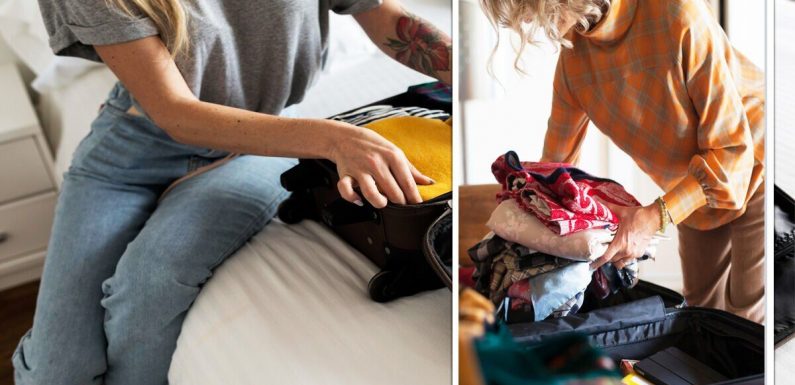 This Morning: Folding hacks for an easy getaway
We use your sign-up to provide content in ways you've consented to and to improve our understanding of you. This may include adverts from us and 3rd parties based on our understanding. You can unsubscribe at any time. More info
Since the pandemic, many Britons are feeling rusty when it comes to packing. Hand luggage requirements can be tight but packing light is a great way to save money on a holiday.
Sophie Liard, or The Folding Lady, shared her top packing hacks and tips with ITV's This Morning.
She showed off a men's suitcase packed with 34 items including 9kg of clothes and 1kg of chargers and extras.
The tightly packed case included two pairs of chinos, four pairs of shorts and three pairs of swimming trunks.
Sophie said that packing cubes were her "number one accessory" when it comes to hand luggage packing.
The cubes help to separate items and keep everything neatly organised inside the suitcase.
She added: "My followers keep their clothes like this anyway" so they are able to just pack straight into their case.
Sophie also said that packing in cubes will keep holidaymakers organised when it comes to a trip away.
She told Holly and Phil: "If you're going for a week and you don't want to unpack, you can live out your suitcase."
Packing cubes ensure that all items are organised and kept safe meaning travellers have no need to unpack.
Using the cubes, Sophie was able to pack a child's case with 41 items including two sets of armbands, suncream and a towel.
She said: "I take the kids stuff, put it in a drawer and then just live out of it."
Holly joked that her and Sophie were two very different women when it came to taking children on holiday.
Sophie then demonstrated some of her most requested folds, including a skirt for a holiday case.
She said: "Try and get yourself a rectangle, I have folded it so it's nice and straight like this. With women's clothes, they are a bit different because there's a lot of material."
She then showed off her "little trick" for folding shorts for a holiday trip. Sophie said: "This is great for a backpack, you can use your waistband to tuck it all in.
"Any sort of shorts, especially for a backpack that's brilliant."
Tucking shorts into their waistband will keep them folded and organised, particularly for backpack travel.
She added that travellers should wear their "bulkiest shoes" to the airport to aid in packing.
Sophie said: "Fold your swimsuits into thirds" to help them to fit easily inside the case for a holiday.
When it comes to creasing, she advised: "Creasing is all about what material you're using because some materials just crease so bad."
Source: Read Full Article