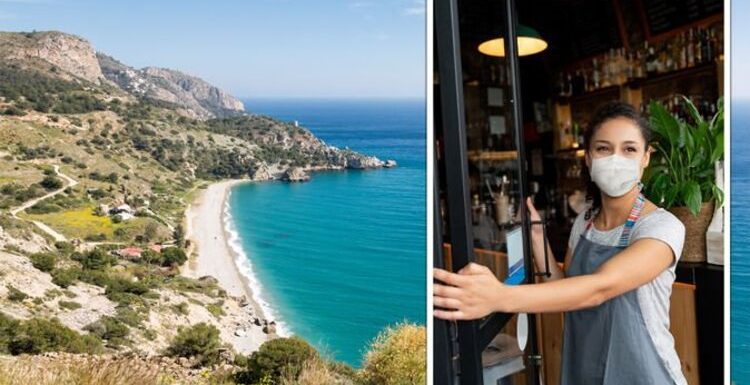 Hotel Benidorm: Guests explain why they like Benidorm
We use your sign-up to provide content in ways you've consented to and to improve our understanding of you. This may include adverts from us and 3rd parties based on our understanding. You can unsubscribe at any time. More info
The Prime Minister of Spain, Pedro Sanchez, said that the removal of masks is on the Government's agenda. He said: "Hopefully it will happen sooner rather than later".
Sanchez added: "It will be done when science and health professionals say so." Spain has said it will not be influenced by other countries.
The minister for health, Carolina Darias, said: "The pandemic has shown us that when we are together, we go further, quicker."
Cases of Covid are dropping in Spain and pressure on hospitals has also fallen in recent days.
The country ditched compulsory masks outdoors earlier this month in welcome news for British tourists.
Spain also ditched its controversial rule on teenage vaccination this month. British teenagers can now enter Spain with a negative PCR test if they are not vaccinated.
The country has had stricter rules than the UK on Covid which ditched mask wearing much earlier on.
Masks are currently compulsory in all indoor public spaces as well as on public transport and some mass events in Spain.
Some regions in Spain are using the Covid passport which requires people to be vaccinated or have a negative test to enter hospitality venues.
Spain has also launched a new tourist campaign to encourage Britons to return to the holiday destination.
The campaign is aimed at families as Spain attempts to recover its tourism industry for 2022.
Tourism officials in Spain feared they would lose business to other destinations such as Greece and Turkey which had fewer restrictions.
However, according to easyJet data more than 30 percent of Britons are planning a holiday to Spain this year.
The Canary Islands have launched an Instagram campaign aimed at British teenagers between the ages of 13-17 years.
Minister of Tourism, Yaiza Castilla said: "We are focusing on them because they have been the most affected by the measures restricting access to Spain, which led to a decrease in our brand identity oriented towards family holidays, which we finally managed to get the Spanish Government to withdraw."
The campaign is aiming to "remind young British people in an informal way that they can now travel to the islands again".
Unvaccinated British adults are currently banned from travelling to Spain while fully vaccinated adults will need a booster jab if their second jab was more than 270 days ago.
British tourists do not need to take a test after arriving in the UK from Spain but will need to fill in the passenger locator form.
Grant Shapps announced that the form will be simplified soon while many in the travel industry hope it will be scrapped altogether by Easter.
British tourists should check the Government website for the latest travel restrictions before booking a holiday.
Source: Read Full Article