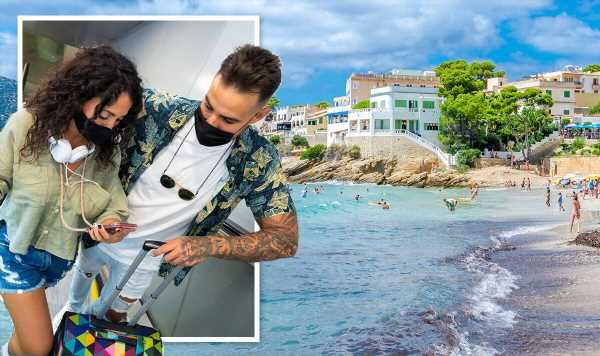 Spain vaccination stance 'really good news' says Aspey
We use your sign-up to provide content in ways you've consented to and to improve our understanding of you. This may include adverts from us and 3rd parties based on our understanding. You can unsubscribe at any time. More info
On April 20, 2022, the Foreign, Commonwealth and Development Office (FCDO) made its most recent update to the Spain travel advice page, notifying Britons that rules regarding the use of face masks in Spain have been relaxed. With COVID-19 travel rules almost entirely gone for fully vaccinated travellers, the summer of 2022 is set to be the busiest for travel since the beginning of the pandemic.
In 2019, before COVID-19 gripped the world, an estimated 18.13 million British tourists visited Spain.
There are already signs that figures are on the up for 2022, with tourism employment rates in Spain reaching 2019 levels by 99.4 percent in March.
Before jetting off, though, there are still some rules in place that Britons may need to know.
What Covid entry rules are still in place in Spain?
At the time of writing, unvaccinated travellers remain barred from entering Spain for tourism.
If you are travelling to Spain for tourism you must show valid proof of one of the following:
Being fully vaccinated (with both doses of a two-dose vaccine or one dose of a one-dose vaccine) at least 14 days prior to arrival in Spain (the dates of vaccination must be specified).
Spain will accept the UK's proof of COVID-19 vaccination record and proof of COVID-19 vaccination issued in the Crown Dependencies.
DON'T MISS
Hand luggage size: easyJet, Ryanair, jet2, and Tui rules [INSIGHT]
The destinations in Spain with most British residents [REPORT]
BA cancels more than 100 flights from Heathrow [UPDATE]
However, your NHS appointment card from vaccination centres is not designed to be used as proof of vaccination, as will not be accepted.
Having recovered from COVID-19 in the last six months. You can also use a medical certificate or recovery record to prove your COVID-19 status on entry to Spain.
Travellers who can show proof of being fully vaccinated or having recovered from a prior COVID-19 infection in the last six months, or who are under 12, do not need to complete a Travel Health Control Form.
There are some different entry requirements for children under 12 years old and those aged 12 to 17.
Children under the age of 12 do not need to show proof of vaccination, proof of a previous infection or take a diagnostic test prior to arrival.
Children aged 12 to 17 travelling for tourism can enter Spain by presenting documentation certifying that they have undertaken a COVID-19 nucleic acid amplification test – NAAT or a recovery certificate.
If they are vaccinated, they can show evidence of this and side-step testing requirements.
Children aged 12 to 17 will be expected to complete a Health Control Form before travelling if they are not vaccinated.
The FCDO adds: "You may also be subject to additional checks at the point of entry including a temperature check, visual health assessment, or testing on arrival. Passengers may also be contacted and required to undertake a COVID-19 nucleic acid amplification test – NAAT (PCR or similar) at any point up to 48 hours after their arrival in Spain."
Covid rules while in Spain
The FCDO states: "Public health measures to reduce the transmission of COVID-19 remain in force across Spain and may vary between regions."
However, most recently the Spanish government relaxed some of the rules surrounding face masks.
In its update, the FCDO explained: "The use of face coverings is mandatory for anyone over the age of six years if you are in the following situations: on any form of public transport in Spain, visiting a hospital or medical centre (including other healthcare settings such as dentists, opticians, pharmacies), visiting a care or nursing home. Face masks must cover the nose and mouth."
In addition to the mandatory use of face masks in the above situations, the Spanish government "recommends you use them responsibly" in the following places:
enclosed public spaces such as shops, cinemas, bars and restaurants
at large events (for example concerts, sporting events)
when in the company of people considered clinically vulnerable or high-risk and social distancing of 1.5m cannot be observed
at family gatherings
in any other enclosed communal spaces open to the public.
Other public health measures may vary between regions, so tourists should refer to local authorities for advice.
Visitors and the public must abide by any safety measures put in place by establishments such as hotels, bars, shops and restaurants to reduce the risk of COVID-19 such as social distancing and other public safety precautions.
The Spanish government is also urging everyone to wash their hands frequently.
Source: Read Full Article