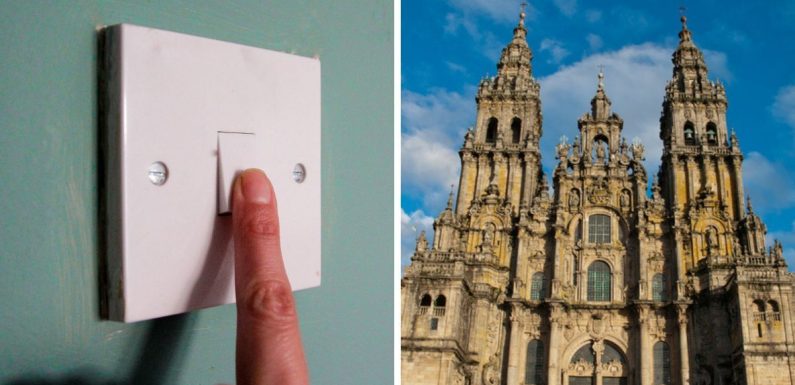 Spain has introduced some new measures to limit the use of energy across the country. This may impact British tourists to the country.
In a bid to save energy, Spain is implementing a new policy regarding lights.
Within the next seven days, shops, supermarkets and public buildings have been ordered to switch off their lights at 10pm.
This includes churches and cathedrals, which may be popular tourist spots.
The measure will last until November 1, 2023, when days will be much darker and shorter.
We use your sign-up to provide content in ways you've consented to and to improve our understanding of you. This may include adverts from us and 3rd parties based on our understanding. You can unsubscribe at any time. More info
All buildings will have to display the saving measures on posters or screens until this date.
Properties that passed the energy efficiency inspection before January 1, 2021 must undergo a review before December 31.
The new energy saving measure comes as a law was passed in Spain to limit air conditioning usage in public places.
Shops, offices, hospitality venues, administrative buildings, commercial spaces, bus, train stations and airports will be prohibited from setting their air conditioning to above 27 degrees celsius in the summer.
This will be in place until November 1, 2023.
This may affect British tourists visiting the country.
In the winter, people will be banned from raising the heating to above 19 degrees celsius.
The Spanish government has also ordered the compulsory automatic closing of access doors before September 30, 2022.
The energy saving measures will have some impact on tourists.
Concerns have already been voiced about visitors to one of the most visited cathedrals in Spain in Santiago de Compostela.
The mayor, Xosé Sánchez Bugallo, was one such voice of apprehension.
She said that the part of the energy saving plan that caused "the most concern" was the obligation to turn lights off in buildings.
He stated: "If they are turned off, a situation would logically arise that will convey an image of less security and less comfort for the people who are in the historic city, which are many."
However, Santiago is willing to adhere to new regulations regarding air conditioning and heating.
Xosé Sánchez Bugallo was not alone in his fears about turning the lights off in such important, popular buildings.
President of the Community of Madrid, Isabel Díaz Ayuso, said she would not turn off the lights as doing so would "generate insecurity and scare away tourism and consumption".
She tweeted: "On the part of the Community of Madrid, it will not be applied. Madrid does not go out.
"It causes darkness, poverty, sadness, while the Government covers up the question: what savings is going to apply to itself?"
Source: Read Full Article