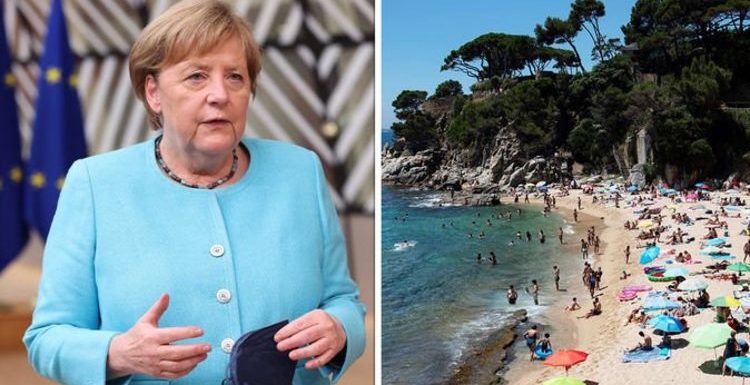 Angela Merkel's UK travel rules defended by former MEP
When you subscribe we will use the information you provide to send you these newsletters. Sometimes they'll include recommendations for other related newsletters or services we offer. Our Privacy Notice explains more about how we use your data, and your rights. You can unsubscribe at any time.
After Angela Merkel called for all EU countries to force Britons to quarantine on arrival, Spain has said they refuse to impose any restrictions on UK holidaymakers.
Due to Delta variant concerns, Angela Merkel urged an EU-coordinated approach to fight the COVID-19 Delta variant.
Germany has already introduced a two week quarantine for all Britons and asked other countries to follow suit.
"In our country, if you come from Great Britain, you have to go into quarantine – that's not the case in every European country and that's what I would like to see," Ms Merkel said.
Other countries like France or Italy have also introduced mandatory quarantine for anyone arriving from the UK.
What do you think? Join the debate in the comments section here
However, Spanish Tourism Minister Maria Reyes Maroto appeared to put her country on a collision course with the likes of Angela Merkel as she announced that they "don't have any restrictions on tourists from the UK".
"Hopefully we can begin to receive British tourists soon," she said ahead of today's green list announcement.
"We don't have any restrictions on tourists from the UK at the moment.
"They're the ones who are placing restrictions on people when they return.
"Perhaps the green light for Spain doesn't depend on the situation here, now that the tendency here is the right one, but on the UK's epidemiological situation and the fear that an opening of borders would go against attempts to control the pandemic," she added.
However, Portuguese PM Antonio Costa admitted he would bow down to whatever EU leaders decided ahead of a European Council meeting.
When being asked if Portugal would consider making Britons quarantine, he said: "If that was the wish of the Council, yes.
"The United Kingdom shouldn't have any different treatment."
In 2018, 18 million Brits chose Spain for their holidays, way above second and third-placed Germany and France with around 11 million tourists each.
Spain opened its borders to British tourists at the end of May despite France and Germany unveiling tougher rules.
At the time, Spanish President Pedro Sanchez extended his own personal invite to holidaymakers from the UK by announcing they could visit the country with no restrictions.
Currently, any Briton can go on holiday to Spain without the need to take a COVID-19 test or follow a quarantine.
Mallorca has seen a surge in the number of German tourists, who mocked Britons for not being able to go on holiday this summer.
Now, with the Balearic Islands added to the green list, UK tourists will be able to return to the archipelago from June 30.
The Balearic Islands, which include Mallorca, Menorca and Ibiza, along with other 16 destinations have been moved to the green list.
Britons travelling to green destinations can do so without restrictions or need to quarantine on return.
Additional reporting by Gerard Couzens.
Source: Read Full Article