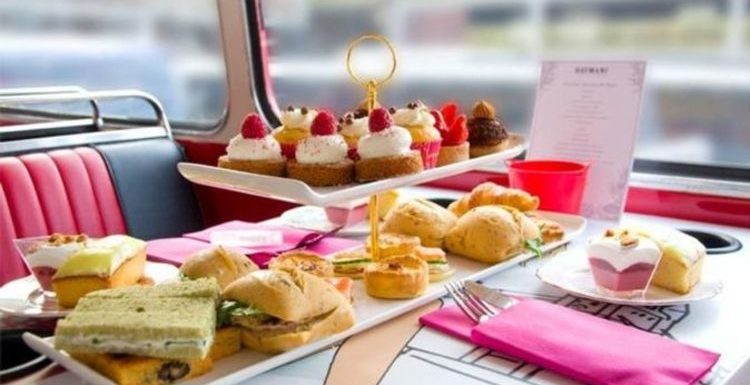 Aston Merrygold creates the 'perfect' lemon gin drink
We use your sign-up to provide content in ways you've consented to and to improve our understanding of you. This may include adverts from us and 3rd parties based on our understanding. You can unsubscribe at any time. More info
Guests can step on board and try a range of cocktails and cakes on offer while the 1960s vehicle whisks around the historic landmarks for 90 minutes. The whistle-stop tour is in collaboration with Harrogate-based premium gin brand, Slingsby Gin and Brigit's Bakery, who also host a Peppa Pig-themed afternoon tea bus for little ones.
Departing from Central London, the unique tour takes a 90 minute route through the heart of the city on a quintessentially 1960s British bus.
Guests can marvel at the sights of iconic landmarks including the London Eye, Westminster Abbey and Marble Arch.
Departing from either Westminster or Victoria Coach Station, passengers will pass by Marble Arch and the London Eye while enjoying classic Gin and Tonics and gin-infused treats.
Items on the menu include a Raspberry Tart with Slingsby Rhubarb Gin Cream, Gin Jelly with Lime Mousse, Slingsby Gooseberry Gin and Cucumber Pipette as well as a Strawberry Moelleux with Slingsby Rhubarb Gin.
Marcus Black, co-founder of Spirit of Harrogate said: "We are thrilled to be celebrating Afternoon Tea Week this year with the Gin Lovers Afternoon Tea Bus Tour.
"At Slingsby, we aim to create memorable moments for our fans and our partnership with Brigit's Bakery is the perfect way to mark the occasion. We are proud of our award-winning gins and are delighted with the tantalizing, unforgettable flavours they add to all of the exciting serves and desserts on board."
On-board guests will be spoilt for choice with an indulgent selection of additional G&T pairings curated from Slingsby's extensive range of traditional and favoured gins with refreshing London Essence mixers.
If you missed your chance to celebrate National Afternoon Tea Week on (August 9 and 15) there are still plenty of bookings available to enjoy tea with a twist.
The Gin Lovers Afternoon Tea Bus Tour runs Fridays and Saturdays at 5.30pm and 6.30pm with tickets priced from £62.50 person.
Those wishing to book an experience can do so by visiting Brigit Bakery's official website.
Keep up to date with all our 2Chill-related news by following our social pages. As well as videos, tips and advice, we'll also be sharing some dreamy places where you can Eat, Drink, Do & Chill.
For the latest must-have travel news follow us on Instagram, Facebook and Twitter.
DON'T MISS:
Aldi launches brand new Rosé Gin 54 percent cheaper than other brands [REPORT]
Toy Poodle rides scooter around London [VIDEO]
Peter Sawkins recipes: Bake Off winner shares favourite cakes & scones [REVEAL]
Source: Read Full Article