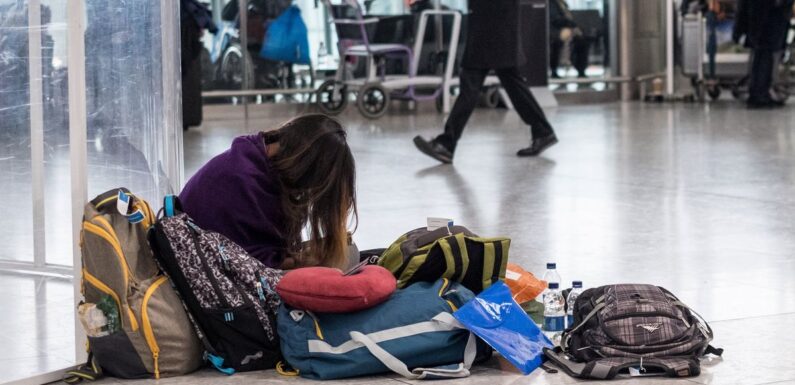 Seven in ten Brits (71%) have had a flight cancelled or delayed in the last 12 months – leaving 45% worried before they even depart for a trip that their travel will not run seamlessly.
Some of the top issues holidaymakers have faced, as a result of travel disruption, include missing a connecting flight (27%), and being left out of pocket after having to book last-minute accommodation (13%).
And 64% said they never received any compensation for the troubles caused – with 45% claiming they were not informed about how the issues would be resolved.
In fact, 61% feel that flight cancellations or delays are not always explained properly to passengers, with 58% having struggled to find out why their plans have been thrown into turmoil – and 16% turning straight to social media, in order to bemoan the airlines.
However, the poll of 1,330 holidaymakers, who have been abroad in the last year, found that 84% claim they would be more understanding when it comes to delays or cancellations, if the airlines were transparent about the issues they are encountering.
It also emerged it takes a flight delay of just 64 minutes before holidaymakers start to see red.
A spokesman for IBS Software, the travel technology specialist which commissioned the study, said: "Nobody likes hold-ups, and this is especially true when travelling abroad – whether that's for a holiday, or a work trip.
"It is understandable travellers get frustrated when they feel like their plans – which many have been looking forward to for a considerable amount of time – might be in jeopardy.
"But what this research shows is a significant number would actually be content with the delay, if they were just kept in the loop more effectively.
"Weather, secondary delays and issues are a daily challenge, but the industry can help regain confidence from passengers by using better technology to resolve these delays in minutes, not hours, and communicating with passengers."
The study, conducted via OnePoll.com, also found that at the early organising stages of a trip, 45% already worry they will incur problems with their departure time when at the airport.
More than half of travellers (53%) understand weather conditions are the most common causes for troubles before take-off, and 30% put it down to staff shortages.
But the knock-on impact of long waits has now caused holidaymakers to reconsider the airlines they will fly with next summer – with 18% now more likely to opt for a staycation in the UK because of this travel uncertainty.
And even of those who did receive compensation for the travel issues they faced, 53% said this didn't make up for missing out on the precious holiday time lost.
The IBS Software spokesman added: "This research really highlights the importance the travel industry needs to put on reducing the impact of delays and cancellations – especially the need to communicate clearly with passengers.
"This will have longer term ramifications, with many considering alternative airlines and travel plans altogether. Airlines need to rebuild trust with their passengers, and it's clear better communication can go a long way to repairing this.
"Achieving this means managing flight disruption by giving airlines the insight they need to keep passengers informed – too often, the legacy IT systems many airlines use exacerbate delays."
Source: Read Full Article