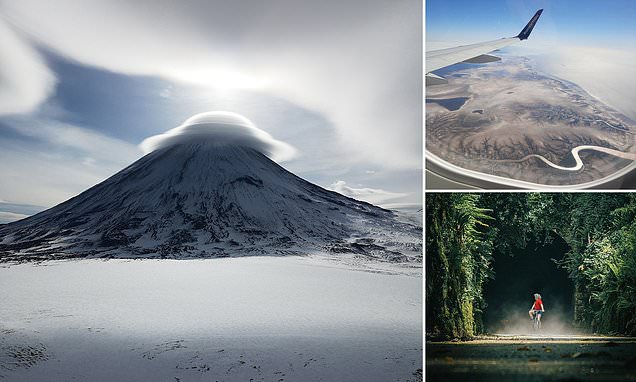 From a volcano capped by a 'UFO' cloud to a rainbow in the Arizona desert and Australia's mesmerising coast: The incredible winners of the 2022 Mobile Photography Awards
The 2022 Mobile Photography Awards received more than 5,500 entries from 90 countries around the world
Judges then chose their favourites, with Shanghai-based photographer Liu KunKun taking the top prize 
Now in its 11th year, the competition is exclusively made up of photos taken on smartphones and tablets
In the right hands, smartphones are capable of awe-inspiring photography – as these images show.
They are all pictures taken on mobiles and tablets that wowed the judges in the 2022 Mobile Photography Awards (MPA). 
Now in its 11th year, the competition received a staggering 5,500 photo submissions from more than 90 countries around the world. 
Six expert judges have now revealed the champion pictures, selecting winners from a shortlisted line-up across 12 different categories including Landscape, Black and White, and Silhouette. 
Scooping the top spot was Shanghai-based amateur photographer Liu KunKun, whose portfolio – captured on an Apple iPhone12 ProMax – earned him the title of the MPA Photographer of the Year. Judge Rodrigo Rivas said of his work: 'He has a great mastery of geometry and perspective and taken together with colour and minimalism he transmits a photographic, personal style into his own voice.'
Scroll on to see our favourites from the judges' line-up, from fog-shrouded castles in Germany to vivid rainbows in the Arizona desert. A shot from the grand-prize-winning portfolio is at the very bottom… 
'The Mystical World of Kamchatka' is a fitting title for this jaw-dropping photo, taken by Rina Gromova and shortlisted in the Landscape and Wildlife category. It captures the dominating peak of Klyuchevskaya volcano in the icy Kamchatka Peninsula in the far east of Russia, garlanded by a lenticular 'UFO' cloud
Photographer Wendy Bauer took this mesmerising shot during a flight over Kimberly Coast in western Australia. Shortlisted in the Landscape and Wildlife category, the picture gives a bird's eye view of the coastline's winding rivers, hidden coves and unspoilt wilderness
Share this article
LEFT: This daring figure perched on the edge of a rock face was captured beautifully by Carlos Martinez. The moody snap, shortlisted in the Silhouette category, is named 'The End of the Earth.' RIGHT: Photographer Martinez secured a second shortlisted photo, this time in the Travel and Transportation category, for this dreamy picture, titled 'The Door to Autumn'
Shrouded by fog, Lichtenstein Castle in Germany and its neo-Gothic architecture is the subject of Germany-based photographer Mariko Klug's iPhone photo. The bewitching snap was shortlisted in the Travel and Transportation category 
Colorado-based photographer Kelley Dallas took this stunning photo on her iPhone during a hike at the Great Sand Dunes National Park in Colorado. 'My iPhone was the perfect tool to capture this… the curve of the dunes, the clouds hugging the mountains,' she said, describing the Landscape category-shortlisted picture
This vivid rainbow was captured by Arizona-based photographer Joseph Cyr and shortlisted in the Landscape and Wildlife category. The impressive photo was taken in the Sonoran Desert, the only place in the world where the saguaro cacti (pictured) grow wild
In another favourite of ours by Cyr, 'Sentinels in the Snow' was taken in Saguaro National Park, Arizona, and was shortlisted in the Landscape and Wildlife category. Turning the idea of the scorching desert on its head, photographer Cyr shows that cacti are just as majestic in snowy weather
In this shot, Garrine Tsang offers a stunning view of Yosemite National Park. Here, the Canada-based photographer captures natural light streaming over the valley, a perspective that saw the photo shortlisted in the Black and White category
In this picture by photographer Zhengjie Wu, titled 'Metropolis', the sprawling city threatens to overwhelm the viewer. The image was shortlisted in the Architecture / Design / Still Life category
Mount Yarla Shampo plays an important role in Tibetan mythology, and China-based photographer Chen Ma has captured it here in all its mystical glory. This stunning picture was shortlisted in the Black and White category
Twinkling rays of light pierce leafy branches in this stunning Landscape and Wildlife-shortlisted picture by Leonardo Prenol, which is titled 'Fog and Sunbeams' 
Irina Tsernjak wowed judges with this feel-good photo titled 'Beauty and Power', which was shortlisted in the Landscape and Wildlife category 
LEFT: In this Travel and Transportation shortlisted entry by Emma Mullan, an intrepid cyclist emerges from the mouth of Ballyvoyle Tunnel in Ireland. Built in 1878, the former railway tunnel is the architectural jewel of the 28.5-mile (46km) cycle route from Waterford to Dungarvan. RIGHT: California-based photographer John Nieto took this perfectly-timed shot amongst the rooftops of San Francisco. Named 'Destination Moon Ring', the photo was shortlisted in the Black and White category   
A stunning winter shot of Niagara Falls, shortlisted in the Landscape and Wildlife category and taken by Anndrea Lewis during a 'Journey Behind the Falls' tour
Julio Lucas took this snap of the lush wilderness while hiking in Rocky Mountain National Park, Colorado. Titled 'Happy Place', Lucas said that it's a location he 'would go back to in a heartbeat'
One lone tree makes an impact in this stark image by Viki Murray, called 'The Road Home'. It undoubtedly left an impression on the judges, who shortlisted the phone snap in the Black and White category 
This is one colourful image from overall winner Liu KunKun's portfolio. Speaking about his work, the photographer said: 'I try to dismantle the original order of the landscape, and then restack and reorganise, with a simple visual language to express new abstract imagery and explore the boundaries of photography'
Source: Read Full Article