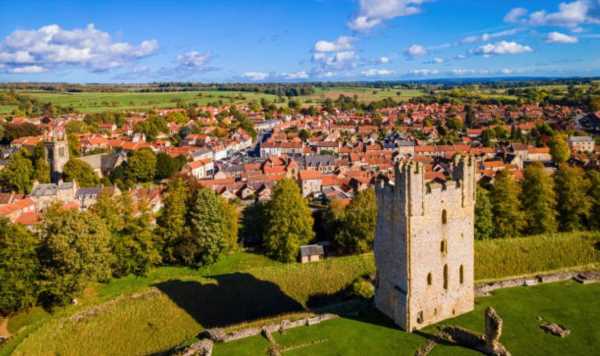 The glorious town of Helmsley is not on many visitors' radar who come to Yorkshire – but it should be. It's a pretty market village with honey-hued buildings which are clustered around a grand marketplace.
It won Britain's Best Market Town in the Great British High Street Awards in 2015 and it's still as lovely today as it was back then. 
Another winner, Hunters of Helmsley, who won Britain's Best Small Shop, sells superb produce mostly sourced from local producers. The deli is full to the brim with beautiful chutneys; homemade pies and an impressive array of tipples.
It's overlooked by the 900-year-old medieval Helmsley Castle which is a must on your way to the North York Moors National Park.
Discover how the castle evolved over the centuries, from being a mighty medieval fortress to a luxurious Tudor mansion to a Civil War stronghold and a romantic Victorian ruin.
READ MORE 'Most beautiful village in England' is a 'must-see'
Sitting beneath the castle, built in 1759, is Helmsley Walled Garden. Produce such as vegetables, fruit, and flowers were sourced from here for the tables of nearby Duncombe Park until after World War I.
Beautifully-resorted glasshouses house all sorts of flowers and vegetables and the Clematis Garden is home to over 100 different varieties.
The beautiful ruins of Rievaulx Abbe, set in a nearby valley, a good energetic walk away from the village, are just superb. The Abbey was once one of England's most powerful Cistercian monasteries.
The ruins are extensive and the many artefacts tell the story of just how important the River Rye was to the community including old fishing hooks and weights.
Don't miss…
'I'm a pilot – travellers never see a little plane feature but it's crucial'
Spot so beautiful visitors suffer 'withdrawal' symptoms voted most popular
Quintessential English village is a vision of Home Counties perfection
We use your sign-up to provide content in ways you've consented to and to improve our understanding of you. This may include adverts from us and 3rd parties based on our understanding. You can unsubscribe at any time. More info
After all this sightseeing, you can relax and sip alfresco on a locally brewed beer from the Helmsley Brewing Company. 
The next stop is the National Centre for Birds of Prey at Duncombe Park the largest collection of these amazing birds in the north of England.
Whether you're a bird-watcher or not, you will be fascinated by the huge collection of Birds of Prey including over 150 owls, eagles, vultures, falcons, hawks kites, and more in a spacious 10-acre setting. You can watch them in action three times a day and if the weather is inclement, they have a special indoor arena. 
Nothing really can beat the extraordinary beauty of the North York Moors National Park and exploring it by steam train is taking a trip down memory lane onboard the North Yorkshire Moors Railway. 
Source: Read Full Article