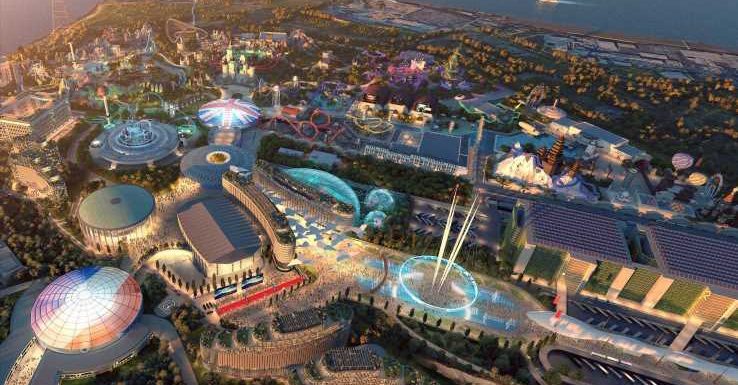 The London Resort, an ambitious £3.5bn amusement park being proposed for Kent, has submitted its application to Government – and has released a new picture of the park to celebrate.
If approved, the theme park, which would be set between Gravesend and Dartford on the Swanscombe Peninsula by the River Thames, could open in 2024.
The plan is to transform the largely brownfield former industrial site into an unsurpassed UK entertainment destination complete with theme park, waterpark, conference and convention centre, retail, shopping and e-Sports facilities.
More than 3,500 hotel rooms would be created alongside two ferry terminals – one each side of the Thames.
Read more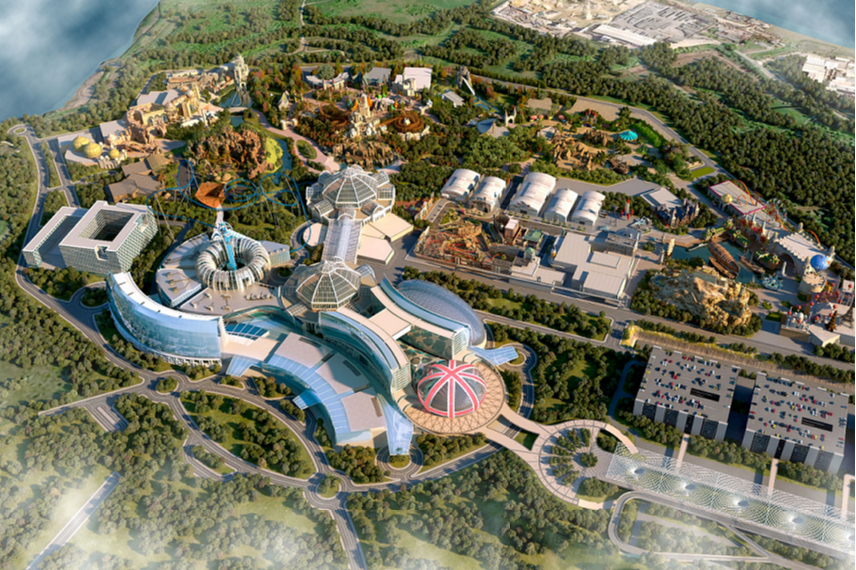 The project's architects claim the resort would generate £50bn of gross economic activity in the UK over an initial 25-year period, create tens of thousands of jobs and produce up to £200m in additional tax revenues by 2038.
Plans also include the stated intention for the London Resort to be a world leader in sustainability, with the ambitious aim of becoming the first operationally carbon neutral theme park in the world.
A "green network of amenity areas and parkland" is also included in the proposal, to increase wildlife habitats by the Thames and provide more green spaces for local residents and resort guests.
INDY/
GO Weekly Newsletter
TIME TO TRAVEL!
Read our full mailing list consent terms here
INDY/
GO Weekly Newsletter
TIME TO TRAVEL!
Read our full mailing list consent terms here
Chief Executive PY Gerbeau said: "I arrived at this project 18 months ago and it has been non-stop ever since. We have revived, reviewed, and reprogrammed the entire venture. This will be so much more than just a theme park."
He added: "We have built excellent relationships with many stakeholders and are working closely with the elected local Council leaders. This has been an incredibly challenging journey and we look forward to working with the UK Government over the next 12 months."
It's hoped construction can begin by 2022, with the resort becoming the first major theme park to be created in Europe since Disneyland Paris opened in 1992.
The picture gives some more hints as to what's in store, showing what appears to be at least 12 roller coasters.
Several large ferris-wheel-like structures can be seen, along with a water based rapid-river ride, and giant domes topped with the Union Jack and French flags.
Among the clues as to themes within the park are a mini Taj Mahal, a Chinese temple on a snowy mountain peak, the leaning Tower of Pisa and St Basil's Cathedral in Moscow.
The park has already evolved since the last designs were unveiled in October 2020.
According to previously released information, lands are set to include The Studio, "a gritty, modern-day warehouse district" inspired by blockbuster films; The Woods, "an enchanted realm" where bedtime stories, fables and fairy tales reign supreme; The Kingdom, an immersive realm of "swords, sorcery, dragons and legend"; The Isles, a land of giant creatures, mythical beasts and adventures; The Jungle, where the ancient ruins of a long-lost Meso-American civilisation are seen pushing up through the trees; and The Starport, a 23rd-century landing zone that "will launch visitors into thrilling science-fiction adventures".
Source: Read Full Article