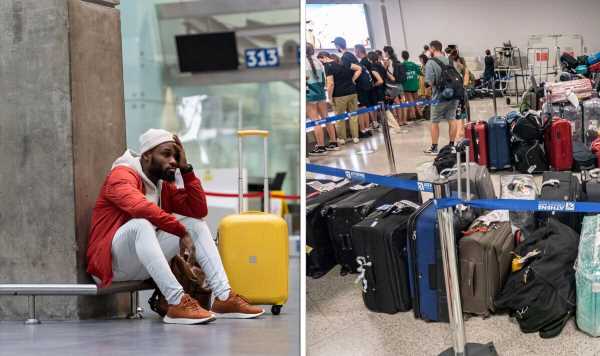 Queen: Commentators discuss London travel
We use your sign-up to provide content in ways you've consented to and to improve our understanding of you. This may include adverts from us and 3rd parties based on our understanding. You can unsubscribe at any time. More info
Since June, one in 10 British holidaymakers have lost their bags on holiday. What should Britons do?
Anthony Neary, managing director at Safe.co.uk shared his top tips with Express.co.uk to avoid losing luggage.
Avoid social media posts
"If bags are lost it can be tempting to post negativity towards the airline, but doing so can alert burglars that a home is empty if this has happened upon departure to the destination.
"It is important to have privacy settings enabled so strangers can't find your posts, even people connected to tagged friends can be a danger.
"Consider directly messaging the airline or airport to help rather than publicly geo tagging yourself there to avoid exposure to thieves.
"If you want to post, do so upon returning home to ensure protection. Even complaints on stories provide an easy opportunity to have a house raided."
Place AirTags in bags
"Tech products are great at providing increased peace of mind for baggage and an AirTag will provide regular updates to the owner's phone of its general location on a map.
"Working over Bluetooth, this is permitted on a flight and once landed you will be able to see where any luggage is.
"Placing an AirTag inside the luggage will keep it hidden, avoid placing it on the outside of a bag as it may be accidentally removed.
"If baggage is lost it will provide an indication of which airport it has gone to or if it has been left behind."
Use a padlock
"One of the easiest forms of protection is to place a padlock around a suitcase.
"However it is important to purchase one with a high security rating, such as a TSA approved one which will allow security to search it if needed.
"If bags are left out by the handlers then a lock will deter a potential thief as they will look for an easier target.
"Another added benefit of a lock is that if a bag has a zip it will also hold these together during transit."
Put all valuables in hand luggage
"If suitcases go missing, then the biggest worry is always for valuables. More than a fifth admit to placing high-ticket items including money, rings and laptops into hold luggage.
"The best way to avoid the extra worry of expensive jewellery or those sentimental items is to place them into hand luggage.
"Not only will checked-in items have the risk of being stolen, but it may also accidentally be lost if a bag breaks or be damaged during the journey.
"Further to this, expensive items may not be covered under compensation as an airline will likely challenge anything lavish in lost luggage."
Source: Read Full Article