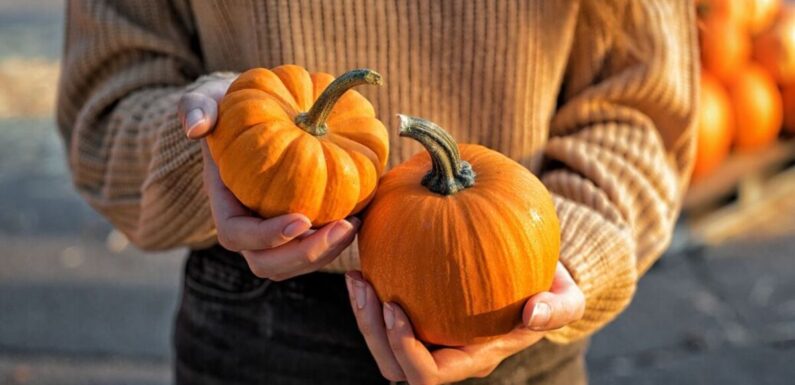 Visiting a pumpkin patch is a great October activity, for babies, toddlers, teens and adults alike.
Halloween is fast approaching, but there's still plenty of time to do some pumpkin picking before the big day.
For children, half term is this week, so if you have young ones who love the spooky season, this could be the perfect autumn day out for you.
Lauren Pops Rees took to TikTok to share one of her favourite pumpkin patch in the UK. This is Pumpkin Village, located right next to Marsh Farm Animal Adventure Park in Chelmsford, Essex.
Mum Lauren hailed this particular pumpkin patch as great for babies, however by the looks of it it's a Halloween destination that can be enjoyed by all.
READ MORE: Travel expert shares 'enchanting' destination for 2023 winter sun
The area is littered with gorgeous aumtunal trees, not to mention plenty of Halloween decorations – including a bath filled with mini faux pumpkins.
There is a fabulous orange "Terrorphone" box to explore and take photos in. You can even stand inside an enormous pumpkin sculpture and look outside onto the patch through a make shift heart-shaped window.
For those who want to pay a visit to Pumpkin Village this October, there are several ticket options available.
Don't miss…
Creamy pumpkin pasta takes just 15 minutes to prepare – easy October recipe[RECIPE]
Hidden gem coastal town named as 'brilliant staycation' spot[PICTURES]
Meghan Markle shares the £12 product she 'cannot live without'[INSIGHT]
Advert-free experience without interruptions.
Rocket-fast speedy loading pages.
Exclusive & Unlimited access to all our content.
The official website reads: "Visit Essex' premium pumpkin picking village & Halloween shopping experience – next door to Marsh Farm in South Woodham Ferrers, Essex.
"We've gone Pumpkin Picking Mad! We have more varieties of Pumpkins, Gords and Squashes than you ever knew existed. Enjoy a visit to the Pumpkin Village from September 28, 2023, free parking available. Be the best dressed house in Essex this Halloween."
For those who think Halloween is for being scared, Pumpkin Village Night might be the event for you – enjoy the "spooky magic" of the pumpkin patch after dark.
"Take a stroll around the enchanted pumpkin-lined paths as day turns to night.
@laurenpopsrees I think this may be the most magical pumpkin patch in the UK!Baby loved it too, so much to see and touch! Loads of cute photo opportunities for pictures too! #pumpkinpatch #pumpkinpatchuk #newmum #babiesoftiktok #babypumpkin #babyphotography #babypumpkin
Source: Read Full Article