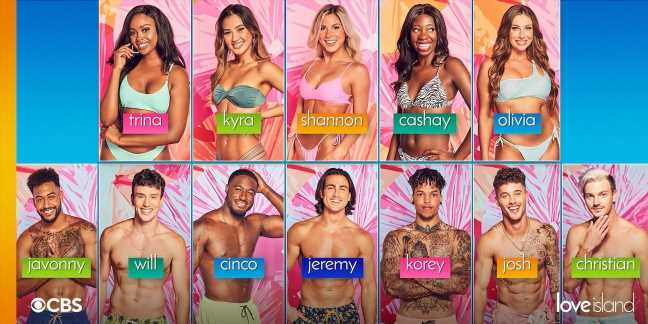 Love Island U.S.A. airs every Sunday, Tuesday, Wednesday, Thursday and Friday on CBS at 9 p.m. ET. For the next eight weeks, the 12 original sexy singles alongside numerous bombshell arrivals will be hoping to find love and be crowned the winner of Love Island U.S.A. season three. Love is not all that's up for grabs, as the winning couple will take away $100,000.
The reality show is the US version of the British series of the same name. The UK version is currently airing its seventh season and has taken place in Spain since it began in 2015, except for the 2020 winter edition in South Africa. Love Island U.S.A. has been filmed in a different location each season.
Where Is the 'Love Island U.S.A.' Villa?
The Love Island U.S.A. villa has moved once again.
The first season in 2019 was filmed in Fiji. Due to the ongoing coronavirus pandemic, the second series moved to The Cromwell Las Vegas, a luxury boutique casino hotel.
In January 2021, Love Island U.S.A. was renewed for a third series and it was announced there would be another change of location.
This time around, Love Island U.S.A. is taking place in Hilo, Hawaii.
The islanders will be staying at the Grand Naniloa Hotel in Hilo, Hawaii News Now reported.
State Film commissioner Donne Dawson confirmed the production had booked the entire 338 bedroom hotel.
She commented: "It's a big deal. Hawaii Island has not seen this level of production."
The resort, which is a Doubletree by Hilton hotel, has beautiful oceanfront views and is the largest hotel in the state of Hawaii's second-largest city.
Filming also took place in another location on the east side of Hilo, which overlooks Hilo Bay at the base of two shield volcanoes, Mauna Loa, an active volcano, and Mauna Kea, a dormant volcano.
Speaking to Entertainment Tonight about the new location, host Arielle Vandenberg said: "This time we are actually on an island. So it just brings this whole new beautiful, romantic, sexy energy to the show that it deserves."
Who Are the 'Love Island U.S.A.' Contestants?
To kick off the third season of Love Island U.S.A., 12 contestants entered the Love Island villa, including a real estate investor, a Covid relief worker, a psychiatric nurse and a personal trainer.
Along the way, there will be several bombshell entrances that will spice things up in the villa and even tear some couples apart.
Season three of Love Island U.S.A. will also see the return of Casa Amor, where at least 10 new contestants will enter the two individual villas to put the original couples to the ultimate test.
Each week, at least one islander will be dumped from the island, whittling the couples down to the final four.
In the end, only one couple can be crowned the winners of Love Island U.S.A. and take home the $100,000 prize.
Newsweek has the full list of the 12 original Love Island U.S.A. contestants below.
Olivia Kaiser, 28 – Business Owner from Anchorage, Alaska
Kyra Lizama, 23 – COVID relief worker from Honolulu, Hawaii
Trina Njoroge, 24 – Psychiatric Nurse from Hacienda Heights, California
Cashay Proudfoot, 25 – Waitress from Brooklyn, New York
Shannon St. Clair, 25 – Controller at a construction company from Bucks County, Pennsylvania
Korey Gandy, 28 – Rental car agent from Virginia Beach, Virginia
Josh Goldstein, 24 – College athlete from Haverhill, Massachusetts
Jeremy Hershberg, 27 – Personal trainer from New York City, New York
Melvin "Cinco" Holland, Jr, 25 – Delivery driver from Ashburn, Virginia
Christian Longnecker, 25 – Coffee company owner from Oahu, Hawaii
Will Moncada, 26 – Budtender from Colombia
Javonny Vega, 26 – Real estate investor from Boca Raton, Florida
This year, Arielle Vandenberg will return as host and Matthew Hoffman as narrator on the show.
Who are the 'Love Island U.S.A.' couples?
On their first day, the islanders were faced with some big decisions to make. Not only did they have to make friends, but they also had to choose another islander to couple up with.
Here is the full list of couples below:
Cashay and Christian
Javonny and Olivia
Jeremy and Trina
Josh and Shannon
Korey and Kyra
Cinco and Will were left single at the end of the episode, but hopefully there will be some new girls arriving to stir up trouble and catch their attention in a few days.
Love Island U.S.A. airs Tuesday – Friday and every Sunday at 9 p.m. ET on CBS
Related Articles
'Love Island' 2021: Who Is Coupled With Who—And Who's Been Eliminated
When Was 'Too Hot to Handle' Season 2 Filmed?
'Love Island' Cast: All the 2021 Contestants And Where to Find Them on Social Media
'Love Island' Release Schedule: When Season 3 of the U.S. Version Airs and How to Watch
Start your unlimited Newsweek trial
Source: Read Full Article