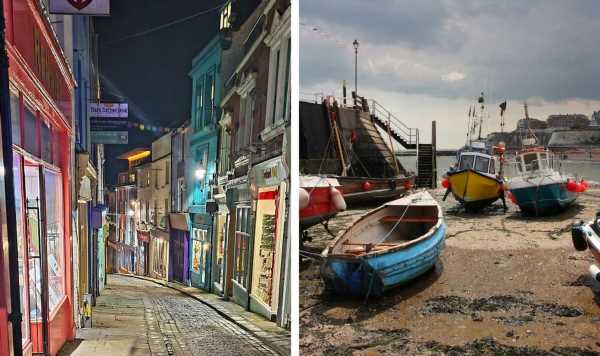 Kent has been one of Britain's top regions to explore with its beautiful coastline and picturesque seaside towns drawing thousands of visitors every year.
Margate is described as "a timeless, English seaside holiday town" by Visit Thanet while Folkestone has won plaudits for its "quaint" streets and "cutting edge" arts quarter by visitkent.co.uk
Kara Godfrey, Deputy Travel Editor at The Sun, has lived in both Kent towns and has given her verdict as to which one is the best for a beach break.
She compared accommodation, activities, eateries and beaches to reach her final decision.
Beach-wise, Margate boasts the Main Sands, which according to Ms Godfrey has everything needed from a beach, but also the crowds.
READ MORE… Kate reveals new sporting injury on prison visit as images show bandaged fingers
She argues while Folkestone's beach is pebbled, it is more of a "laid-back affair", leading her to conclude it is the better option.
Folkestone's Mermaid Beach can feel like "another country" on a sunny day while the town's Lower Leas Coastal Park is a "gorgeous" place, complete with play park and benches.
In terms of food, both Margate and Folkestone offer a range of options, but Ms Godfrey says her favourite eatery is in Folkestone.
The menu at Rocksalt includes fresh oysters, crab and scallops. It is also commended for its "amazing" service and bar.
For the most varied selection of dishes, Ms Godfrey says Folkestone wins hands down thanks to Harbour Arms, which offers "everything" from Argentinian to Japanese.
Don't miss…
Starmer skewered over Angela Rayner's pledge to scrap union strike laws[REVEALED]
Macron's week from hell — and the bad news just keeps coming[LATEST]
Putin's warning UK could face 'serious consequences' over nuke disruption[REPORT]
We use your sign-up to provide content in ways you've consented to and to improve our understanding of you. This may include adverts from us and 3rd parties based on our understanding. You can unsubscribe at any time. More info
For those looking for the best bars, Margate's venues include Daisy's and Sete, which serve local wines and "unique" cocktails.
Folkestone meanwhile is home to the first multistory skatepark in the world, F51, which includes the tallest climbing venue in southeast England.
Both places have Old Towns, with independent bookstores, gift shops and vintage stores, but Folkestone has "a few extra places" for gifts.
When it comes to places to stay, Margate beats Folkestone "hands down", with a number of new venues opening in the last year.
Ms Godfrey, writing in The Sun, said: "It has everything you'd want – easy to get to, pretty beaches and great food – while still feeling like you are joining the locals."
Source: Read Full Article