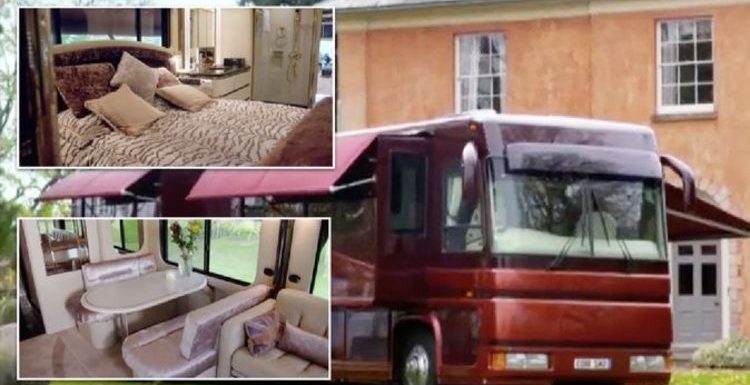 Million Pound Motorhomes: Expert offers tour inside vehicle
When you subscribe we will use the information you provide to send you these newsletters.Sometimes they'll include recommendations for other related newsletters or services we offer.Our Privacy Notice explains more about how we use your data, and your rights.You can unsubscribe at any time.
Million Pound Motorhomes is a new programme exploring the world of luxury motorhomes. While the average holidaymaker may be more used to a traditional caravan or even a simple tent, when it comes to the motorhomes explored in the Channel 5 documentary, owners can expect nothing less than "five-star" quality.
One motorhome in particular, which boasts an opulent experience is "The Icon", which is described as a "five-star hotel on wheels".
Currently owned by one-off vehicle collector Andrew Morris, this huge motorhome was initially built for Formula One driver Jacques Villeneuve before being sold on to racing legend Jenson Button.
During the documentary, Mr Morris gave cameras an exclusive look inside this unique travelling holiday home.
"This particular motorhome was designed by Jacques and his then-finance Dani Minogue," explained Mr Morris.
The home is complete with some "specific" features which were requested by the Formula One driver.
These exclusive features include granite floor with underfloor heating, "wall-to-wall leather", Bose surround sound speakers, electronically controlled curtains and even a full walk-in wardrobe.
Meanwhile, when it comes to the kitchen, according to Mr Morris everything was designed as a "one-off".
Even the crystal champagne glasses hung in the cupboard were "made specifically" for the motorhome.
DON'T MISS
Benidorm reveals 'lonely' reality of living in sunny resort [INSIGHT]
Camping & caravan holidays: When to book 2021 staycation [ADVICE]
UK expat warns moving abroad should not be 'taken lightly' [INTERVIEW]
The opulence doesn't end there though.
In fact, even in the bathroom, no expense is spared.
Not only does the toilet come complete with a thermostat-controlled heated seat, but the taps and shower fittings are also made completely of solid gold.
Some of the motorhome's former owners' more specific requests also remain and are something of a key feature.
Directly above the large bed is a mirrored ceiling.
"Obviously a lot of thought gone into this," said Mr Morris.
He believes the design elements of the vehicle lend to it being "a lovely piece of art on wheels".
The good news is anyone can rent out this luxury accommodation and stay in it should they wish.
However, "A list" rentals come with a hefty price tag to match.
For one night, holidaymakers can shell out "upwards of £4,000".
According to Mr Morris, though, in the past, this figure can double for those who want to spend more on some additional perks.
"A Michelin star chef, a specific type of flower colour scheme, champagne, cigars or whatever you want," said Mr Morris.
"There are people who will just spend six-figure sums over a period of four or five days. That really is no limits."
Million Pound Motorhomes is on Channel 5 this evening at 8:00pm.
Source: Read Full Article