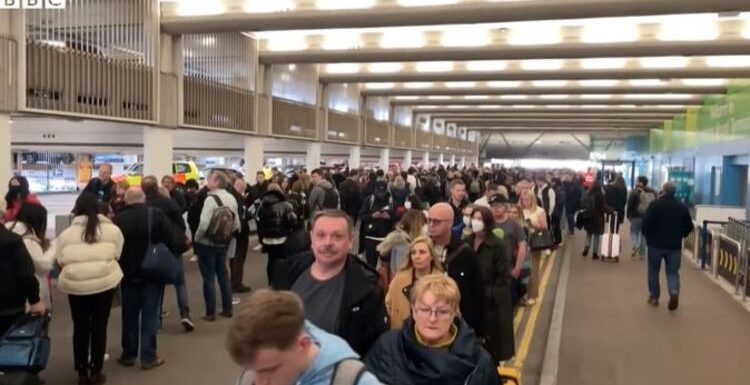 Manchester Airport: Staff shortages causing huge delays
We use your sign-up to provide content in ways you've consented to and to improve our understanding of you. This may include adverts from us and 3rd parties based on our understanding. You can unsubscribe at any time. More info
Holidaymakers have been experiencing long queues at check in and security for the past month due to staff shortages.
Two weeks ago at Manchester Airport, some flyers reported waiting to board a flight.
Some holidaymakers even missed their flights due to the disruption.
On Monday, passengers arriving at the airport revealed they had been forced to sit on a plane for almost an hour in boiling conditions.
One traveller, Noel Phillips, took to TikTok to share scenes of the chaos.
He gave social media updates of the airport madness.
The captions read: "Another day at Manchester Airport.
"Escalators and lifts are broken today too.
"Time to see how long security will take today.
"Finally onboard, but the bags haven't turned up."
TikTok user @andyrobbo58 commented: "The place is a disaster. I live basically at the end of the runway and would probably still rather go to Liverpool Airport."
Speaking on BBC Breakfast, Noel said: "I travel all around the world and as far as UK airports go, I don't think I've ever seen anything as bad as Manchester."
Far from a single occurrence, Noel revealed that this is the case "on a consistent basis".
"This isn't a one-off thing either, every time you go through you have issues."
Pat Karney from Manchester City Council said: "I think they've completely underestimated the management of the airport, the quickness of the recovery and the scale of the recovery.
"I don't think their planning has been really up to scratch. There's been a failure of management."
He also predicted delays and queues over Easter.
Manchester airport told BBC Breakfast that they are facing "staffing and operational challenges" and is launching a large scale recruitment drive.
Manchester Airport has apologised for the disruption to travellers.
Karen Dee, Chief Executive, Airport Operations Association, oversees the airports.
She said: "At the start of the year we were under travel restrictions that meant there were virtually no passengers, and what airports have had to do is really scale up in a very short space of time."
Heathrow airport alone is recruiting 12,000 staff.
"The industry as a whole is scaling up and we are doing this as fast as we can."
However she warned: "We do think there will be queues in peak times over the Easter period."
Her advice to flyers is: "Check with the airline you are flying with because they will not want people arriving before they are permitted to check-in.
"Make sure you're looking at the types of documents that you need because that will speed through your check-in too.
"When you're approaching security, think, 'Do I have liquids?', 'Do I have a laptop?' – all of those things that we've actually forgotten about because we haven't travelled for so much time."
Source: Read Full Article