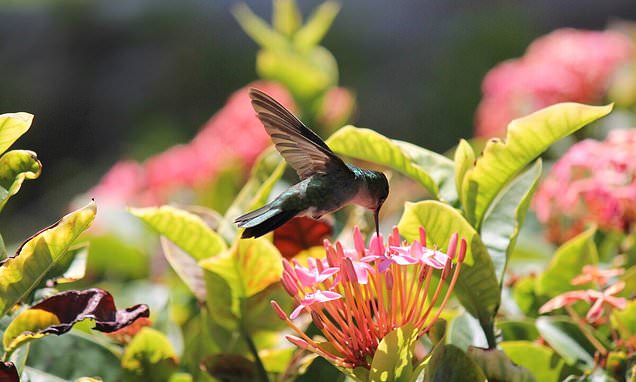 Spotting hummingbirds, hiking in rainforests, and snorkelling with tropical fish: How to see AMAZING wildlife in the Caribbean
Ad Feature by P&O Cruises
Imagine swimming with turtles in crystalline waters or hiking through the rainforest to see gem-coloured parrots fluttering among the trees. Perhaps you'd rather hear the roars of howler monkeys, or the shrieking of birds high in the trees.
The Caribbean may be known for its white-sand beaches and turquoise sea, but as you travel between the different islands and territories on a P&O Cruises holiday, you can discover an incredible variety of landscapes, and enjoy wildlife experiences to rival even the best nature documentary.
Dazzling wildlife: You may spot a hummingbird while in the Caribbean
WIN A 14-NIGHT CARIBBEAN FLY-CRUISE HOLIDAY FOR TWO!
To enter click here
*Terms and conditions apply. Closing date: Wednesday 8 March, 2023. For more information go to dailymail.co.uk/pocruises
Set sail with P&O Cruises and you'll have the chance to combine dreamy beaches with rainforests, volcanoes, and botanical gardens. 
You can choose snorkelling to spot darting marine life among colourful coral, zip-lining among the trees, or how about enjoying sensational views from the summit of sleeping volcanic peaks?
With the option of either seven or 14-night itineraries, there's a dazzling range of shore experiences available to help you really get under the skin of each destination you visit. 
Spot tiny, glittering hummingbirds in the forests of Grenada or snorkel with tropical fish off the beaches of Barbados.  
Then back on board, relax with a choice of more than 20 bars and eateries on P&O Cruises flagship Britannia and 30 aboard brand-new Arvia. From relaxed buffets to gastro-pub delights, Indian flavours to Mediterranean classics and more, you'll always find your perfect restaurant. Then take in dazzling theatre shows, live music and comedy acts as you head to your next adventure.
Spectacular coastal experiences
The Caribbean is known for its spectacular coastlines, but there's more to these ribbons of white sands than laidback beach life. P&O Cruises work with local experts to offer amazing experiences in each destination you choose to visit so that you can enjoy some action-packed exploration.
In Barbados, you can hop aboard a sleek catamaran where you'll have a once-in-a-lifetime chance to swim with green or hawksbill sea turtles, snorkel over a shipwreck, and tuck into a Caribbean cuisine while sipping a rum punch. 
Antigua is a special place as it's home to wild stingrays. Here you can take an exciting motorboat ride to a sandbar just off the Antiguan coast, where a local guide will introduce you to the friendly rays. Fancy a closer look? The water is only around five feet deep, so it's the ideal place to try snorkelling. And because the graceful rays are accustomed to people, you might be lucky enough to feed them, too. 
Quite a sight: Look out for the local flamingos while exploring Bonaire! 
But you don't need to plunge below the Caribbean waters to enjoy an amazing coastal experience. On Britannia itineraries to Bonaire, you can take out a kayak or opt for a solar-powered boat to explore the best-preserved mangrove forests in the Caribbean at Lac Bay. 
Here you can spot the local flamingos and learn about ecotourism at this important bird breeding ground and tropical fish nursery.
Amazing inland adventures
Venture beyond those idyllic beaches and you can explore another side of these Caribbean destinations on a P&O Cruises holiday.
On flagship Britannia, visit St Vincent, one of the least-explored islands lapped by the Caribbean's iridescent waves. From here, you can escape to the tiny island of Bequia for exhilarating snorkelling, or why not stay on this lush island and join a rainforest hike, following a nature trail to spot the multi-coloured St Vincent parrot?
On Arvia you may visit Tortola, one of the most vibrant of the British Virgin Islands, which promises both sweeping beaches and soaring peaks as well as local culture. Join an adventure to Sage Mountain National Park and you can enjoy a beautiful walk spotting lizards, frogs and otherworldly flora.
The pretty, unspoilt island of Tortola (it means turtle dove in Spanish) is heaven for visitors
A cruise holiday is one of the best ways to admire the beauty of the Caribbean. Endless azure waters unfold as you travel, dotted with emerald isles and fringed by pristine coastlines. 
Whether you want to swim with turtles in Barbados, explore the coast of Bequia by catamaran or visit a deserted island off the coast of Bonaire, you can do it all. 
And if you can tear yourself away from those soft-white sands, why not head out on a volcano tour or rainforest hike, ready to spot vibrant birdlife, monkeys, lizards and quirky frogs?
Flights are included with all P&O Cruises Caribbean fly cruise holidays, so you can jet straight to the sunshine where your ship will be waiting. 
You can set sail on amazing ships such as brand new Arvia, with her infinity pools, retractable glass SkyDome, spacious design and top-deck minigolf. Or join Britannia, with her elegant design creating the feel of a boutique hotel, relaxing spa, and masterclasses at The Cookery Club.
On both ships, you'll enjoy idyllic Caribbean views, al fresco bars, on-deck whirlpools, and The Retreat, an open-deck area exclusively for adults. 
Take your pick from a diverse mix of activities and entertainment, whether you want to browse the on-board art gallery, join a dance class or play football or basketball. Aboard Arvia, you can even try the gulp-inducing high ropes walk. 
The taste of the Caribbean 
One of the joys of a holiday is sampling the delicious food and drink, and on a P&O Cruises holiday, there is so much to enjoy, both on-board and ashore.
Breakfast, lunch and dinner are included, but you can also treat yourself to a specialty restaurant. No tipping is required, and you can pay in pounds on board. 
Both Britannia and Arvia promise dozens of amazing places to eat and drink, from elegant fine dining at Epicurean to a culinary experience alongside dazzling entertainment at The Limelight Club. And on Arvia, you can try the new 6th Street Diner or plant-based Green & Co. feat. Mizuhana. (Afterwards, how about a trip to the multi-screen cinema or the theatre?)
The verdant landscape of St Vincent draws many visitors to this southern Caribbean gem
The Beach House on Arvia is the place to go for fabulous Caribbean flavours. P&O Cruises Local Food Hero Shivi Ramoutar has crafted a bespoke menu to reflect the rich variety of destinations that make up this sun-kissed region (you can also enjoy her delicious creations at Taste 360).
Try Caribbean saltfish fritters spiked with lime and tamarind aioli, or tuck in to a Jamaican jerk chicken supreme. Looking for something a little more refreshing? Shivi's chilli salt watermelon and cucumber ceviche is a true favourite.
Give yourself the chance to make memories that will last a lifetime, and discover the sights, sounds and flavour of the Caribbean on a holiday with P&O Cruises. 
Find out more and book your cruise holiday at pocruises.com 
†Early Saver price of £1,199 per person is based on two adults sharing the lowest grade of Inside cabin available on Arvia cruise K324A. Prices are subject to availability and may go up or down. Fly-cruise price shown is inclusive of economy class flights from/to London and transfers. You can get away on a 14 night fly-cruise holiday to the Caribbean from £1,199pp† (cruise K324A). Prices may vary for other departure airports. All flights are subject to availability. For up-to-date prices and full P&O Cruises terms and conditions which you must read before booking, please visit www.pocruises.com. 
Source: Read Full Article