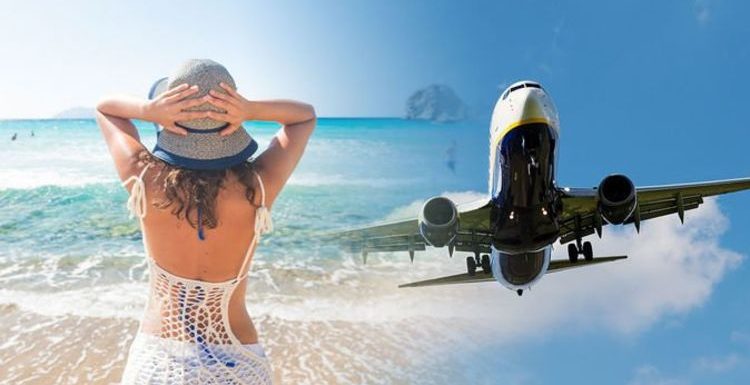 Travel: Expert says UK needs a 'wide green list'
When you subscribe we will use the information you provide to send you these newsletters. Sometimes they'll include recommendations for other related newsletters or services we offer. Our Privacy Notice explains more about how we use your data, and your rights. You can unsubscribe at any time.
From May 17 Britons are going to be allowed to jet off on holiday abroad to a select list of countries. Those categorised as green will see returning travellers no longer facing quarantine, though they will be subject to pre-and post-departure tests.
Initially, experts predicted as few as eight countries could be included on the list.
However, this morning travel expert Paul Charles revealed a more promising outlook, with as many as "24 countries" potentially being included.
It comes following a change from the Foreign, Commonwealth and Development Office (FCDO) to its travel advice pages for Spain and Greece.
The FCDO has removed its travel advisories against some Spanish and Greek islands, sparking hopes of an "island approach".
Speaking on BBC News on Tuesday morning Mr Charles said: "In our analysis we're predicting up to 24 countries, especially when you include the 14 British overseas territories – the likes of Gibraltar, Cayman Islands, Monserrat, Falkland Islands.
"Small islands, small places, but the wider the list the better.
"I think you're also going to see Malta, Israel, possibly Barbados, Grenada opening up.
"And indeed this morning the Foreign Office, perhaps accidentally, has updated its own website pages to also add Kos, Rhodes, Canary Islands, Zakinthos, Corfu, Crete among others to its list of places now acceptable to travel to.
DON'T MISS
Portugal holidays: When can you travel to Portugal? [INSIGHT]
Spanish islands expected to be kept off UK's 'green' travel list [PREDICTION]
Flights: Jet2, TUI, easyJet, Ryanair & British Airways updates [UPDATE]
"That is very encouraging because it suggests the list could be much wider."
However, he showed some concern regarding the rate at which Prime Minister Boris Johnson is willing to open up international travel.
"It is certainly good to see the Prime Minister sticking to his roadmap that he announced in February for travel to open up from May 17," he said.
"That is positive. It is encouraging that he is looking to protect jobs across the travel and tourism sector by doing so.
"But we need to see quite a wide 'green list' opening up and I fear at the moment that talk from Government for 10 or so countries simply isn't enough when we see the European Union (EU) setting the pace much faster in terms of opening up countries earlier.
"And with the infection rate being so low in the UK, and thankfully the death rate now, then they should be opening up international travel as widely as possible from May 17."
The European Union is currently in talks over how it will resume foreign travel with the aid of a vaccine-passport style application.
The UK has also confirmed it will have its own vaccine passport app, which will store information regarding a passenger's inoculation history in an existing NHS app.
However, the Prime Minister has said the nation must proceed with "caution" when it comes to foreign travel.
During a campaign visit to Hartlepool, he told reporters: "We do want to do some opening up on May 17 but I don't think that the people of this country want to see an influx of disease from anywhere else.
"I certainly don't and we have got to be very, very tough, and we have got to be as cautious as we can while we continue to open up."
He added: "We will be saying more as soon as we can.
"I think that there will be some openings up on the 17th, but we have got to be cautious and we have got to be sensible and we have got to make sure that we don't see the virus coming back in."
More information on how international travel will resume, as well as which nations are given "green list" status is anticipated in the coming days.
Source: Read Full Article