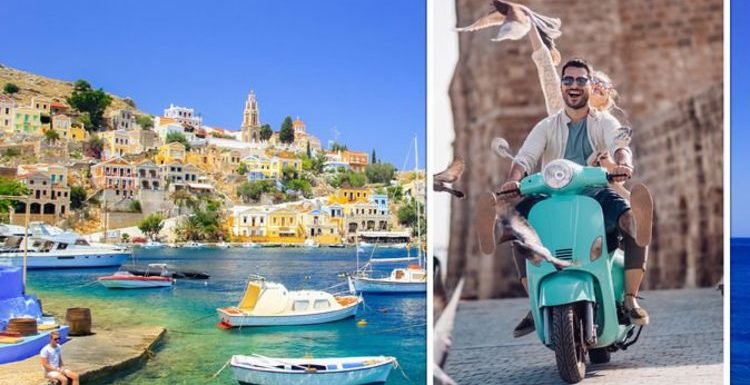 Greece: Pensioners react to introduction of fines for unvaccinated
We use your sign-up to provide content in ways you've consented to and to improve our understanding of you. This may include adverts from us and 3rd parties based on our understanding. You can unsubscribe at any time. More info
Holidaymakers may dream of the sun and beach all year, but holidays overseas can be expensive. Greece is one of the most popular holiday destinations for Britons, with the country cheaper than some alternatives.
For the cheapest holiday in the Greek sun, Britons should book in December.
The average nightly price for a winter sun holiday in Greece was £57, new data shows.
January, February and March were also good bets, with nightly prices of between £62 and £71.
November was the next cheapest month at an average of £75 a night in holiday accommodation.
Greece's fantastic weather and popularity made a holiday to the European country more expensive between April and October.
Prices went up to an average of over £200 a night in July and August.
The cheapest month in the period was April (£102), followed by May (£105) and October (£145).
June (£147) and September (£154) were also good bets for a holiday in Greece.
The average nightly rate in July was £204, while it cost £201 in August.
While Greece was not the cheapest country to jet off to for a holiday, where Britons normally go also made a big difference in prices.
The cheapest destination in Greece was Agios Gordios, with an average price of £69 per night.
On the popular island of Corfu, Agios Gordios could be the best bargain for holidaymakers.
Next was Kalamaki at £72, this time on the island of Zakynthos.
For a mainland Greece holiday, Athens was the cheapest at £74 a night.
It was back to the islands for the next best price, with Samos at an average of £75 per night.
Rounding up the top five of cheapest destinations in Greece was Parga.
Also on the mainland, Parga's average nightly price was £83.
The data, compiled by HomeToGo, showed there are great options for holidaymakers looking for a bargain in Greece.
While the country could be expensive during the most popular summer months of July and August, booking during the shoulder months could save Britons a lot of money.
For the best value, holidaymakers should also look to the islands, unless they are headed to the capital of Athens.
Source: Read Full Article