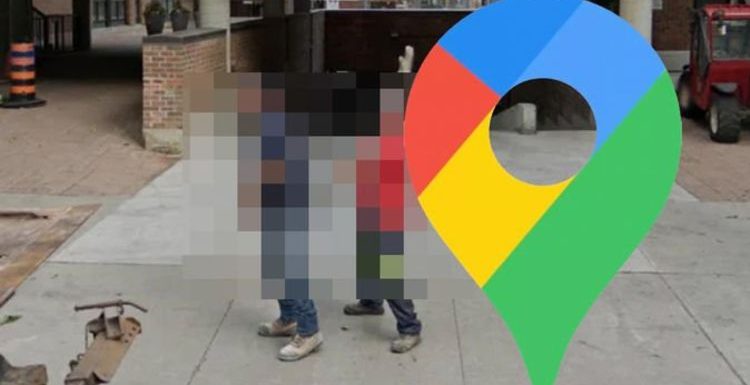 Google Maps captures moment motorbike 'crashes'
When you subscribe we will use the information you provide to send you these newsletters.Sometimes they'll include recommendations for other related newsletters or services we offer.Our Privacy Notice explains more about how we use your data, and your rights.You can unsubscribe at any time.
Google Maps Street View was launched in 2007 to help viewers get an on-the-ground look at towns and cities around the world. It does this by using special 3D cameras which snap photographs of their surroundings.
These cameras are often attached to the top of Google cars.
Although, occasionally, these cars go unnoticed by passers-by, other times people are very aware of their presence.
Such seemed to be the case in a recent sighting when two workmen put on a performance for the camera.
The scene unfolds outside of what appears to be an apartment complex or hotel.
Building work is going on out front, with diggers and machinery seen in the surroundings.
As with any building site, there are workers who are on hand to ensure all tasks are completed.
However, two workmen in particular seem to be having a lot of fun.
The duo most likely has noticed the Google car and cameras, which are easily recognisable, and wanted to create a hilarious moment to be immortalised online.
DON'T MISS
When can you go on a cruise holiday? [INSIGHT]
Spain holidays back on – tourists will be able to return in May [COMMENT]
Greece holidays: FCDO issues updated testing requirements for Britons [TRAVEL ADVICE]
One of the men is dressed in a red T-shirt, workmen's trousers with highlighter stripes and work boots. He is also wearing a hard hat.
The second man has gone for a more casual ensemble.
He is dressed in a navy T-shirt, jeans, a baseball cap and boots.
The second of the two men is facing away from his counterpart and looks as though he was about to take a step forward.
However, his co-worker apparently thought it would be the perfect opportunity to put on a display.
He has one arm reached out towards the navy T-shirt wearing builder, resting his fingers on his hips.
His other arm is outstretched above his head.
Meanwhile, his knees are slightly bent.
The man appears to be thrusting his hips towards his counterpart.
It looks as though he is pretending his co-worker is a horse that he is riding.
Alternatively, it could also be summarised he is about to light-heartedly smack his colleague on the bottom.
Alas, the true story of what is going on may never be known.
Due to the tech giant's privacy policy, both men have had their face's blurred to conceal their identity.
Source: Read Full Article