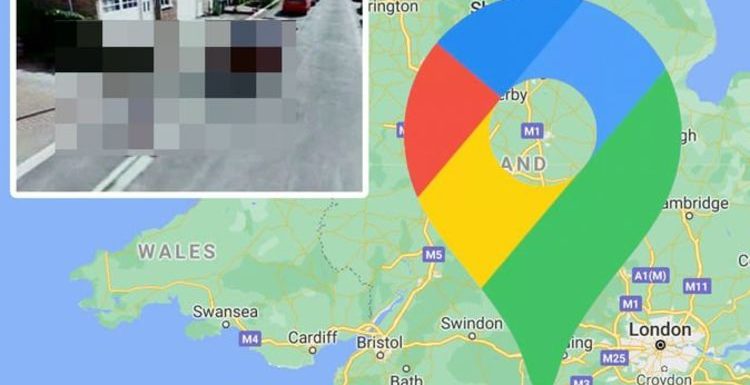 Google Maps introduce their new 'Live View' feature
When you subscribe we will use the information you provide to send you these newsletters.Sometimes they'll include recommendations for other related newsletters or services we offer.Our Privacy Notice explains more about how we use your data, and your rights.You can unsubscribe at any time.
Google Maps Street View appears to have caught a horrendous accident on camera. A grisly image shows a young girl lying face down in the road – has she been the victim of an awful crime? Her arms lie on either side of her body and one of her shoes has fallen off and is next to her foot.
The red in the blurry image also makes it look like her right foot could possibly be bloodied.
No one else can be seen on the street in St John's, a large suburb of Worcester, England.
The image was first spotted in 2010 when residents who saw the photo on Google were horrified to see what had happened to the little girl.
The incident was reported to the police who began to look into the apparent crime scene.
The little girl was revealed to be nine-year-old Azura Beebeejaun – and in fact, she was alive and well.
It transpired that Azura was in the middle of playing a game with her friend when the Google car passed by.
She had no idea it was there and was playing dead for her friends after falling over.
"I didn't know anything about the Google Street View car," she told the Telegraph.
"I fell over while I was playing with my friend and thought it would be funny to play dead."
Azura had no intention of alarming anybody but was thrilled to find out her actions had gone viral.
At the time, a spokesman for Google told the Telegraph that Street View cars can, on occasion, "inadvertently capture odd or inappropriate moments as they drive past".
They said: "This is why we have put in place tools so that if people see what they believe to be inappropriate, they can report them to us using the simple reporting tool and the images will be quickly removed or further blurring applied."
Azura's actions may have been entirely innocent but sometimes pranksters successfully get the better of Google Maps Street View.
Another photo, at first glance, appears to depict a bad accident involving the Google car in Iran.
Behind the vehicle, a red car with two men sitting in the front can be seen.
Both the passenger and driver have their hands held up and expressions of horror across their faces.
To further back this theory up, to one side of the road, two women and a child look equally shocked.
However, is all it seems? Has a crash really taken place?
Despite the dramatic stances of all four people, it is quite clear that the group are playing a prank on the Google car and simply pretending a crash has happened.
The red car is quite clearly a good distance away from the Google car and the road is completely empty.
Source: Read Full Article