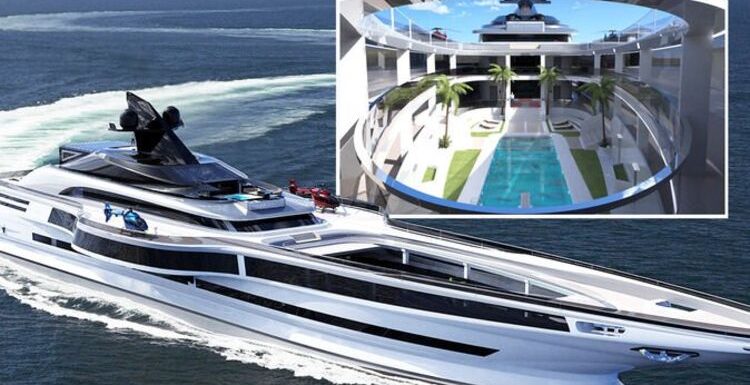 Sovrano: Lazzarini design studio shows off megayacht
We use your sign-up to provide content in ways you've consented to and to improve our understanding of you. This may include adverts from us and 3rd parties based on our understanding. You can unsubscribe at any time. More info
An incredible new design for a superyacth could see the boat become the widest in the world. The Sovrano is described as a hybrid between a private yacht and a cruise ship, and the concept unveils some of the dreamiest features; gardens, pools, helipads.
The concept of the megayacht was curated by Italian design studio Lazzarini.
With the price tag of the boat sitting at £418m (500 euro), the company have said their vision would suit either a wealthy individual or a group of owners that want to travel privately around the world.
The vessel features platforms on either side of the main deck that results in a beam – width at its widest point – of 108 ft (33m).
It has a length of 555 ft (169m).
A flexible design allows for the platforms to turn into helipads, swimming pools or extra lounges – depending on what the owner desires.
Each platform is also fitted with four electric winches that allow a section to be lowered to the waterline when required for seaside dining, lounging, or sunbathing.
Sovrano which means sovereign in Italian, has five decks.
In the middle of them sits a a sunken oasis where palm trees surround a swimming pool and gym access area.
As for how many can enjoy the superyacht, the interior has space for 50 guests in 20 private suites.
As for crew quarters, up to 60 members can be aboard to encure every whim can be catered for.
A large garage allows onboarding of two 49-foot tenders and up to six supercars, made seamless by a lifting platform and two cranes.
Lazzarini says the vessel owner can decide on electric motors or a hybrid propulsion system, which will power it along at 18 knots or 31 knots, respectively.
A buyer has not been found yet, but there is plenty of time as it takes "four years for the construction".
And it's a pricey vessel too; a Lazzarini spokesperson Cinzia Ruggeri said: "We estimate a €500M budget."
The images which Lazzarini posted to their social media account has gained some attention.
One Instagram user called the design "futuristic". They added: "High tech over the water."
View this post on Instagram

A post shared by Lazzarini (@lazzarinidesign)
Someone else said: "Love the side sections providing not just a more spacious upper deck but also shade below. Innovative!"
Another wrote: "Super sexy, sleek & beautiful."
While one suggested the concept was a "top design".
Source: Read Full Article