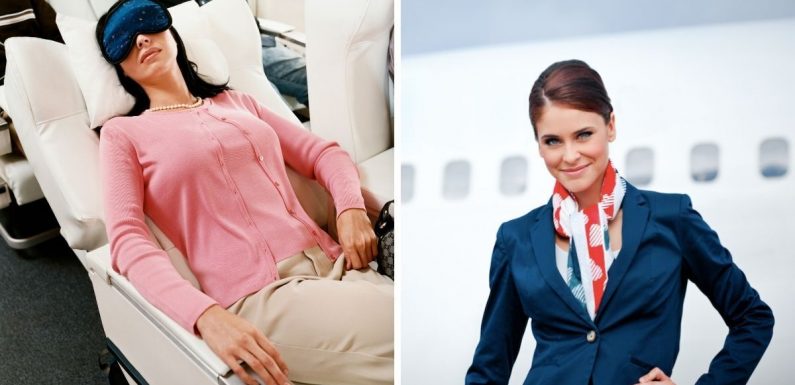 Flight attendant gives examples of what not to do on an aircraft
We use your sign-up to provide content in ways you've consented to and to improve our understanding of you. This may include adverts from us and 3rd parties based on our understanding. You can unsubscribe at any time. More info
Flight attendant Cierra Mistt has a whopping three million followers on TikTok. With these fellow travel enthusiasts she shares her top insider tips when it comes to flying. Here's how to get upgraded on your next flight, according to an expert.
@cierra_mist began: "Here's how to get free upgrades to First Class."
Describing the method as "low key", she revealed: "Not many people know about this."
And according to this flight attendant, the key is looking at the bigger picture.
"Everyone is flying right now, and no one is more excited than commercial airlines.
"The majority of airlines are overbooking every single flight they have."
While it is not "scientifically proven", this is something Cierra has picked up on in her jet-setting experience.
She continued: "And I'm not talking about one or two seats – I'm talking about 10-30 seats that have been oversold.
"But if everyone does show up, including the extra passengers that were oversold their tickets, airlines have no choice but to financially compensate."
The typical compensation is vouchers, according to the flight attendant, but disgruntled passengers can also ask to be reimbursed in cash.
And if the airline is particularly overbooked and "desperate", they may even offer more money, possibly in the thousands.
"This is where the free upgrades come in.
"You can also ask for other incentives, for example drinks, dinner, breakfast, even a hotel if you have to stay overnight until the next flight.
@cierra_mistt ANOTHER way of getting FREE upgrades to FIRST CLASS ✈️ #SoundcoreGoForGold #fypシ ♬ original sound – Knock-Off Sprite
"And yes, First Class."
While of course First Class travel is not guaranteed, the flight attendant confirmed that this may be possible.
It's one option for those who want to travel in First Class on an economy budget.
The viral TikTok video has amassed 85,700 likes and more than 3,000 travel enthusiasts have saved the tip.
In another video, Cierra told passengers how to make a flight attendant's life easier.
Far from an easy job, she shared just a few easy things flyers can do to put a smile on a stewardess' face.
"Number one happens before you even get to your seat. When you're first getting on the plane and see a flight attendant standing there and greeting you, the nicest thing you can do is acknowledge that and even respond."
She revealed that the chances of being acknowledges by passengers is "slim to none", despite their public facing role.
Another tip was to avoid going to the bathroom or standing in the aisles when the flight attendant comes round looking at the seats with a piece of paper.
"The flight attendant with the piece of paper is actually going around doing a Passenger Count Form. If it doesn't match what the gate agent has, we'll have to keep doing it over and over again until we get the same number."
Source: Read Full Article