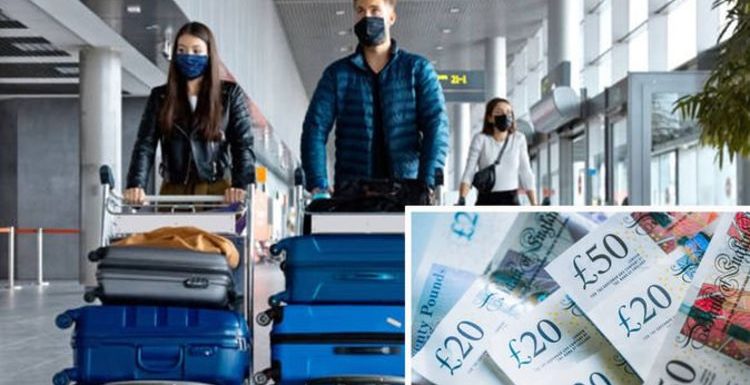 Martin Lewis discusses travel refunds and PCR tests
We use your sign-up to provide content in ways you've consented to and to improve our understanding of you. This may include adverts from us and 3rd parties based on our understanding. You can unsubscribe at any time. More info
A raft of new travel restrictions are being imposed on people arriving into the UK from this morning – including a rule which forces all travellers to take a test both before and after their journey. From 4am this morning a number of new travel rules became active for individuals who are arriving into the UK from overseas.
The new measures have been introduced to combat the spread of the Omicron variant, which scientists are still trying to determine the full impact of.
Some 336 cases have now been discovered in the UK, as the number of people testing positive for the virus is up 9.1 percent week-on-week.
However, it's been revealed that the costs of these additional restrictions could add up to a possible £800 more per journey for an average family of four.
So, what exactly are the new rules and how will travellers, including UK expats, be able to abide by them to gain entry into the UK?
New travel rules in full
The new travel restrictions now require everyone who travels to the UK aged 12 or over to take a Covid test before they begin their journey and after they arrive.
Before departing
Proof of a negative test result will need to be provided before you'll be allowed to travel regardless of whether you're fully vaccinated or not.
This proof can either be given through a lateral flow or PCR test and must be taken no more than 48 hours before you depart for the UK.
In addition, private test providers must be used by travellers. Consequently, this means that free NHS lateral flow kits are not allowed.
The test can be taken either in the country where you start your journey, or in another country en route to the UK, if you're travelling that way.
After arriving
Upon arriving in the UK you then have up to two days to take a PCR test, which must be booked before you travel.
The test again must also be bought from a private test provider and one that is on the government's approved list.
While you are waiting for a result, you must self-isolate, regardless of your vaccination status. You can stop self-isolating if your test is negative.
DON'T MISS:
Flight attendant names the one seat you should avoid on a plane [INSIGHT]
The three countries at risk of being added to the travel red list [EXPLAINED]
Inmates take swift revenge on tragic Arthur's 'evil' stepmother [NEWS]
All travellers to the UK must also now fill in a passenger locator form – even if it's a fleeting visit – which must be fully completed no more than 48 hours before you begin your journey.
However, for a typical family of four to now gain entry to the UK these measures will add at least £400 to their travel costs – potentially rising to as much as £800.
The average cost of a pre-travel lateral flow test kit is around £20 per person whilst the cost of a PCR test is roughly £80 each.
Nonetheless, some of the Government-approved test providers are charging as much as £180 per person for a PCR test which could equate to a person having to pay £200 to enter the UK.
Travel rules differ if you are a British expat – a UK or Irish national or UK resident – living in a country that is currently on the UK Government's red list.
This group are the only set of individuals who are allowed to enter the UK from these countries – but if they choose to do so must pay for and self-isolate in a pre-booked Government-approved hotel for 10 days.
The rates for this are as follows:
10 days (11-nights) for one adult – £2,285
Additional adult (or child over 11) – £1,430
Children aged five to 11 – £325
Source: Read Full Article