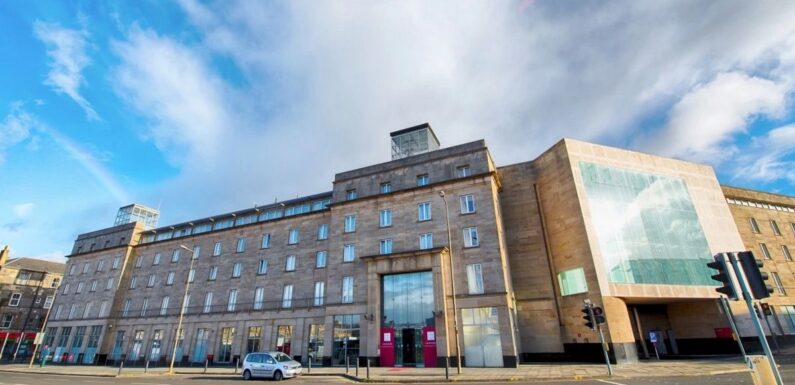 A tourist enjoying his time at the Edinburgh Fringe was more than a little disappointed when they arrived at their expensive hotel to see the view from the window.
They claimed there was a building site right outside their building for their stay – and work apparently began "less than 10 metres from the window" as early at 6.45am.
The comedy festival is full of renowned acts – but also drives up the price of a stay in the Scottish city.
READ MORE: Tourists fume as Italian bar charges them £1.72 for cutting a sandwich in half
They stayed at the Leonardo Hotel Edinburgh Haymarket, where prices begin at £160 a night throughout August – with some days costing as much as £302.
The tourist was also fuming as the hotel bar shut at 11pm – too late for them to enjoy when they returned from the Fridge, reports Edinburgh Live.
Taking to TripAdvisor, they said: "Let's start with the positives.
"Front of desk very welcoming and receptive first impressions were very good. A four-star "big" hotel. We were offered a glass of Prosecco on arrival which was great. Staff all very helpful.
"First impressions of room was very positive, very large. Could do with a couple of easy chairs, there was plenty of space but nowhere to sit and read or have a coffee other than the bed."
Things took a turn for the worse after the couple looked out their window, and noticed what was happening right outside. They added: "Not just overlooking a building site, but an active participant in the building programme.
"The crane in the photo started work at 6.45am, less than 10 metres from our window. To be honest, my main gripe was that returning to the hotel at just past 11pm, having passed all the pubs full of festival goers, we thought we would have a nightcap in the hotel bar to be informed that the bar had closed at 11pm.
"This claims to be a four-star hotel with four-star service. I could get a nightcap at the Premier Inn around the corner until 1am. Ok, there is building work, but we should've been told – but a serious four-star hotel without a bar?"
The Leonardo Royal Hotel has a 3.5 stars rating overall on Tripadvisor.
From 5,947 reviews so far, only 388 branded the spot "terrible". A member of the hotel's staff was quick to reply to the comment.
"It's wonderful to hear that you had a positive encounter with our front desk team, finding their welcoming attitude and the offer of a glass of Prosecco upon arrival to be a nice touch," they wrote.
"Our staff's helpfulness and attentiveness are key priorities for us, and we're glad to hear that they left a positive impression on you.
"We're also pleased that your initial impression of the room was positive, with its perceived spaciousness. We'll certainly take note of your suggestion regarding adding a couple of easy chairs to the room, as guest comfort is very important to us.
"I am, however, truly sorry to hear that certain aspects of your stay did not meet your expectations. Please accept my sincerest apologies for any inconveniences or discomfort you experienced during your time with us.
"Rest assured, your concerns will be conveyed to our management team. They will thoroughly assess the issues you've raised and explore avenues for improvements."
The majority of the reviews left for the hotel have been complimentary, despite higher prices during the Edinburgh Fringe. The mark up is generally expected during the festival.
Leonardo Hotel Edinburgh Haymarket was contacted for comment.
Source: Read Full Article