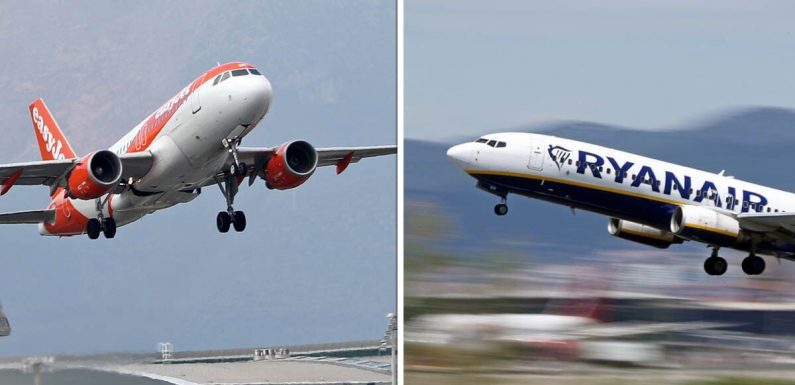 Simon Calder issues warning about EasyJet
We use your sign-up to provide content in ways you've consented to and to improve our understanding of you. This may include adverts from us and 3rd parties based on our understanding. You can unsubscribe at any time. More info
easyJet staff in Spain have started striking today in a pay dispute. So far, seven flights have been cancelled in Spain.
The affected airports are Malaga and Palma de Mallorca on the first day of strike action from easyJet staff.
Staff are planning nine days of action across July just as the peak summer holiday season begins.
Planned days of action are July 1, 2, 3, 15, 16, 17, 29, 30 and 31 and around 450 workers are taking part.
British tourists could be impacted by the strikes at the end of July as this will coincide with UK school holidays.
Miguel Galan, from the USO Union which represents the workers, said airline staff want an increase to their wages.
easyJet said: "We are disappointed with this strike call at such a critical moment for the industry, especially since we are making considerable progress in the negotiations towards a new collective agreement, and we hope that USO does not carry out this action but instead resume talks with easyJet.
"We would like to continue the constructive dialogue with them."
The easyJet strikes coincide with industrial action from Ryanair workers in Spain which have also caused disruption.
Heathrow cancels more flights as airport struggles
According to local media, several hundred Ryanair flights were delayed this week as workers took action over working conditions.
Ryanair staff are striking on July 1 and July 2 with disruption likely across major airports in Spain.
Ryanair staff in Portugal, France, Italy and Belgium took part in strikes last weekend.
All affected passengers should be contacted by their airline and offered a refund or alternative flight if theirs is cancelled.
British tourists could also be impacted by planned British Airways strikes later on in July.
Ground staff at Heathrow have voted for strike action over an ongoing pay dispute with the company.
The affected workers had their pay docked by 10 percent during the pandemic and would like that reinstated.
BA has offered the workers a one off 10 percent bonus which has been rejected although the action could be called off if talks are successful.
The workers have yet to release the dates for the strike but it is expected to coincide with school holidays.
BA workers have to give two weeks notice of any planned strike action so the date is likely to be released soon.
Despite the chaos, experts estimate that only five percent of British tourists will be impacted by travel issues this summer.
The majority of tourists are expected to get away without an issue although many may face long queues at UK airports.
Source: Read Full Article