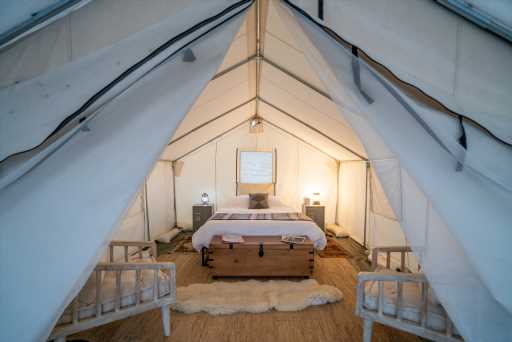 Do you love the idea of camping — getting out in nature, away from the city — but not packing gear, setting up camp, and cleaning up after you return from your daily adventures?
If so, why not try glamping, aka "glamorous camping," which substitutes bare-bones tents and propane stoves with low-key lodging and creature comforts. Colorado has plenty of options along these lines, from deluxe canvas tents with modern conveniences to well-equipped Airstream trailers and bubble tents in stunning natural settings.
Here are 10 glamping options for your summer travels. The final five are uber family-friendly.
Camp Eddy
Opened in August 2022, this scenic destination along the bank of the Colorado River in Grand Junction offers several glamping options, including seven tiny homes with private bathrooms and eight refurbished Airstream trailers. Each site is equipped with linens, soaps, shampoo and kitchen essentials. The property also features more than 50 RV sites (but no tent camping), as well as laundry/bathroom/shower facilities, a store, and an outdoor patio. Walk or bike the paved, riverside path (the Las Colonias Amphitheater is a five-minute walk away), swim in the river, or rent SUPs, tubes or rafts on-site. eddygj.com
Camp V
A former mining camp built in 1942 by the Vanadium Corporation to house its uranium engineers and their families, this spot in Naturita has been repurposed as a glamping oasis. Located 53 miles northwest of Telluride, Camp V offers 12 renovated cabins — six studios and six two-bedroom options, all with kitchenettes. There are also three fully furnished Airstream trailers; three Lotus Belle Onion canvas tents with shade areas; six Jupes, which look like space-age canvas tents with wood flooring and featuring a queen bed, with private patios; and six RV sites with full hookups (plus a bathhouse). There are also 20 primitive campsites along the San Miguel River.
During your stay, explore the art scattered throughout the grounds, enjoy a 3-mile hike on property, or swim/SUP at the private pond. Dining options are available. campv.com
Frontier Drive-Inn
Originally a drive-in movie theater that opened in 1955 and closed in 1985, this site was reopened in 2022 as a "drive-inn," offering overnight stays in addition to movie screenings under the stars. It is located in the San Luis Valley in Center, about 30 miles northwest of Alamosa and 40 miles west of Great Sand Dunes National Park and Preserve. The property offers 10 yurts, each equipped with a queen bed, sitting area and pellet stove. The yurts are clustered around gas fire pits and spa-like bathhouses. There are also four glamping units called Steelmaster Rooms – prefabricated storage sheds often used in the agriculture industry that have been transformed to luxury suites featuring wood-paneled interiors, ensuite bathrooms, heated floors and a private deck.
The property doesn't sell food or drinks — though there are chefs on-site some weekends — but guests can store and cook their own food at the Snack Bar (book a "kitchen box" with your reservation to receive utensils, dishware and cooking supplies). Movie season runs roughly June through October; guests can also observe the stunning night sky in one of eight open-air observatories called "skylos." frontierdriveinn.com
Puma Hills
Sitting at around 9,000 feet elevation in Lake George (about 22 miles northwest of Cripple Creek), Puma Hills Mountain Retreat is surrounded by more than a half-million acres of protected wilderness, including Pike National Forest. Visitors can choose from a variety of glamping options including luxury tepees complete with either a king, a queen, or twin beds. There are also geodesic domes, Conestoga wagons and a bubble tent with queen beds and tents perched in the property's aspens and in the forest. The most luxurious options feature electricity, luxury bedding, heated mattress pads, and furnishings like leather chairs, chest of drawers, and Native American rugs and blankets.
Guests have access to a bathhouse with restrooms and showers, as well as an on-site chef and meal plans. Property amenities include archery, hiking, pine cone golf, and board and lawn games. pumahills.com
Mestaa'Ehehe Mountain Fire Lookout Cabin
Seeking a truly rustic glamping adventure? Stay at the Mestaa'Ehehe Mountain Fire Lookout Cabin, perched at 11,000 feet and a 35-minute drive from Idaho Springs. It's available for rent year-round. The 14-by-14-foot, four-person living space includes an electric stove, refrigerator, heat, beds, a table and chairs, dishes, and incinerating toilet. (Visitors must bring water and clean and maintain the toilet.)
For summer access, take Colorado 103 via Forest Road 192.1 to a small parking area at the end of the road — high-clearance vehicles are recommended — and park in the designated Lookout Parking. Hike 1 mile up a steep dirt road to the lookout. 303-567-4382 or recreation.gov/camping/campgrounds/234792 (Book well in advance, this site is popular.)
Our most family-friendly picks
Sun Outdoors Rocky Mountains/Jellystone Park at Larkspur
Opened in 2020, Sun Outdoors Rocky Mountains (formerly River Run RV Resort) is located 2 miles northwest of Granby and offers an extensive list of lodging options, including Airstream trailers, cabins and Conestoga wagons. It also offers a wellness center, general store, pool, sports complex, two restaurants, and a lake with SUP and kayak rentals. Its sister property, Jellystone Park at Larkspur (south of Castle Rock off I-25), features an array of cabins and RV sites in addition to a café/bar, two swimming pools, a water park, gem mining, miniature golf, bowling and more. sunoutdoors.com
Piney River Ranch
Located about 12 miles from Vail, this private, 40-acre retreat tucked on the shores of Piney Lake is a popular summer destination for families. Stay in one of nine cabins (each sleeps 4 to 8) or in one of three 4-person glamping tents. (Note: There are no guest showers.) Enjoy activities such as horseback riding, fly-fishing, canoeing, paddle boarding and hiking. The on-site Lodge Restaurant and Bar offers some of Vail's best barbecue. pineyriverranch.com
Royal Gorge Cabins
Located 5 miles north of the Royal Gorge Bridge and Park and about 9 miles from Cañon City, this property owned by Echo Canyon River Expeditions features nine luxury one- and two-bedroom cabins with indoor-outdoor fireplaces, kitchenette, Wi-Fi, TV, patio seating and personal cornhole game and hammock. There are also eight glamping tents (single or double queen beds) and cabins. royalgorgecabins.com
Snow Mountain Ranch
Officially the YMCA of the Rockies, Snow Mountain Ranch is one of my family's favorite destinations in all of Colorado. Located 8 miles south of Granby, the property offers a wealth of lodging options, from traditional hotel rooms to cabins (two to five bedrooms). Glampers can enjoy one of 24, six-person yurts with picnic tables, fire rings, a bath house, and a dish-cleaning area. RV and tents sites are also available.
On-property activities included in your overnight stay include miniature golf, indoor pool, tennis courts, and hiking and biking trails. There's also a dining hall that serves three buffet-style meals daily. (No alcohol sales, but guests can bring alcohol on property.) In summer months, enjoy a one-hour "Lollygag with Llamas" (every other Saturday) or "Hanging with the Huskies," where guests can meet the sled dogs in the dog park every Monday and Friday. ymcarockies.org
Subscribe to our weekly newsletter, The Adventurist, to get outdoors news sent straight to your inbox.
Source: Read Full Article