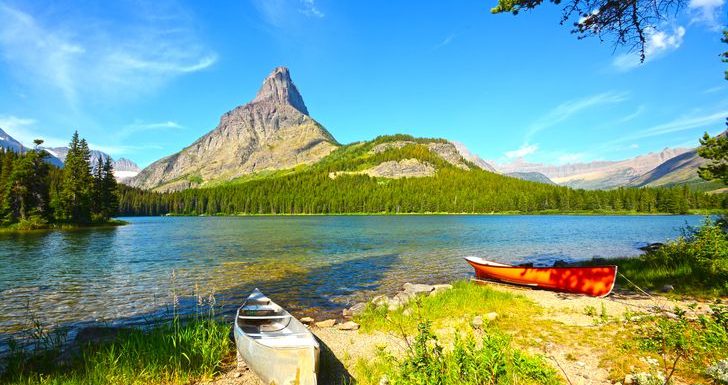 Glacier National Park is glorious
If you're stuck at home but are yearning for adventure, look no further than Glacier National Park. The following photos will show you exactly why people travel from all over the world to visit this breathtaking place.
Virtually visit Glacier National Park
If you're stuck at home but are yearning for adventure, look no further than Glacier National Park. You don't need to visit this park in person to appreciate it. 
Keep scrolling to see more of this park's natural beauty and learn about its history.
1. It's in Montana and Canada
The park is actually international, with the border between the United States and Canada running through it.
2. Glacier National Park is 1,583 square miles in size
3. It's home to Montana's state flower
You can find lovely fields of bitterroot in Glacier National Park during wildflower season.
Related: Do you know what every state flower looks like?
4. It has 700 miles of hiking trails
Visitors relish the park's 700 miles of hiking trails.
5. You can see sunbeams here
If you're lucky, you may spot sunbeams over Avalanche Creek, as pictured here.
6. It also has glaciers
On the Canadian side, you can see glacier-carved peaks and valleys.
7. It has 700 lakes
You can find more than 700 lakes across the park. 
8. It's popular with kayakers and backpackers
The park is a sought-after destination for kayakers and backpackers.
9. The park has more than 200 waterfalls
Those waterfalls nclude St. Mary Falls, pictured here.
10. Not all the falls have names
While St. Marys and other popular destinations are named, there are two unnamed falls on the way to St. Marys alone. 
11. It's home to Grinnell Point, Many Glacier Hotel and Swiftcurrent Lake
 Grinnell Point looms over Swiftcurrent Lake behind Many Glacier Hotel, another popular destination inside the park.
12. It's also home to Hidden Lake
Hidden Lake, pictured below from Bearhat Mountain, is another popular scenic stop for park visitors. 
13. It has a Swiss Chalet
Like other popular hiking destinations, the park has a Swiss Chalet that visotirs can enjoy. 
14. You can kayak in Kintla Lake
 Kintla Lake is one of the park's most visited stops for kayakers. 
15. There's a lot of wide-open spaces
Glacier County, where the park is located, is more than 3,000 square miles in size, but just 13,732 people call Glacier County their full-time home. 
16. Going-to-the-Sun Road is one road people don't avoid
 That's because it's absolutely beautiful and was designed to blend into its mountain setting.
17. Many Glacier is on the park's east side
On the east side of the park, Many Glacier sees many visitors for its own scenic views. 
18. More than 3 million visitors per year
In 2019, the park welcomed more than 3.05 million visitors. 
19. It only had about 1.7 million in 2020
Because of the pandemic, only 1,698,864 were able to visit the park in 2020.
20. It has rams. Lots and lots of rams
You can find many Rocky Mountain Bighorn Ram in the park's forests.
21. There are also grizzly bears
Grizzly bears also forage through the forests. 
22. Glacier County is also known as "Backbone of the World"
Glacier County has two well-known nicknames: Blackfeet and the "Backbone of the World."
23. The Hidden Lake Overlook is a popular stop
You can see the park from the air from The Hidden Lake Overlook.
24. It's the world's first international peace park
The park was created to celebrate peace between the United States and Canada.
25. It's the country's 10th national park
Glacier National Park became a national park in 1910 when President Taft declared it a national park on May 11.
26. You'll likely spot a pika when you visit IRL
This close relative of the rabbit is plentiful in the park, with an estimated 1,800 to 3,600 living there.
27. It's bigger than Rhode Island
The park has over a million acres of "glacier-carved peaks and valleys, pristine turquoise lakes and streams, and dense ancient forests," according to the Department of the Interior. Poor Rhode Island has just 988,832.
28. It has beautiful wildflowers
The park is also home to many different wildflower varieties. 
29. Many mountain goats call the park home
You'll see them everywhere.
30. The Canadian side is called Waterton-Glacier International Peace Park
Waterton-Glacier International Peace Park came into existence in 1932. 
31. The two parks work together in emergencies
Both the Canadian and American sides of the park have agreed to work together to preserve wildlife and respond to emergency situations, such as fires or flooding. 
32. It's near the
The Continental Divide runs through the close-by Rocky Mountains. 
33. Because of that, it has extreme weather
Pacific and Arctic air meet at the Divide, which can create extreme weather conditions. 
34. Nearby Browning, Montana, saw a one-day temp drop of 100 degrees
In just 24 hours back in January, 1916, the temperature in this small town dropped 
from 44 °F to -56 °F. This is not only the U.S. record for the greatest temperature drop in 24 hours, it's also the world record. 
35. Buffalo roam many parts of the park
Both sides of the park have recently undergone collaborative efforts to bring bufallo to both the Candian and American sides of the park. 
36. Going-to-the-Sun Road splits the park in half
Going-to-the-Sun Road separates the eastern and western halves of the park. 
37. The road also crosses the Continental Divide
You can cross the Continental Divide through Logan Pass.
38. Going-to-the-Sun Road is 50 miles long
You can see about 50 miles of the park's beauty on this road.
39. Humans have lived in the park area for 12,000 years
The mountains still hold spiritual significance for the local Blackfeet, Salish, and Kootenai Tribes. 
40. Blackfoot Glacier is the largest glacier in the park
It covers a total of roughly 441 acres or nearly 35 football fields.
Related:
50 mind-blowing natural phenomena
Breathtaking places around the world
This article originally appeared on and was syndicated by MediaFeed.org.
Yosemite is a sight to behold!
If you're a fan of the wilderness, you need look no further than Yosemite National Park. Nearly 95% of it is designated as "wilderness," thanks to the Wilderness Act of 1964, which was enacted by the 88th Congress of the United States. Get away from it all with what may be America's greatest national park.
If you're a fan of the wilderness, you need look no further than Yosemite National Park. Nearly 95% of it is designated as "wilderness," thanks to the Wilderness Act of 1964, which was enacted by the 88th Congress of the United States.
According to the Act, wilderness is an area "where the earth and its community of life are untrammeled by man, where man himself is a visitor who does not remain." Yosemite National Park fits this description to a tee, and if you decide to venture into it, it's entirely possible to forget that it's the year 2021.
Due to its unspoiled state, it's a favorite attraction for hikers, backpackers, and people who just like being outside. Since we've all been cooped up inside for over a year, Yosemite could be the perfect place to go for a pandemic detox. We've certainly earned it.
Here are some photos of Yosemite National Park in all its glory, with a few factoids sprinkled in for your personal edification. We think that after you've scrolled through them, you'll want to put the park on your "must visit" list and why we think it's one of the greatest, if not the greatest, national park.
1. It's the home of El Capitan …
El Capitan, known to some as "El Cap," is a vertical rock formation located on the north side of Yosemite. The granite megalith is approximately 3,000 feet tall, and rock climbers come from all over the country to conquer it.
2. … and Half Dome
El Capitan isn't the only impressive granite monolith at Yosemite. There's also the Half Dome which, at approximately 4,800 feet, is an even more daunting climb than El Cap. Only the most experienced climbers should even consider trying to tame this beast.
3. It's also home to Cathedral Peak
There are countless great views to be had all over Yosemite, but some views stand out more than others. This view of Cathedral Peak from the Toulumne meadows area, for example, is pretty hard to beat.
4. The sunrises are worth waking up early for
Even if you're not a morning person, and even if no one should talk to you before you've had your coffee, sunrise at Yosemite National Park is worth setting your alarm to see. Views like this one should melt even the most curmudgeonly of hearts. 
5. You can thrill and terrify your friends with photos like this one
If you're a thrill-seeker, there's no shortage of opportunities to challenge yourself at Yosemite. Just make sure you have a friend on another rock far away to take a photo of you, so your friends will believe you really climbed that rock.
6. Those trees!
Even people who don't really pay much attention to the trees around them in their day-to-day lives would have a hard time ignoring some of those found at Yosemite, such as these giant Sequoias. 
7. … they're mesmerizing …
This is the dead tunnel tree in Tuolumne Grove – also known simply as the "Dead Tree." It's one of the more popular attractions at Yosemite.
8. … & don't forget to look up!
While we all know it's bad when you can't see the forest for the trees, sometimes the trees themselves are worth dwelling on. These tall Sequoia trees stretch up into the sky, to dizzying effect.
9. It's a wintertime beauty, too
Yosemite National Park is open all year, so people who want to see it can go whenever they want, even during the winter. It's beautiful that time of year, and you can even bring back photos to prove to your geography-challenged friends that it snows in California too.
10. It's not too shabby in the fall either
Autumn may not be the first season people think of when they think "vacation," but those who do and choose Yosemite as their destination will see some incredible sights. This is the Half Dome reflected in the Merced River on a fall afternoon.
11. It gives new meaning to the word 'dusk'
The dusk sky at Yosemite provides some views that look like nothing else. This photo of the Yosemite Valley is a great example of what you find there that you won't see in many other places in the world.
12. By all means, go chasing waterfalls …
Vernal Fall is another Yosemite attraction that's open for business all year. It's accessible from various points in the park, which change from season to season. As far as safety, the National Park Service has plenty to say – swimming isn't allowed, and sprains and other types of injuries are common in that spot, so be careful.
13. … all the water falls
You can hike right up beneath Bridal Veil Falls.
34. Come for the falls, stay for the sunset
People who visit Yosemite in late February are in for a rare treat that doesn't exist the rest of the year. Horsetail Fall, a waterfall that flows over the edge of El Capitan, can glow orange, but only during the last two weeks in February, and only when it's backlit by sunset. The slightest bit of haze or even just a few clouds can ruin the effect, but it's worth taking a chance to see it when it happens.
15. You'll see incredible views from Taft Point
Taft Point is another elevated area of Yosemite that offers incredible views to anyone who visits it. El Capitan, Merced River, and Yosemite Valley can all be seen on the right.
16. Slippery when wet
A close view of the Mist Trail at Yosemite shows why it can be a precarious hike. The stone stairway is wet with mist from the waterfall, and there's no guardrail, so a minor slip-and-fall could be more than minor. 
17. Opportunities for selfies aplenty
The selfie is now an acknowledged art form, and Yosemite offers plenty of opportunities to take one. Or two. Or six. However many you want to take, you will have no shortage of expansive vistas to grin in front of and point at.
18. Some accomplishments are more scenic than others
You met a sales goal at work? Great! You got that client to sign a contract? Awesome! But the chances are that both of those accomplishments took place in some dank room with no spectacular scenery. Next time, try climbing Yosemite's Sentinel Dome instead. There's no revenue in it for you, but you'll have a great photo for your Instagram account.
19. You're bound to spot some wildlife
If you're hiking in an area designated as 95% wilderness, you're going to see some wildlife. Some of the animals are harmless and others should be treated with caution and given a wide berth, such as this black bear. 
20. Underneath the blood moon
It's not every day that you visit someplace as extraordinary as Yosemite, and it's not every day that you see a blood moon. This photograph of the night sky in Yosemite during a blood moon shows the advantages of being in the right place at the right time.
21. There's something for the most outdoorsy-types …
You don't have to be an experienced hiker, backpacker or climber to enjoy what Yosemite has to offer, but if you are, you'll be rewarded with some views you'll never forget.
22. … and those who like to take it easy
While there are plenty of places in Yosemite for athletic people to challenge themselves, it's also a great place to go for a lazy summer afternoon with the family. If you're craving a little father and son time, this is a great place to go.
23. It's beautiful in almost any kind of weather …
This photo shows the 'Tunnel View' of Yosemite Valley made famous by Ansel Adams' black-and-white photography. Here it's seen in color, but covered in a shroud of fog. What's dark and foreboding in urban environments becomes magical in this one.
24. … and almost any time of day
At night, one of its biggest treats of being in Yosemite can be enjoyed by just looking up. This starry, cloudless sky over Half Dome is a naturally-occurring work of art.
25. Also don't forget to send a postcard while you're there
Yosemite National Park is 95% wilderness, but the remaining five percent has its purpose too. Built in 1925, the Yosemite Museum was the first ever built in the national park system, but due to Covid-19 restrictions there are no exhibits currently on display. It's a good bet that will change as more people get vaccinated and life returns to normal.
26. It's not the only historic building you'll find
People who don't want to hike have options when it comes to visiting Yosemite. That also goes for people who don't want to camp. The park is equipped with lodging at the Majestic Yosemite Hotel, also known as the Ahwahnee, and it's had such people stay under its roof as Greta Garbo and Winston Churchill.
27. What's it called again?
The tunnel view is so striking we want you to have one more view.
Want more beautiful views?
The most beautiful places in the Hawaiian Islands
Epic, must-see vistas of the Grand Canyon
This article was produced and syndicated by MediaFeed.org.
Maine's main attraction
If you love sunrises, you can see the first glimpses of light seen anywhere in the United States by visiting Maine's Acadia National Park. Or you can check out the gorgeous photos we've assembled for you.
Let the sunshine in
If you love sunrises, you can see the first glimpses of light seen anywhere in the United States by visiting Maine's Acadia National Park.
Just southwest of lovely Bar Harbor, Acadia is situated along the Atlantic coast with breathtaking views of the ocean from the comfort of your car, RV, the top of famous Mount Cadillac or from any number of perches you can find along the stunning, rocky coastline.
Acadia preserves portions of Mount Desert Island and the Isle au Haut, as well as the tip of the Schoodic Peninsula and parts of 16 smaller outlying islands. And, according to the National Park Service, Acadia gets 3.5 million visitors per year, making it one of the US's top 10 most visited national parks, even though it is among the five smallest. 
As you'll see in the following photos, that popularity is justified. Have a look at our virtual tour of Acadia National Park and see for yourself why tourists make it a regular stop on their itineraries. Especially if you like being first when it comes to seeing the sun rise.
1. The lighthouses also illuminate the way
Since Acadia National Park is located on the coast of Maine, you're going to see many attractions that reflect that. This is Baker Island Lighthouse, captured in black and white on an already gray day.
2. If you like fall foliage, Acadia will keep you occupied when you visit
One of the things that New England is famous for is the way the leaves turn in autumn. You don't get much more New England than Maine, and this photo of Otter Point shows that foliage in all its glory.
3. That's a pretty big pond
Generally, a pond is supposed to be smaller than a lake. Jordan Pond, pictured here, is probably smaller than many lakes, provided they're ones like Lake Erie or Lake Superior.
4. It's a great place even if all you want to do is take pictures
Most national parks boast panoramic views that must be seen in person to be believed, and Acadia delivers on that score. At sunset, Acadia's Bass Harbor Head Lighthouse doesn't particularly need a great photographer to get a decent photo. Still, this photographer took a genuinely great one.
5. The sunrises are earliest, but also some of the most beautiful you'll see
Acadia is full of fantastic sights, no matter what time of day it happens to be. This photo of Thunder Hole was taken at sunrise, and only the word "otherworldly" will adequately describe. 
6. If your day starts with this sunrise…
… chances are, it's going to be a good day. This photo of Bass Harbor was taken at sunrise, and the mixture of colors is one that you just don't see in many places, at any time of day.
7. A rocky beach at sunrise
This photo may not be what many people think of when they hear the word "beach," particularly children who may associate the word with sandcastles. Indeed, you won't have much luck writing your initials in the rocks, but with a sunrise view like this, who cares?
8. The views are vast and varied
The panoramic views from Acadia's Cadillac Mountain are breathtaking. So's the hike to get there!
9. And now for something completely different
While the coastal views from Acadia National Park are jaw-dropping, visitors are not limited to watching the waves break against rocks all day. There is a lot of forest land there too, and anyone who loves a long, lazy nature walk will find plenty of it here.
10. Long, lazy nature walks for city folk
Suppose you like nature hikes but aren't 100% acclimated to walking through the untamed forest. In that case, there's good news! Some of Acadia National Park's forests have paths made from wooden planks, making it a little easier on people for whom "nature" is not their first language.
11. There's lots of hiking outside of the woods too
People who enjoy hiking don't have to limit themselves to the forest, as beautiful and peaceful as it is. There's hiking to be had along the coastline as well, such as here at Ravens Nest on the Schoodic Peninsula.
12. The best of both worlds
While there's coastal hiking and forest hiking at Acadia National Park, it's not an either-or thing. Some parts of it, such as Great Head, have coastal hiking paths that offer generous views of the fall foliage at the same time.
13. The view from North Bubble
The different types of terrain and variations in the landscape are some of the incredible sights available at Acadia National Park. This view from North Bubble shows a veritable Whitman's Sampler of Acadia attractions – the woods, the water, and the landmasses in the distance.
14. Don't get too dizzy at these dizzying heights
For hikers looking for something with a little more edge than a bucolic nature walk, please consider Acadia National Park's Beehive Trail instead. The views are worth the climb, but maybe don't stand quite so close to that edge, OK?
15. An inside look at the lobster-catching industry
There's nothing quite as Maine as putting on a bib, grabbing a nutcracker, and going to town on a freshly-cooked lobster. But where do they catch these crustaceans that make our dinners so fantastic? You'll see plenty of lobster boats near Acadia.
16. More coastal hiking than you can shake a stick at
Mount Desert Island is one of several islands that are part of Acadia National Park. All of them offer ideal hiking for people who love to be near the water. This hiking trail offers tantalizing views that stretch to the horizon.
17. 'Cadillac plans' aren't just for health insurance
Some of the best places to view the fall foliage in Acadia National Park are from higher points that overlook it. This photo, taken from the top of Cadillac Mountain, shows the  leaves in all their splendor.
18. Unusual weather patterns make striking photos
The weather in coastal Maine is best described as having multiple personalities. It can be hot and sunny one minute, and then you'll be reaching for a sweater the next. This photo shows storm clouds battling with the sunlight over the coastline.
19. How to be in a few different places at once
Cadillac Mountain overlooks various locations in Acadia National Park. From this vantage point, you can see Frenchman Bay, Bar Island, and the Porcupine Islands.
20. There are sandy beaches too
If you want a more traditional beach experience — like one with sand — tell your kids (or your inner kid!) to get their pail and shovel. Acadia National Park has sandy beaches that offer the opportunity to build and destroy as many sandcastles as you want.
21. More death-defying feats
Acadia National Park offers hiking for people at every level of expertise, from the complete amateur to the highly seasoned. But for the more adventurous, there are lots of opportunities as well, like rock climbing and rapelling. You could be just like this guy on Otter Cliffs!
22. Night-time sky views can be beautiful
If you like to camp out and spend a few nights under the stars, Acadia National Park has got you covered — with stars! You may night be able to predict when you'll have a perfect night with no clouds, but if you're there at the right time, you can look up and see everything. This, of course, is a time-lapse photo, but you're guaranteed some breathtaking views of the cosmos.
23. Here, have another beautiful night-time photo
The open skies above Jordan Pond offer another clear view of the night sky framed by mountains.
24. Sunrise… sunset… it doesn't matter
The sunrises at Acadia National Park are uniformly stunning and make an excellent argument for getting up early. Having said that, we don't want to give short shrift to the sunsets, which are ideal for staring at until they disappear into the night.
25. You can drive there too
You don't have to hike to enjoy Acadia National Park's attractions. A lot of it is accessible is by car. It's full of paved roads to give your shock absorbers a break, and what better way is there to bring your canoe than by strapping it to the top of your car?
26. Can't hike, won't hike? Don't worry!
While there's no substitute for getting up close and personal with Mother Nature, your knees may feel otherwise. But fret not! Acadia National Park is full of roads for driving, many of which will offer breathtaking views that are just as unforgettable as those you would see as a pedestrian.
27. Up, up, and away
So, you've climbed Acadia Mountain and taken in the sights from multiple vantage points, but if you don't get photos of what your elevation was, did it really happen? Take pictures when you see these signs, just so your friends know you actually went somewhere and did something on your vacation.
28. Spending time together? Priceless
Even though we all spent over a year at home with our families, there was precious little bonding to be done while everyone was bingeing Tiger King. If you want to get close to your loved ones in a substantive and lasting way, nothing beats an unhurried, leisurely hike with your favorite people. It will give you a different type of closeness than the "lockdown" kind.
Want more beautiful views? Check out:
Unbelievably gorgeous beaches
50 of the world's most beautiful castles & palaces. 
The world's most beautiful lakes
This article was produced and syndicated by MediaFeed.org.
Want more gorgeous national park destinations and other far-flung locales?
Epic, must-see vistas of the Grand Canyon
The most beautiful places in the Hawaiian Islands
Our top picks for US summer travel destinations
Unbelievably gorgeous beaches
50 of the world's most beautiful castles & palaces. 
The world's most beautiful lakes
A full-time RVer's secrets for saving at RV parks
This article was produced and syndicated by MediaFeed.org.
Source: Read Full Article