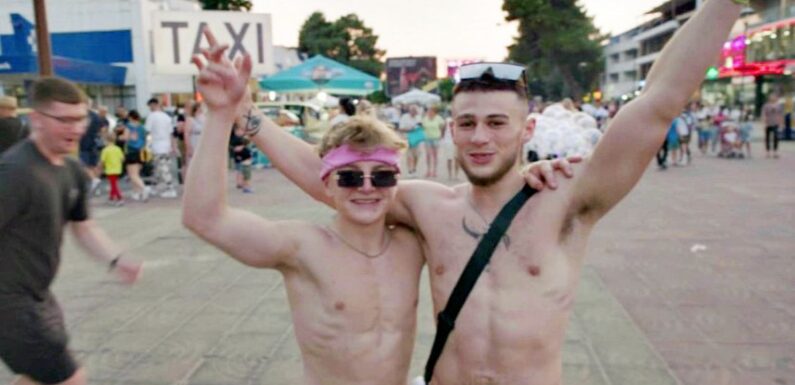 Bookmark
Get the best travel tips, advice and holiday deals
Thank you for subscribing!
Get the best travel tips, advice and holiday deals
We have more newsletters
Holidaymakers looking to party all night, sink cheap pints and get rowdy have traditionally headed to hotspots like Magaluf, Benidorm and Amsterdam.
But, as some countries like Spain and the Netherlands crack down on "nuisance tourism" it seems Brits have chosen a new destination for getting drunk and naked.
Sunny Beach, in Bulgaria, has gained popularity in recent years thanks to its incredibly cheap holiday deals, reports the Sun.
READ MORE: Benidorm lad spills resort secrets – 88p pints, £2 fry-ups and getting drunk for 'nowt'
While families have previously headed to the resorts it seems now the masses are going wild as they discover the sun, sand and sex of the resort town.
In a recent six-part docu-series on E4, Emergency On Sunny Beach, the true extent of British partygoers is laid bare – as cops say they cause the most trouble.
Throughout the show, young women strip their tops off showing their boobs for a free go on a fairground ride as per a raunchy promotion.
In bars and restaurants, lads play drinking games and strip naked or pass out unconscious from too much alcohol.
Couples can be seen getting hot and heavy in public and even an OAP is so drunk he can't find his hotel.
One young man, Mason, 21, from Essex, heads on a bar crawl and licks alcohol off a Bulgarian woman's breasts.
He told the documentary: "I'm 21, a young buck, I've got a lot of goals. I'm going to make Sunny Beach my oyster.
"I want to shag a MILF and shag a load of foreign birds because I love foreign birds."
It's little wonder the town has been nicknamed "Blackpool abroad", but we're not sure most Brits would get up to so much mischief on their home soil.
Around 100,000 of us head to Sunny beach each year generally because of the rock bottom prices.
While Benidorm offers 87p pints and £2.50 fry-ups even the famous Spanish city can't compete with all-you-can-drink nights for £26, Viagra jelly shots and even cheaper beers.
Laughing gas balloons – made from nitrous oxide and classed as a psychoactive substance in the UK – is sold on the streets.
It looks like getting "f***ed up" is the primary goal for many British tourists flying out to Sunny Beach.
With alternative destinations like Amsterdam putting new rules in place around drugs and sex workers to discourage bad behaviour the town is likely to only get busier.
Lanzarote recently stated that it was looking to attract more "high quality" German tourists rather than the British.
Plus, Magaluf has put new fines in place to prohibit drunkenness and anti-social behaviour.
So, with much of Europe seemingly rejecting "wild" party tourists Bulgaria's Sunny Beach is an attractive option for those wanting to let loose to the fullest extent.
To control the masses, Sunny Beach pulls in 40 extra policemen each summer from the surrounding areas and there are 130 lifeguards.
Local police woman Desislava Goranova said: "At night the central part of the resort goes through a change, the clubs open, it's full of people with loose morals, a lot of drugs and booze.
"In my view the usual British tourist looks like this — fair skin, a bit chubby and wearing as little clothing as possible, always very loud and covered in tattoos.
"Compared to other nationalities the British tourists are always very loud and jolly."
While her colleague added: "The British people cause the most problems because they can't drink."
In the E4 series, documentarians asked many holidaymakers while they chose the town.
A caretaker named Demi, 20, said: "We've only done it to get f***ed up and this is what happens."
With her face covered in cuts, she added: "Lesson learnt: Don't give anyone a piggyback when you're drunk, and don't run when you're doing it because you'll have to pay a lot of money.
"Oh, and take out insurance."
Her pal, Holly, also 20, commented: "It's Blackpool but abroad."
The pair went on to use laughing gas balloons and get permanent tattoos.
Demi got the words: 'Smoke weed every day' inked on her thigh in Arabic despite not speaking the language.
She added: "If my family asks, then I'll just say it says, 'Live, laugh, love'."
Also speaking on the documentary, Tsvetan Florov, 30, owner of Club Viking said: "The young British lads are like wild animals.
"People try to have sex in the club.
"Someone's going to be lucky — that's why we also give away condoms so they can practise safe sex."
Carmel, from Essex, dances on a stripper pole before noting: "What happens in ­Bulgaria stays in Bulgaria."
While 18-year-old Ruby, commented: "I don't think you can come to Sunny Beach with a boyfriend.
"If you do, you're going home without one."
A local added: "I grew up in Sunny Beach, the tourists become friends.
"The British tourists are a must here because, without them, Sunny Beach is not the same."
They said that "without British tourists [during Covid] Sunny Beach was boring."
Holiday reps explain that Sunny Beach is the place to go for a party with "girls everywhere", bar crawls, boat parties and booze.
The price of accommodation is sure to be one attraction for penny pinching holidaymakers.
Even in the high season, in mid-June when temperatures soar to an average high of 26C you can bag a deal.
Six nights in the Apartment Blue Komfort just 0.8miles from the city centre will set you back a tiny £117 – that's just £19.50 a night.
You can also get six nights at the Menada Grand Kamelia Apartments – 0.5miles front he centre – for £121 between two people.
Split between a pair that means you'll pay just £10 per person per night.
If you're willing to head further out you'll get even cheaper deals with a six night stay between two at the Sunny Day 5 apartments priced at just £112.
You'll pay just £9.30 each per night to stay in the rooms which are 2.2miles from the strip.
READ NEXT:
Spain's latest rules for Brits – bikini bans, beach fines and £85 a day spends

Obscure rule could see Brit tourists fined up to £130 for popular holiday pastime

Europe's best party spots with epic pool parties, cheap booze and flights from £22

Lanzarote wants fewer cheap British tourists in favour of 'higher quality' Germans
Holidays
Holiday deals
Tattoos
Deals
Drugs
Source: Read Full Article