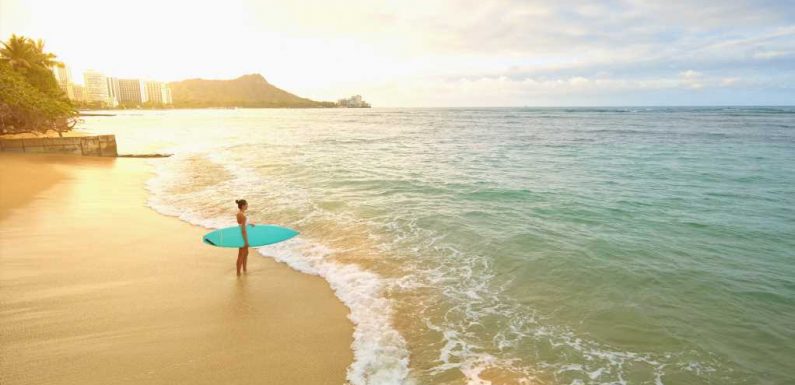 As the economy attempts to recover after a rough 2020, airlines, hotels and banks are working to entice travelers to come back into the fold and start spending again.
One of the ways they are doing this is through credit cards, and we are consistently seeing some massive credit card bonuses show up. Earning credit card welcome bonuses is the easiest and quickest way to earn free travel, so with bigger than ever bonuses, consumers should seriously consider the potential value their next credit card will provide them.
This page will track the biggest card welcome bonuses currently available and we'll only display cards with bonuses that are worth more than $1,000.
Load Error
This page will be updated frequently as soon as we get wind of new bonuses, so make sure to bookmark it and check frequently. You can also subscribe to our newsletter for updates sent directly to your inbox. We'll even tell you when bonuses are disappearing, so you'll never miss a deal.
Insider Secret
Welcome bonuses from credit cards are the fastest and easiest way to earn large sums of points, miles or cash back.
The best card bonuses right now
Amex Marriott cards
Current bonus: Two Amex Marriott cards have unignorable bonuses right now, offering a mix of points and cash after meeting specific requirements. These offers end May 12, 2021.
When you open the Marriott Bonvoy Brilliant American Express® Card, you'll earn 125,000 bonus Marriott points after you spend $5,000 on purchases within the first three months of account opening. ​Plus, you'll get up to $200 in statement credits for eligible purchases at U.S. restaurants within the first six months of account opening.
The Marriott Bonvoy Business American Express® Card comes with 100,000 bonus Marriott points after you spend $5,000 on purchases within the first three months of account opening. Plus, you'll earn up to $150 back in statement credits on eligible purchases made on your new card within the first three months of card membership.
Average value: We estimate that the average Marriott points value is around 0.8 cents each. That means, depending on which card you open, you should have no problem receiving a value between $800 and $1,000 from the points alone. And you can get significantly more than that if you know the best ways to use Marriott points! Plus you'll earn up to $150 or up to $200 in statement credits.
Why it's worth considering: Let's first note the annual fees for these two cards:
Amex Marriott Bonvoy Brilliant – $450 (see rates and fees)
Amex Marriott Bonvoy Business – $125 (see rates and fees)
Right off the bat, the up to $150 statement credit offered by the Marriott Bonvoy Business more than negates the $125 annual fee. It's like American Express paying you $25 to try the card out for a year and take 100,000 bonus points. This is an absolute no-brainer. I have this card myself, and find that it also tends to provide many valuable Amex Offers that my other Amex cards don't have.
As for the Marriott Bonvoy Brilliant, your introductory up to $200 statement credit effectively lowers your first annual fee from $450 to $250. But also note that the card comes with up to $300 in annual statement credit towards Marriott purchases (including room rates). Factor these two credits in, and you're already $50 ahead. You're getting $1,000 in points for absolutely free — not to mention all the other great card perks, like an annual 50,000-point free night certificate, and Priority Pass airport lounge membership.
And don't forget: holding both a personal Marriott card and a small business Marriott card is the key to easy Marriott elite status. Both card types offer 15 elite night credits annually — so if you've got one of each, you'll start each year with 30 elite nights! Just 20 nights to go before you earn the extremely valuable Marriott Platinum status. Check out this post for more details.
Amex Delta Platinum cards
Current bonus: American Express has launched some massive offers on all their Delta credit cards, but the biggest bonuses are available with their Platinum Delta cards. With the personal Delta SkyMiles® Platinum American Express Card, you'll earn 90,000 bonus miles after $3,000 spend in the first three months of account opening. However, the Delta SkyMiles® Platinum Business American Express Card has an even larger offer, where you'll earn 90,000 bonus miles and a $100 statement credit after spending $3,000 in purchases on your new card in your first three months of account opening. Offers end 4/28/21.
Note that the other Amex Delta cards have elevated welcome offers too, though not as large as the Platinum, which you can read about in our post comparing Amex Delta cards. 
Average value: We value Delta miles at 1.25 cents each, so 90,000 miles are worth $1,125 on average. However, there are still some sweet spots in Delta's award chart, as well as its flash sales, that can net you net north of 2 cents per mile. 
Why it's worth considering: Yes, everyone knows that Delta's award chart isn't what it used to be. Yes, it's hard to get huge value with Delta miles. But I've found that I use Delta miles faster than other points or miles currency that I own. That's because they are so easy to earn and I never feel guilty redeeming them for what's sometimes considered mediocre value.
Delta miles are great for booking domestic economy awards and I receive around 1.3-1.4 cent per mile for most of my redemptions. This bonus could get you quite a few round-trip domestic flights.
The Delta Platinum consumer and business cards come with a somewhat hefty $250 annual fee (see rates and fees for the consumer card; see rates and fees for the business card), but it has a few nice perks, like an annual companion certificate and a way to earn Medallion Qualifying Miles towards Delta elite status.  
Read the review of the Delta Platinum personal card and the Delta Platinum business card
Compare all Delta credit cards to see which one is right for you
Apply for a Delta Platinum card with an elevated bonus:

Delta SkyMiles® Platinum American Express Card
Delta SkyMiles® Platinum Business American Express Card

United Business Card

Current bonus: United co-branded cards all have increased welcome bonuses, the largest of which is offered by the United Business Card. When opening up a new United Business Card, you'll earn 75,000 bonus miles after spending $5,000 on purchases in the first three months of account opening.

Average value: We value United miles at 1.3 cents apiece — meaning 75,000 miles is worth $975. While that is on the lower end of our points' valuations, if you know how to best use United miles, you can easily get 3+ cents per mile. Great redemptions include United Polaris business class flights from the U.S. to Europe for 60,000 miles one-way. You can also take advantage of the fantastic United Excursionist Perk, which allows you to add on a one-way flight to a round-trip itinerary for no additional miles.

Why it's worth considering: Apart from the large welcome bonus, the United Business Card has some pretty solid perks for anyone who flies United. You'll get free checked bags on the carrier, 5,000 United miles every year after your account anniversary (a value of $65) and access to hidden United award space — and these are just a few of the perks! Qualifying for a business card is also easier than you might think — make sure to read our guide on how to apply for Chase business cards.

Read the review of the United Business Card
Best ways to use United miles
Apply for United Business Card

American Express® Business Gold Card

Current bonus: After applying for the American Express® Business Gold Card, you'll earn a whopping 70,000 bonus points after you spend $10,000 on eligible purchases in the first three months of account opening. Plus, you can earn up to $150 back on both U.S. advertising in select media and U.S. shipping for a total of up to $300 on eligible purchases within the first three months of account opening. This is a limited time offer that expires April 7, 2021.

Average value: We peg Amex points to a 1.8 cent valuation, meaning 70,000 points are worth $1,260 on average when redeemed for travel. However, it's possible to get even more value than that if you transfer to the right partners and book luxury hotels or first-class flights. For business owners, the $300 in statement credits towards U.S. advertising in select media and U.S. shipping is lucrative cherry-on-top for this already rewarding offer.

Why it's worth considering: This is one of the largest welcome bonuses we've ever seen for the American Express® Business Gold Card. So if you've been eyeing it, now is a prime opportunity to apply. The Business Gold card can also be incredible for points-earning in the long term since it earns 4x Amex points on the two categories where you spend the most each month from a list of eligible categories (capped at the first $150,000 in combined purchases each calendar year, then one point per dollar) (terms apply). What makes it even better is that you don't have to change the bonus category every month — the 4x earning is automatically applied to whichever categories you spend the most in. The card has a $295 annual fee (see rates & fees).

Read the review of the Amex Business Gold card
Best ways to use Amex points
Apply for American Express® Business Gold Card

Amex Platinum

Current bonus: The Platinum Card® from American Express has just launched one of its best-ever offers. You'll earn 75,000 Membership Rewards points after spending $5,000 on purchases in the first 6 months of account opening. Additionally, you'll earn 10x points at U.S. gas stations and U.S. supermarkets, on up to $15,000 in combined eligible purchases, during your first 6 months of card membership.

Average value: According to our Amex point valuations, 75,000 Membership Rewards are worth $1,350 when redeemed for travel via Amex's transfer partners. That is amazing value in itself. However, if you can max out the 10x bonus categories, you could end up with a total of 225,000 points. You'll make out like a bandit with this deal — those points average out to a value of $4,050!

Why it's worth considering: With this new deal, you can potentially earn way more points than the targeted 100,000 point offer or the prequalified 125,000 point offers that are occasionally floating around (offers subject to change at anytime). And even if you don't max out the 10x points categories, even just spending half of the cap would get you another 75,000 points!

The card offers an up to $200 in annual U.S. Uber credits, up to $200 in annual airline incidental fees and an up to $100 Saks Fifth Avenue annual credit. Finally you'll also earn a hotel elite status with Marriott and Hilton and the best airport lounge access in the world if you have The Platinum Card® from American Express.

Read the review of the Amex Platinum card and see if the perks are worth the $550 annual fee (see see rates & fees)
Best ways to use Amex points
Apply for The Platinum Card® from American Express
Note that there are targeted offers for the Amex Platinum that may offer a higher bonus (including via Resy and Amex's pre-qualified offers), so it may be worth searching for one of those.

Ink Business Cash and Ink Business Unlimited

Current bonus: Both the Ink Business Cash® Credit Card and the Ink Business Unlimited® Credit Card are offering a welcome bonus where you can earn $750 (or 75,000 Chase points) after spending $7,500 in the first three months of account opening.

Average value: While both these cards technically offer a bonus of $750 in cash back, you can still earn Ultimate Rewards points if you also hold a Chase credit that earns Ultimate Rewards. You can combine the points earned from the Ink cards and make them more valuable when redeemed for travel with Chase's awesome transfer partners, or you can cover grocery, dining and home improvement purchases through Chase's Pay Yourself Back program at a great rate. If you do transfer them to partners like United or Hyatt, we estimate 75,000 Chase points to be worth $1,275 of travel based on our valuations.

Why it's worth considering: This is the highest public offer we've ever seen for either card. But what's really amazing about this deal is that neither has an annual fee. Essentially, if you can meet the minimum spend, Chase will cut you a $750 check (or more if you use your points right). Also, it may be easier to qualify for a small business card than you think — so don't write this one off just because you only have personal credit cards.

Read the reviews of the Ink Business Cash and review of the Ink Business Unlimited
Best ways to use Chase points
Make sure you're under the Chase 5/24 rule before applying
Apply for the Ink Business Cash® Credit Card and the Ink Business Unlimited® Credit Card

American Express® Gold Card

Current bonus: The American Express® Gold Card is offering a welcome bonus of 60,000 Membership Rewards points after spending $4,000 in the first six months of the card membership.

Average value: We value Amex points at 1.8 cents each — meaning the 60,000 bonus points are worth close to $1,100. Amex has some of the best (and most unique) airline transfer partners, like ANA, Delta, Aeroplan, Etihad and more. If you like luxury travel, Amex points are for you. You can transfer 88,000 points to ANA and book round-trip business class to Europe on a Star Alliance carrier like United or Lufthansa.

Why it's worth considering: This is the largest bonus we've ever seen for this card and still comes with a very reasonable minimum spend requirement, so it makes sense to hop on this deal now. It's also one of the best cards for ongoing spend and is top of wallet for many MMS staffers, since it offers an industry-leading 4x points on restaurants and at U.S. supermarkets (up to $25,000 per calendar year, then 1x point). You'll also enjoy a $10 a month in dining credits (towards services like Gruhub, participating Shake Shacks and more) (up to $120 annually). The card has a $250 annual fee (see rates and fees).

American Express Gold Card Review
Best ways to use American Express points

American Express® Gold Card

American Express® Gold Card

CARD PERKS

60,000 Membership Rewards® points after spending $4,000 on purchases in the first 6 months of account opening
Terms Apply | Rates & Fees
$250 annual fee (Not waived the first year)

WHY WE LIKE IT

4X points at restaurants worldwide
4X points at U.S. supermarkets (on up to $25,000 per calendar year; then 1X)
3X points on flights booked directly with airlines or on amextravel.com
Rose Gold is back. You can now choose between Gold or Rose Gold.
Read our review of the Amex Gold Card

READ MORE

Chase Sapphire Preferred

Current bonus: The Chase Sapphire Preferred® Card is currently offering a welcome bonus of 60,000 bonus points after you spend $4,000 on purchases in the first 3 months from account opening. Plus, earn up to $50 in statement credits towards grocery store purchases for use within the first 12 months of account opening.

Average value: Earning 60,000 Chase points are worth $750 in travel when you redeem through Chase Ultimate Rewards, $750 to cover dining, groceries, or home improvement store expenses through Chase's Pay Yourself back program or $600 cash back through a statement credit. However, the best way to use Chase points is by transferring them to travel partners like Hyatt and United, where you can easily realize 1.7 cents each in value, meaning 60,000 points is worth a whopping $1,020.

Why it's worth considering: The best thing about Chase points is that they're incredibly flexible and every redemption option will get you great value.

Chase Sapphire Preferred review
Best ways to use Chase points
Make sure you're under the Chase 5/24 rule and eligible for a Sapphire card bonus before applying
Apply for the Chase Sapphire Preferred® Card

Our methodology on how we choose the best bonuses

The value of the bonus itself

Even though not all points are created equal, the number of points you earn from each bonus is still important. Sometimes the value of the bonus itself can offset the cost of the annual fee for a decade. So if the bonus was big enough and the points valuable enough, it made this list.

Flexibility of rewards

The more flexibility you have when redeeming your points, the more valuable they are. That's why we mostly listed cards with transferrable points since having more options is always better. For instance, if you have Amex points and want to fly to Europe, you can transfer to a number of partners, each of which is in a different airline alliance, meaning you're not boxed into flying a few airlines. It also allows you to take advantage of different sweet spots in each airline's award chart, therefore getting the lowest possible price for your flight

Ease of earning a welcome bonus

Most credit card bonuses have reasonable minimum spending requirements, although occasionally they can be quite high. Basically, the lower amount of spend required to earn a bonus, the better. It can be hard to organically meet a high spending requirement for those who don't run a business or have a huge purchase coming up.

Additionally, when a card's spending requirement is lower, you'll be able to more quickly shift your spending back to a different card that's more rewarding for everyday spend once you've hit the bonus requirements. If your card does have a high minimum spend requirement, here are some creative ways to help you get there faster.

Bottom line

Before applying, consider what cards may complement your travel style the most and your eligibility for the bonus. That being said, these credit card bonuses are among the biggest that have ever been offered, meaning it's hard to go wrong with any of them.

For the latest tips and tricks on traveling big without spending a fortune, please subscribe to the Million Mile Secrets daily email newsletter.

For airline co-branded cards, you can use their miles for big value on a multitude of partners (other than Southwest, but they don't have blackout dates).

For rates and fees of the Marriott Bonvoy Business, click hereFor rates and fees of the Marriott Bonvoy Brilliant, click hereFor rates and fees of the Amex Delta Platinum card, click hereFor rates and fees of the Amex Delta Platinum business card, click here For rates and fees of the Amex Business Gold card, click hereFor rates and fees of the Amex Platinum card, click hereFor rates and fees of the Amex Gold card, click here

Featured image by Patrick Foto / Getty Images.

Source: Read Full Article