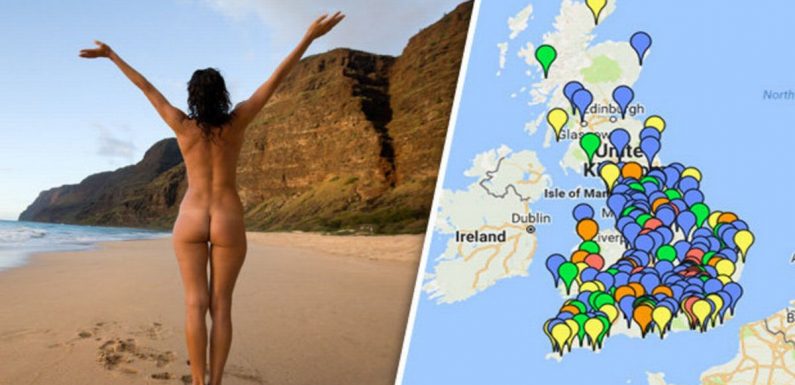 The Daily Star's FREE newsletter is spectacular! Sign up today for the best stories straight to your inbox
It seems we're not prude after all as research reveals more than half (59%) of Brits would get butt naked on holiday.
As searches for Nudist holidays rise by 52%, a survey from lastminute.com reveals 35% of men and 17% of women would bare it all on beach.
Butt if your savings won't stretch to a nude holiday abroad, fret not, as there are plenty of nudist resorts right here in the UK.
If you want to feel free and easy, why not trade your shorts and skirts for your birthday suit at one of these stunning nudist resorts.
Here we map the best nudist spots according to location:
1. South East
If you fancy whipping your clothes off for the day, Brighton Naturist Beach is the place to be.
However, if you fancy getting naked for a prolonged period of time try Adventures Sun Club, situated about four miles outside of Maidstone.
Situated in eight acres of woodland the resort includes sun lawns, a clubhouse, a swimming pool and sauna. Guests can camp in the grounds.
*** UK Nudist beaches EXPOSED ***
2. South West
Sandy Studland Bay is a beautiful place to get an all-over tan. The official naturist beach is a popular spot with nudist travellers.
If you want a longer break-from-clothes, Ridgewood Sun Club in Clevedon might be the place for you.
The website describes it as: "A small friendly place where members come to relax, sun bathe and be active outdoors without clothes."
They have a club house, splash pool, games courts and other facilities. The club is purely for naturists and is located near Clevedon in North Somerset.
*** Best nudist resorts in the world ***
3. Midlands
Spectrum Naturist Club in Birmingham is a friendly, relaxed naturist club where people can try out a naked swim session.
They put on three-hour swimming sessions for families, couples and singles. And sometimes they even host naked yoga and pizza sessions.
4. Wales
If you want to get your kit off while visiting some of the beautiful Welsh countryside, you're in luck. Cefn Sidan beach of the coast of Carmarthen Bay is a popular nudist beach and for good reason.
The sandy stretch forms part of the Pembrey Country Park. Those looking for a longer holiday could try the Benar Beach Campsite, where everyone is allowed to walk around in the buff.
The walled site is also close to the beautiful Dyffryn Beach.
5. North West
There is a whole host of naked activities in the North West. From naked vegan cooking classes to nude swimming lessons.
But if you want to relax and enjoy your naked time try Lancashire Sun, in Southport. The resort features six camping spaces, two bedrooms and rental caravans.
There is an outdoor pool, sunbathing lawns and a sauna and activities including pentanque, table tennis, pool and themed nights.
6. North East
Set in a beautiful rural location, Candy Farm Camp Site is a grat spot to get back to nature.
The website says: "Leave your cares and worries behind, along with your clothes. Enjoy the wildlife and quiet countryside as nature intended."
The camping site has all the facilities you need including electricity hook-ups, drinking water and toilets.
You can sunbathe naked and watch the cows come home, go fishing, visit the local pubs, or go for quiet country walks with no hills to climb, amongst trees and lakes.
If you want a bit of naked luxury you can also head to Barlborough Spa in Barlborough.
The clinic offers an extensive number of beauty treatments including facials, hair removal and body wraps.
7. Scotland
If you're happy to brave the Scottish weather, Crakaig Beach is a stunning spot to whip your clothes off.
However, if you're looking for something a little more cosy try staying at The Waterhouse in Kirkcubright. The adorable resort features three intimate waterside lodges.
The secluded eco-friendly huts include their own private gardens and hot tubs looking over the river.
Source: Read Full Article