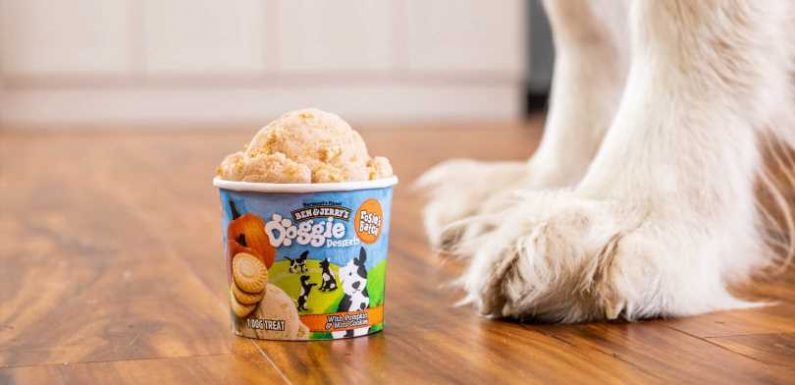 Hey, remember on New Year's Eve when we all thought that everything would be different if we could just make it past 11:59:59 p.m.? We were so young and foolish 11 days ago. Fortunately, there's still some chill, pleasant, and enjoyable news out there—and yes, it involves dogs. 
Ben & Jerry's has just launched a frozen treat designed especially for your best four-legged friend, so you can include them in your next Netflix-and-Chill(ed Treat) night. The launch includes two flavors of Doggie Desserts: Pontch's Mix is a combination of peanut butter and pretzel swirls, while Rosie's Mix adds real pumpkin and mini-cookies to a sunflower butter base. 
"We know our fans love their dogs and treat them like family," Lindsay Bumps, a Global Marketing Specialist at Ben & Jerry's, said. "We created this product line so pups can enjoy something even better than belly rubs. Doggie Desserts are the sweetest treat they'll ever put their paws on." (Bumps is also a certified vet tech, so she's presumably fluent in Good Boi).
The two Doggie Desserts will be sold in individual four-ounce mini-cups ($2.99 each), or in a four-count multipack ($4.99). If you want to stock up, they'll be available for purchase in supermarkets, big-box retailers, and in select pet stores—and the Ben & Jerry's online store is currently taking pre-orders for four-packs. 
In addition to the frozen treats, Ben & Jerry's has also added a few pet accessories to its webshop, including a Doggie Desserts-friendly bowl, an ice cream cone-shaped plush toy, and a leash in their signature rainbow-colored tie-dye. 
Because we know you're curious, yes, Pontch and Rosie are real dogs who are part of the Ben & Jerry's extended family. Pontch is a French bulldog, and Rosie is a "rescue mutt of mixed heritage," and both of them make frequent appearances at the company's Burlington, Vermont headquarters, where employees are both allowed and encouraged to take their doggos to work with them. (The company calls them K9-to-5ers, which is honestly adorable.) 
Thanks, Ben & Jerry's. It doesn't feel like hyperbole to say that we all needed this today. And if 2021 keeps going like this, we're going to need a lot more dog pics on Instagram. 
This story originally appeared on Food & Wine .
Source: Read Full Article