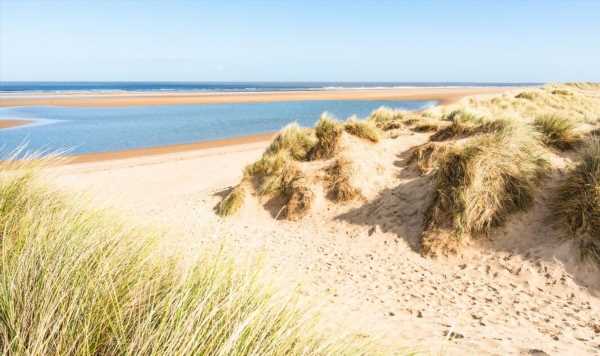 The UK might not have Spain's weather forecast, but it does have some gorgeous beaches that could be mistaken for the Mediterranean. This National Beach Day, there's plenty of stunning seaside spots to explore.
According to a ranking from the expert team at Lonely Planet, a beautiful beach in Norfolk is England's best. Holkham National Nature Reserve and Beach took the crown over hotspots in Cornwall and Devon.
A Lonely Planet spokesperson said: "As with all beaches on the north Norfolk coast, it's reached via a long hike across the marshes, but what waits at the end would not look out of place on America's Atlantic coast, endless sand and tufted dunes wafted by steady sea breezes."
Holkham Bay is one of the UK's most unspoilt stretches of sand, backed by dunes and pine forest. The beach is particularly popular with dog walkers and horse riders.
The beach is also rumoured to be a favourite of the Royal Family and it's thought that Prince William and Kate once filmed a home video there. It's a short drive from the Sandringham Estate and Anmer Hall.
READ MORE Tourists complain about overhyped 'insignificant' attraction
A tourist 'Jayshree C' wrote on Tripadvisor: "Highly recommended to visit! One of the best beaches and beautiful with soft sands and ample space with no overcrowding."
'Ann H' wrote: "The walk from the roadside parking takes you through lovely woodlands and you come out at a huge expanse of beach leading out to the sea. Beautiful views and lovely weather made for a pleasant couple of hours."
'AJJP1' said: "Best big skies. What a fabulous beach, huge skies. Clean, easy parking, great views."
'Profojoypc' said: "What a glorious bay and beach! We were very fortunate with the weather but had a really great walk."
Don't miss…
Woman praised for refusing to swap seats with child on flight[DEBATE]
'Postcard-perfect' seaside town is ideal destination for a coastal walk[SEASIDE]
British tourists will have to pay to travel to the EU next year[LATEST]
We use your sign-up to provide content in ways you've consented to and to improve our understanding of you. This may include adverts from us and 3rd parties based on our understanding. You can unsubscribe at any time. More info
There is parking at Holkham Beach but charges apply and a pay and display system is in operation. Cash and card is accepted.
The beach's car park is open from 6am until 9pm and there are two EV chargers available at Holkham Beach.
It takes around half an hour to walk from the beach's entrance to the shoreline, depending on the tides. Dogs are allowed all year round but must be on the lead between April and August.
If Holkham Beach is a little far away, why not check out one of the UK's other gorgeous beaches? Formby Beach near Liverpool is part of one of the UK's most spectacular coastal walks.
Meanwhile, another seaside town has the country's cheapest parking while Wales' best beach has been described as "incredibly beautiful".
Tourists looking to capture a tropical vibe might want to check out a beach that's "Scotland's answer to the Caribbean".
Source: Read Full Article