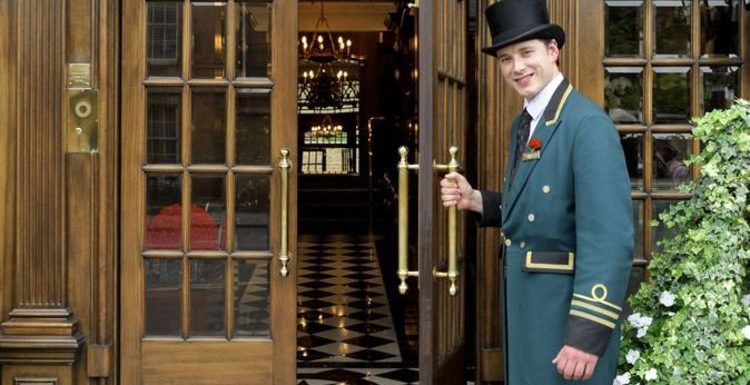 Lucy Alexander and Ruth Langsford enjoy luxury hotel lunch
We use your sign-up to provide content in ways you've consented to and to improve our understanding of you. This may include adverts from us and 3rd parties based on our understanding. You can unsubscribe at any time. More info
A UK holiday does not mean Britons need to forgo luxury. While the hefty price of staycations have widely been reported, a stay in a five-star hotel doesn't need to break the bank.
Finding a bargain luxury stay may be a dream for many, and a new study has revealed the cheapest five-star hotels in the UK.
Company TopDollar has looked into the prices of a luxury hotel stay and come up with the best bargain in every country.
Oddfellows On The Park in Cheadle, Cheshire near Manchester was the cheapest luxury hotel in England.
On the grounds of Bruntwood Park, the 22 bedrooms Victorian mansion has a restaurant, cocktail bar and views over the park.
READ MORE: Price hike: '£3,457 for seven nights' – UK needs to 'start behaving'
The Nags Head Inn in Garthmyl, Montgomery, Powys was the best bargain in Wales.
The Grade II listed coaching inn received the AA Welsh Pub of the Year Award in 2018-2019.
In Scotland, it was Ivybank Lodge that was the cheapest five-star hotel.
Located in Blairgowrie, Perthshire, the lodge only has six bedrooms.
Rayanne House was the best bargain in Northern Ireland.
It can be found in Holywood, near Belfast.
The house dates back to 1883 and retains some of its original features.
To get a five-star rating, hotels need to be luxurious, facilities need to be top-notch and staff must personally meet every guest.
In Europe, this latest requirement is even more luxurious, as staff must meet every guest with flowers or a gift.
The world's cheapest five-star hotel was found to be in India.
Novotel Ahmedabad Hotel was $28 (£20.45) a night.
While UK hotels cannot compete with these prices, it's still possible to get a bargain closer to home.
The cheapest five-star hotel in the UK
England
Oddfellows On The Park – £86 a night
Wales
The Nags Head Inn – £111 a night
Scotland
Ivybank Lodge – £100 a night
Northern Ireland
Rayanne House – £110 a night
TopDollar
Source: Read Full Article