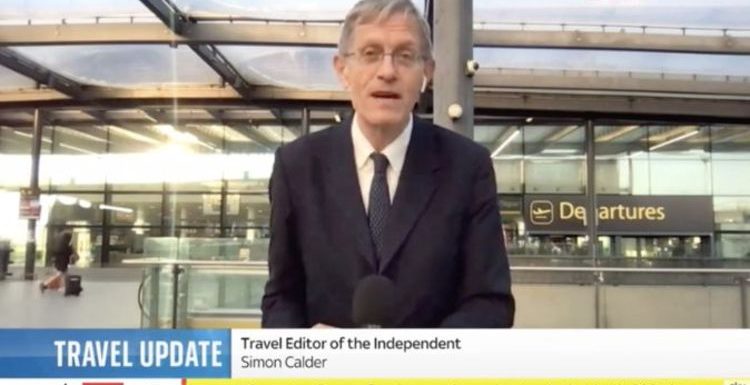 Simon Calder says current UK travel rules are a 'mess'
We use your sign-up to provide content in ways you've consented to and to improve our understanding of you. This may include adverts from us and 3rd parties based on our understanding. You can unsubscribe at any time. More info
Transport Secretary, Grant Shapps, announced the changes to the travel regulations on Friday. This morning, eight countries were removed from the red list including Turkey, the Maldives and Sri Lanka.
Kay Burley mentioned the "devil is in the detail" within the new travel regulations and said she knew from her own experience that the advice depended where you looked.
Simon said: "It's an absolute mess. It's incredible to think, in October alone coming into England alone, there will be three different policies.
"Now of course you can find out the latest on the Government website but it's changing very quickly.
"So up to October 4, if you're fully vaccinated then you've got to take a test before you fly into the UK and another one after you arrive.
"Once October 4 arrives, you won't need to take that test before you fly, you will still need to take a PCR test on the day you come back or one of the two following days until some unknown date in late October when that PCR test becomes a lateral flow test.
"I can tell you that the traveller is confused, the airlines and the holiday companies are absolutely furious as are the travel agents who are doing their absolute best to explain these rules.
"There's still a great deal of incoherence, which actually led the boss of Gatwick airport to tell MPs that his airport had been hardest hit of any major European airport."
Simon added that Gatwick airport was nothing like it should be on a "sunny September morning".
Simon Calder also spoke about the UK's red list and said the country was a "bit of an outlier".
He said: "Instead of having 62 countries on the red list, we now have 54 because overnight we saw Sri Lanka, Pakistan, Bangladesh, Oman, the Maldives, Turkey, Egypt and Kenya all disappearing from the red list.
"They are now moved to the amber list from which you don't have to self-isolate assuming you have been fully vaccinated and that's tremendous news."
Simon Calder said Egypt's removal might spur some British tourists to book some winter sun.
However, Government advice is making booking an Egyptian break complicated for British travellers.
He said: "However, half those countries including Egypt, the Foreign Office still warns against travelling because of high levels of Covid 19 so it doesn't sort of feel very joined up."
He added: "The other important news is if you're watching this from your quarantine hotel at Heathrow airport or wherever, I'm afraid you're staying there even if you've come back from one of those countries until you have finished your sentence."
Travellers who arrived before today will need to stay in the hotel for 10 days at their own expense.
Simon said the UK was: "Going in the right direction but we still have 54 countries on that red list, compared with Germany who have no countries on their red list. The UK looking a bit of an outlier."
Confidence in travel is reportedly up since the new regulations were announced with some airlines huge increases in bookings.
The amber and green lists have been scrapped and there is now just a red list and a 'rest of world' list.
All the countries not on the red list will now be on the 'rest of world' list and will not require hotel quarantine.
Source: Read Full Article