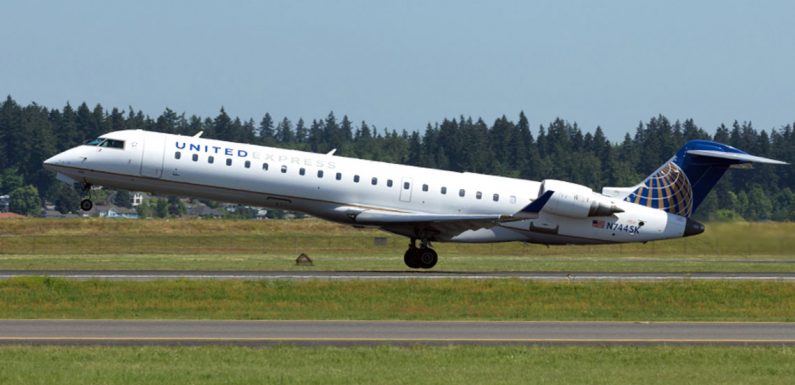 The Transportation Department is looking for airlines interested in serving 29 communities that SkyWest plans to exit.
The DOT has forbidden SkyWest from terminating its federally subsidized Essential Air Service flying in each of those communities until a replacement carrier is found.
SkyWest, which serves each of the 29 cities under the United Express brand, provided 90-day notice to the DOT on March 9 of its intent to exit those markets. 
Related: United Airlines is cutting more regional routes
The destinations are Alamosa, Co.; Cape Girardeau, Mo.; Decatur, Ill.; Clarksburg, W.V.; Devils Lake, N.D.; Dodge City, Kan.; Eau Claire, Wis.; Fort Dodge, Iowa; Fort Leonard Wood, Mo.; Greenbrier/Lewisburg, W.V.; Hancock/Houghton, Mich.; Hattiesburg/Laurel, Miss.; Hays, Kan.; Jamestown, N.D.; Johnstown, Pa.; Joplin, Mo.; Kearney, Neb.; Liberal, Kan.; Mason City, Iowa; Meridian, Miss.; Muskegon, Mich.; North Platte, Neb.; Paducah, Ky.; Pueblo, Co.; Salina, Kan.; Scottsbluff, Neb.; Sioux City, Iowa; Staunton, Va.; and Victoria, Texas.
"Although SkyWest Airlines would prefer to continue providing scheduled air service to these cities, the pilot staffing challenges across the airline industry preclude us from doing so," the carrier said in its notice.
Per their federal contracts, SkyWest is required to serve each of the 29 cities at least 12 times per week. 
Under a March 11 order, SkyWest will have to honor those contracts until communities have a new air service provider. 
The DOT has asked interested airlines to submit proposals to serve any or all of those cities by April 11.
The decision by United and SkyWest to pull out of those small markets is part of a larger pullback from regional flying due to an acute pilot shortage. U.S. airlines are instead focusing on using available pilots in more lucrative markets that are served by bigger aircraft.
Source: Read Full Article