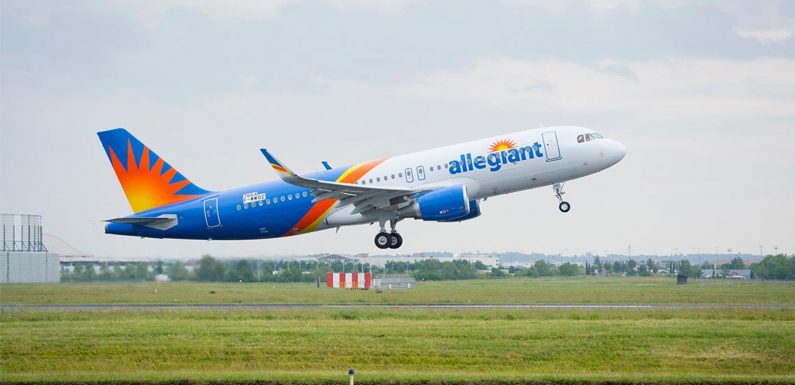 Las Vegas-based discount carrier Allegiant and Mexico's Viva Aerobus are vying to become the airline industry's first antitrust-immunized partnership between ultralow-cost carriers (ULCCs).
Under an agreement announced Wednesday, the two carriers would jointly distribute, schedule and operate flights between the U.S. and Mexico. The carriers are hoping to launch the joint venture during the first quarter of 2023, provided their applications for antitrust immunity are approved by competition authorities in the U.S. and Mexico.
Allegiant also intends to invest $50 million in Viva Aerobus.
In a prepared statement, Allegiant CEO Maury Gallagher said the tie-up would be a win for consumers. 
"This groundbreaking alliance should reduce fares, stimulate traffic and ultimately link many new transborder cities with nonstop service," he said. "In short, it will bring meaningful ULCC competition to the U.S.-Mexico market for the first time in history."  
Allegiant currently serves more than 130 cities in the U.S., but none in Mexico. Viva Aerobus will operate 23 routes between the U.S. and Mexico in December, serving nine U.S. destinations. The carrier also has an extensive domestic network in Mexico.  
For Allegiant, the tie-up would provide entry into the popular U.S.-Mexico leisure market. Viva Aerobus, meanwhile, would gain access to Allegiant's sizable U.S. network, which focuses mainly on connecting secondary airports to large domestic leisure destinations such as Las Vegas and Orlando. 
Viva Aerobus, which has struggled to gain traction among U.S. travelers, would also benefit from Allegiant's U.S-based distribution network. 
In a regulatory filing submitted Wednesday, Allegiant said it has identified 239 potential routes between Allegiant airports and leisure destinations in Mexico that currently have no nonstop service. Forty percent of those potential city pairs currently have access to customs facilities. 
Allegiant said the alliance would increase competition in the U.S.-Mexico market. According to carrier's antitrust-immunity application, Viva Aerobus has 5% of the transborder market share. The carriers project that combined, they would achieve an 11% share of the marketplace by 2026. 
American Airlines and the Delta-Aeromexico joint venture are currently the largest U.S.-Mexico players, each with a 22% share, Allegiant said, citing Sabre Market Intelligence data.
Other significant players in the market are United, Volaris, Southwest, Alaska, Frontier and Sun Country. 
Source: Read Full Article