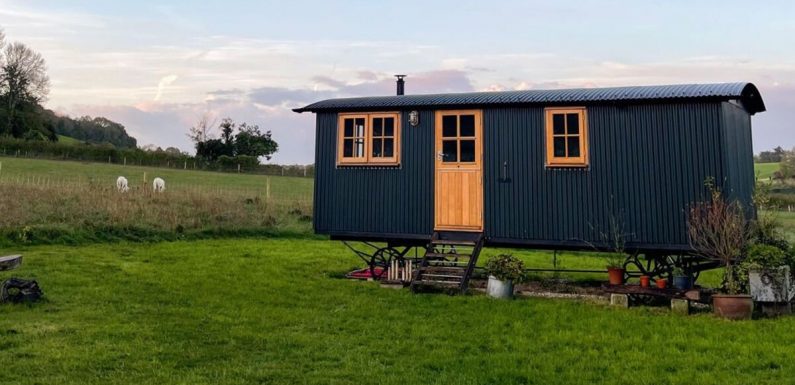 We use your sign-up to provide content in ways you've consented to and to improve our understanding of you. This may include adverts from us and 3rd parties based on our understanding. You can unsubscribe at any time. More info
Kip Hideaways is a membership site with an aim to make holiday-planning for staycations simple. And when it states it features gorgeous boutique rentals with soul, it means it. From tree house escapes and coastal studios to remote wilderness cabins and quirky cottages (which will make any home design lover weak at the knees), Kip boasts a curated selection of super stylish and unique hideaways in the UK for two people up to groups of six.
The South Downs Shepherd Huts, as the name suggests, are two shepherd huts situated in a remote field in the South Downs.
They're on a farm which the hosts own, but you're very much secluded, and the two huts have been carefully angled so as not to overlook one another.
New to Kip Hideaways, what makes the huts so special is the little design details; Belfast sinks, a long burner, a hot shower, a comfy and generous sized bed, and good kitchen and dining space – it's quite amazing what they've managed to fit inside.
Outside, each hut has its very own fire pit with seating and just a few steps away is an alfresco bathtub hidden by a hedgerow where you can bathe in the light of the moon and stars.
As we all know, British weather can be unpredictable, but I'd say a stay in the shepherd huts is enjoyable all year round, come rain or sunshine.
When we visited in November, we were greeted by intermittent heavy rain and strong winds.
Staying in a muddy, wet field isn't at the top of many people's lists, but it was the perfect excuse to get cozy – stick the fire on, make some mulled wine and put a film on.
A hot bubble bath in the rain was also quite fun.
For sunnier, warmer days it's probably good to get out and about.
Just a 10-minute walk away are the local pubs, The George in Finchdean, The Robin Hood, The Fountain and The Caste in the village of Rowlands Castle. There's also a cafe and local convenience store.
There's also a lovely stroll through the woods that leads to Stansted House, where you can enjoy homemade cakes and tea, light lunches, a farm shop and garden centre. It took us about 40 minutes to walk here.
The unspoilt sandy beaches of the Witterings are also 40 mins away by car.
Hayling Island is just 30 minutes away. If you don't want to drive you can catch the train from the village to Portsmouth and then the ferry or hovercraft over to the Isle of Wight for the day.
The huts are completely accessible by train and foot, about a 20 minute walk from Rowlands Castle train station if you're looking for a completely remote experience.
It's also worth noting the friendliness of owners Anna and James who presented us with a box of fresh eggs from their hens on arrival.
Kip Hideaways prides itself on finding owners who genuinely care that their guests have an amazing stay.
It says its reviews are unique, honest and impartial, even highlighting the potential drawbacks of each place to help guests choose.
The company operates on a membership basis which is just £19 a year or £3.99 a month (rolling subscriptions).
You can find incredible places quickly via Kip Hideaways, then book direct with the owners – there are no booking fees.
Source: Read Full Article